true
"Time is irrelevant, it's not linear," Bono proclaims near the beginning of No Line on the Horizon (4 stars), U2's 12th studio album, which releases March 3 but is already posted on the band's MySpace page. When you've spent 30 years in the circus, are well into middle age, and are still working the territory most commonly associated with preening 20-year-olds, it's a reasonable stance to take. Fittingly, it's a preoccupation Bono circles back to again and again, and it results in the band's most thematically rich album in a storied career.
First, the bad news. Produced by the now-familiar triumvirate of Daniel Lanois, Brian Eno, and Steve Lillywhite, and recorded in studios around the world (Dublin, London, New York, and Fez, Morocco), Horizon occasionally suffers from sonic jetlag. It gives the impression that it has been painstakingly pieced together rather than allowed to flow organically. Not so much played as sculpted, the 11 songs exhibit the slick, professional sheen that sometimes inhibits a band once known for its raw punk energy.
But it's a quibble. No Line on the Horizon is not the band's best album, nor is it the radical reinvention that Bono announced in countless pre-release interviews. It's nothing more and nothing less than quintessential U2, full of the searing, echo-drenched guitar riffs and rousing sing-along choruses that have always marked the band's best work. And as a compendium of the sounds that have defined U2, it's an encyclopedia three decades in the making.
The first four tracks throw down the gauntlet. On the opening title track, Bono offers a typical open-ended assessment of commitment, both marital and spiritual, that works as a straightforward love song and a commentary on the vagaries of the divine courtship. Backed by the Edge's surging, propulsive rhythm guitar, he sings of a love that is equally sensuous and mysterious, one that cannot be pinned down and categorized. The exquisite "Magnificent" is the band's most transparent worship song since its very early days (and 1981's "Gloria"), a soaring hymn of praise that rockets forward on Edge's churning riff and Bono's crazed choirboy tenor:
I was born to sing for you
I didn't have a choice but to lift you up …
Only love can leave such a mark
Only love can heal such a scar
On the seven-minute "Moment of Surrender," arguably the album's central track, Bono returns to the power-ballad format that propelled classics such as "One" and "I Still Haven't Found What I'm Looking For." It's old-fashioned, heart-on-the-sleeve emoting, full of righteous passion and gospel melismas, and it's Horizon's strongest track. "Unknown Caller" is something else entirely, a jittery, paranoid rocker featuring a shouted chorus that is sure to be a fist-pumping concert favorite. Taken together, these four songs make up the strongest opening gambit the band has played since AchtungBaby, and they offer positive proof that the grizzled geezers still have plenty left in the tank.
Even more impressively, Bono (with help from Lanois and Eno this time — a first) writes some of his most thoughtful and introspective lyrics, and he explores themes that are expanded on and developed from song to song. There are the usual "is it Jesus or a girlfriend?" teases, but those looking for more depth will find much to savor. This is an album all about time: the ravages of the inexorable march of hours and days, chronos and kairos, calendar time and clock time vs. those moments that are out of time, that sustain us, those in which we encounter something of the Divine. It's a theme explored explicitly in "Moment of Surrender" and "Unknown Caller," and obliquely in later tracks such as the anthemic rocker "Breathe" and the atmospheric closer, "Cedars of Lebanon."
This is an album made by middle-aged men still playing a kid's game, well aware of the ridiculousness of the trappings (see the humorous, self-deprecating lines in the funk-driven "Standup Comedy"), and searching for and sometimes finding reasons to go on. As such, these are songs that could have never been written by Bono Vox, the naïve, idealistic youth of early albums. And as such, these are songs that could only have been written by Bono, the aging, iconic rock star in love with Jesus and himself in equal measure, and bothered by the incongruity. They are great spiritual and human songs.
No Line on the Horizon sags a bit in the middle, as "I'll Go Crazy if I Don't Go Crazy Tonight" borrows a little too liberally from '80s band Journey's "Faithfully." Yes, that's as problematic as it sounds, although the Edge does his best to energize the flaccid chord progression. The first single, "Get On Your Boots," merely reprises Elvis Costello's "Pump It Up," which is a transparent reworking of Bob Dylan's "Subterranean Homesick Blues." Imitation may be the sincerest form of flattery, but in this case, it makes for tired music.
But the album ends well, with the lovely, minor-key "White as Snow" (which cribs its melody from the Christmas carol "O Come, O Come, Emmanuel"), the arena shaker "Breathe," and the forlorn "Cedars of Lebanon," a disquieting ballad about a journalist stationed far from home and family. It's not an unqualified success. But on the best of these tracks, the band steps outside time and finds the eternal. It's a neat trick, and if U2 has done it before, that doesn't make it any less thrilling.
Related Elsewhere:
Other Christianity Today articles on Bono and U2 include:
Calvin College on U2 | College class on U2 explores religious influence of a rock band. (Feb. 23, 2005)
Pop Love for a War-Torn World | Atomic Bomb is classic U2, with a prescription for healing the world. (Nov. 23, 2004)
The Dick Staub Interview: Exegeting U2 | Get Up Off Your Knees preaches U2 from Boy to All that You Can't Leave Behind. (April 20, 2004)
Bono's American Prayer | The world's biggest rock star tours the heartland, talking more openly about his faith as he recruits Christians in the fight against AIDS in Africa. (Feb. 21, 2003)
'Pop Music with Brains' | From the beginning, U2 has engaged spiritual questions. (Feb. 21, 2003)
Bono's Thin Ecclesiology | Any person can stand outside the church and critique its obedience to the gospel. (Feb. 21, 2003)
Bono Tells Christians: Don't Neglect Africa | He urges evangelicals to take a lead in fighting AIDS and poverty. (April 19, 2002)
Inside CT: Bono's Burning Question | Evangelicals and the U2 front man try to figure each other out. (April 19, 2002)
Honest Prayer, Beautiful Grace | The messianic and passionate U2 sounds like itself again. (Feb. 8, 2001)
Browse All Music Reviews By: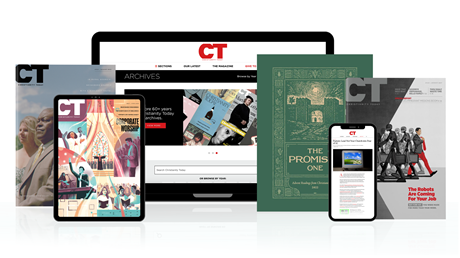 Annual & Monthly subscriptions available.
Print & Digital Issues of CT magazine
Complete access to every article on ChristianityToday.com
Unlimited access to 65+ years of CT's online archives
Member-only special issues
Subscribe
'No Line on the Horizon' Is No Radical Reinvention of U2 (Hooray!)
'No Line on the Horizon' Is No Radical Reinvention ...