Most of us who like to rag on the absurdity of the health and wealth gospel are, I dare say, devout adherents of a sister faith: the health gospel. Take out wealth, and we're okay with being materialists. And I speak autobiographically.
Tuesday's Washington Post announced, "Daily Red Meat Raises Chances of Dying Early." That got this steak lover's attention. Apparently the National Institutes of Health got together with the AARP and conducted a Diet and Health Study. They started in 1995, and began following over half a million predominantly white people from the ages of 50 to 71. Not surprisingly, nearly 48,000 men and over 23,000 women died in the following 10 years.
What did surprise some was the finding that, taking into account smoking and physical activity, those who ate the most red meat—a quarter of a pound a day—were more likely to die during the study, and most of these died from heart disease and cancer.
Even an amateur scientist can question some of the methods and conclusions of the study (e.g., one can assume that diet and habits and genetics may offer more insight as to why red meat eaters in their later years are susceptible to heart disease). But despite my skepticism, I'll probably eat less red meat than ever (after already cutting back!). Because now every time I sit down to a polish sausage or hamburger, I will not be able to count it as joy. The New York steak sitting gloriously before me will not signal a gift of God but a temptation of the Health Devil and the Grim Reaper.
This latest study is one of many that have bombarded us for decades. The bottom line is that food of all sorts—but especially food that we have traditionally enjoyed the most, the lusty foods dripping with sweetness ...
1
SoulWork
In "SoulWork," Mark Galli brings news, Christian theology, and spiritual direction together to explore what it means to be formed spiritually in the image of Jesus Christ.
Mark Galli is former editor in chief of Christianity Today and author, most recently, of Karl Barth: An Introductory Biography for Evangelicals.
Previous SoulWork Columns: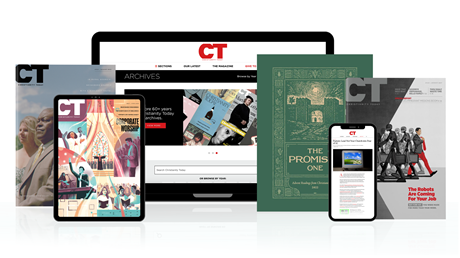 Subscribe to Christianity Today and get access to this article plus 65+ years of archives.
Home delivery of CT magazine
Complete access to articles on ChristianityToday.com
Over 120 years of magazine archives plus full access to all of CT's online archives
Subscribe Now
Man Up, Christians
Man Up, Christians