true
The great Jean Luc Godard once said of Orson Welles, "Everyone will always owe him everything."
Well-known for his innovative approach to staging and structuring classic dramas, as well as for his dashing looks when young, his portly self-defacing humor when old, and his booming, powerful voice throughout his life, Welles—voted the greatest director of all time by the British Film Institute in 2002—is one of the undisputed masters of cinema … not to mention theater, television and radio drama.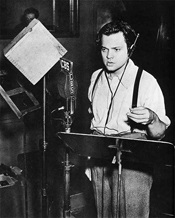 But where did he stand on things of faith?
In 1982, Merv Griffin asked the director about it during an interview. Welles replied, "I try to be a Christian. [But] I don't pray really, because I don't want to bore God." In fact, prayer was almost as uncomfortable subject for Welles as the birds and the bees. He told the French New Wave magazine Cahiers du Cinema, "In my opinion, there are two things that can absolutely not be carried to the screen: the realistic presentation of the sexual act and praying to God."
He would later quip (sounding like he's echoing Jesus' lukewarm water metaphor): "I have a great love and respect for religion, great love and respect for atheism. What I hate is agnosticism, people who do not choose." Nevertheless, he would later tell Andrew Sarris, "The ideal American type is perfectly expressed by the Protestant, individualist, anti-conformist, and this is the type that is in the process of disappearing. In reality there are few left."
Catholic parents, Satanic grandma
Born in 1915, Welles was raised Roman Catholic, but that soon ended when his parents divorced. Both parents died in his youth, and Welles was raised by a guardian, a fact reflected in his classic Citizen Kane.
As a young teen at an all-boys' school, Welles' love of drama took root as he read the classics, including his beloved Shakespeare and the Bible, and he wrote plays of his own. He also played many roles, some of them religious, including Mary in a passion play, Christ in The Servant in the House, and Judas Iscariot in Dust of the Road. But he spent most of his time in church scoping the congregation for girls to woo. On the darker side, Welles' grandmother was a Satan worshipper who had cursed his parents' marriage, and held black rites at his father's funeral. He never had kind words for her.
Traveling to Europe after his father's death, he famously walked into an Irish theater and brashly announced he was a famous American actor. He hit it big abroad and came back to America to become a prodigy at the age of 20 with his staging of Macbeth with a Haitian setting; thus started the rise and fall of a legendary career. Though his passion was for the theater, Welles supplemented his income doing radio work with his famous Mercury Theatre troupe, most infamously as Lamont Cranston in The Shadow, and as the announcer who sent America into a panic with his rendition of H.G. Wells' The War of the Worlds.
A cinematic masterpiece
In 1940, Welles moved, with most of his troupe, from Broadway to Hollywood when RKO offered him an unprecedented deal for a first-time director: complete creative control. After going around and around with the studio execs, both sides finally settled on a project about the yellow journalism magnate William Randolph Hearst. Welles has said that every story is at bottom the Faust story, and Citizen Kane is perhaps the ultimate filmic expression of the story of a man who gains the world, yet loses his soul.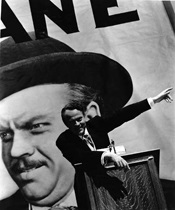 Welles reportedly watched John Ford's Stagecoach dozens of times before directing himself as the title character, Charles Foster Kane, who has all the money in the world, but realizes, too late, that it can't buy him love. Welles and co-writer Joseph Mankiewicz also included megalomaniac aspects of Joseph Pulitzer and Howard Hughes. Welles thought the hubris of these men needed to be burst like a balloon. In addition to the echoes of Greek and Shakespearean tragedy, Welles also borrowed ideas from Joseph Conrad's Heart of Darkness, which he had originally wanted to film, especially the technique of showing different perspectives of the same scenes.
Hearst tried to suppress the film, seeing aspects of his own life through the dramatic screen; he even tried to buy prints of the film to burn them, but was ultimately unsuccessful. The film was not a box office hit, though, because it flaunted so many Hollywood conventions, including telling the story out of chronological order. Although audiences were confused, critics saw its potential and a decade and a half later it was resurrected by the New Wave film critics to raise it to masterpiece status. Andrew Sarris said Citizen Kane "influenced the cinema more profoundly than any American film since D.W. Griffith's Birth of a Nation." But after Kane, Welles had nowhere to go but downhill. In fact, he would never get carte blanche again, because he would never have the box office success that warrants such treatment.
Secular and spiritual works
After the success of Citizen Kane, Welles announced that he would film the life of Christ next. But, wanting to avoid scandal, studio heads steered him instead toward his safer next project, The Magnificent Ambersons, based on a Booth Tarkington novel. However, budget overruns caused the studio to regain control over the creative content of the picture, and they changed it entirely. Although still hailed as a masterpiece, those involved with the production have hinted at the majesty of the film that almost was.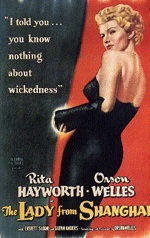 Shortly thereafter, Welles also directed the masterpiece of film noir titled Lady from Shanghai (1948), which featured the famous surrealistic hall of mirrors scene that has been imitated in many subsequent films. The notoriously convoluted plot involves a seaman who is framed for a murder he did not commit. He is defended by a lawyer who may be the murderer himself. Again audiences were confused, although critics admired Welles' tongue-in-cheek approach to the narrative.
Instead of filming the life of Christ, Welles narrated the gospel story in the 1950s for Americana Audio, a recording which was recently rediscovered and re-mastered. Also recently unearthed, Alfred Hitchcock once planned a movie called Suspense, a draft of which was recently found, in which he intended to have Welles play Christ in a modern day retelling of the gospel story, but again this project never saw the light of day, perhaps because the producers got cold feet in those less controversial times. Welles did later narrate the Jesus story in 1962's King of Kings, and did some writing and voice-over for John Huston's 1966 film The Bible.
Late, great works … and weight
Welles often acted in others' films to pay for the films he wanted to make. (Ironically, near the end of his life, and despite his left-wing political views, he narrated The Late, Great Planet Earth, the fundamentalist Christian documentary about the end times). Another acknowledged masterpiece was 1958's Touch of Evil, which he started work on merely as an actor, but eventually directed as well, at actor Charles Heston's insistence. The story of a drug enforcement officer on the Mexican border, Welles raised it to the level of suspense to rival Hitchcock's greatest works. Often cited as one of the last great film noir classics, the opening credit two-minute sequence one-shot of a man putting a bomb in the trunk of a car, ending with the bomb exploding as the credits end, is a masterful piece of cinema. Yet the film later also takes full advantage of Eisensteinian cutting to raise tension to unbearable limits.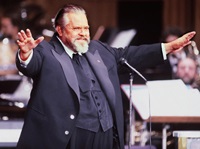 Around this time, Welles also started one of his greatest Shakespearian adaptations: Chimes at Midnight, which draws upon five of the History plays that involve Falstaff, the rotund, hilarious, yet tragic character of the Bard's early plays. Welles called Falstaff the "best role Shakespeare ever wrote." He continues, "If Shakespeare had done nothing but that magnificent creation, it would suffice to make him immortal."
A Playboy magazine interviewer mentioned to Welles that poet W.H. Auden called Falstaff a "Christ figure," to which Welles agrees, but clarifies: "I think Falstaff is like a Christmas tree decorated with vices. The tree itself is total innocence and love." Working, as usual, in piecemeal, as his acting stints paid for the film in portions, it took Welles many years to complete the film, which was finally released in 1966. It is still not available in the United States, only as an import from Brazil.
Although Falstaff is an overweight character, Welles actually had to lose weight for the role. His weight caused him constant problems and ridicule for the latter half of his life, and was probably a result of his depression stemming from mistreatment by the media and the moguls in show business. Though the Academy honored him with a special Oscar in 1970, he refused to attend the ceremony. In 1975, the American Film Institute gave him their Lifetime Achievement Award, and in 1984 the Director's Guild of America gave him their D.W. Griffith Award for excellence.
Welles died in 1985, a couple of hours after another Merv Griffin interview, trying to woo the media nearly until his last breath.
Filmmakers of Faith, an occasional feature at Christianity Today Movies, highlights directors who adhere to the Christian faith—sometimes strongly, sometimes loosely, and sometimes somewhere in between. This series will include everyone from biblically-minded evangelicals to directors who may only have a "church background" and perhaps a lapsed faith … but their films are clearly informed by their spiritual history.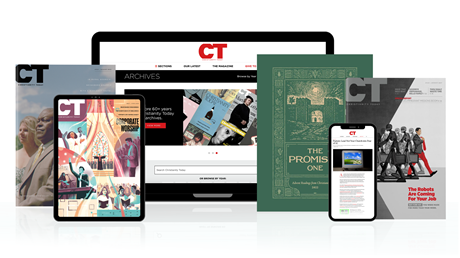 Subscribe to Christianity Today and get access to this article plus 65+ years of archives.
Home delivery of CT magazine
Complete access to articles on ChristianityToday.com
Over 120 years of magazine archives plus full access to all of CT's online archives
Subscribe Now
'I Try to Be a Christian'
'I Try to Be a Christian'