Deforestation takes on new meaning when you're standing in Loma de Ardilla, a cluster of homes perched on a dusty 6,000-foot ridge overlooking an endless sea of Oaxacan mountains. The Mexican village's name means "Squirrel Hill." But its residents haven't seen a squirrel there for years.
Deforestation claimed this mountaintop long ago, as traditional agriculture methods removed precious topsoil while subsistence farmers survived by turning trees into charcoal to sell. Equally barren mountains extend to the horizon like the swells of a dusty brown ocean. They starkly contrast the green maze of pine-covered hills behind the ridge that one must navigate to reach the village.
Yet joining the soft purple of the sparse jacaranda flowers — virtually the only color in this deforested landscape — is another color of hope: the sky blue walls of new ecological latrines. They join water tanks and ecological stoves as signs that something new is happening.
Another sign: the wall-less Presbyterian church above the village. Prince of the Shepherds members tore down their 13-by-20-foot building two weeks ago to build a bigger one for the growing congregation of seven families. A work in progress, today six wooden beams support a corrugated aluminum roof that shelters 14 rudimentary pews hand-carved from pine.
"It's important for the church to be active outside its four walls. That's why we don't have any walls on the new church," said church leader Santiago Perez with a laugh.
Prince of the Shepherds has partnered with Mision Integral (MI), a Christian development ministry and local partner of the San Diego–based reforestation ministry Floresta.
"Some people separate the physical and the spiritual," said Luis Alberto Castellanos, general director of MI, which is based in the nearby city of Oaxaca. "We believe the gospel is integrated. Our work is our testimony, a chance to show our faith in the love of God."
Oaxaca, along the southeast coast, is one of the poorest of Mexico's 31 states. MI is active in Oaxaca's Mixteca region, a remote mountainous area where water access is severely limited and lack of economic opportunity has led to crippling deforestation.
Founded in 1998, MI started with reforestation projects in four Mixteca communities of subsistence farmers. Today the ministry is active in 40 communities on projects ranging from family gardens, latrines, and ecological stoves to fish farms, dental clinics, and microfinance.
"People said we were crazy for planting trees," said Castellanos. "We do much with little. As when Jesus fed the 5,000, God multiplies out of nothing."
Word of watering mouths
To see for myself, I cram into a white Chevy Colorado 4x4 pickup with five MI workers carpooling to remote Mixteca communities. The two-hour drive northwest from Oaxaca is gorgeous: rolling folds of pine-covered 8,000-foot Sierra Madre mountains as far as the eye can see. We turn off the highway at a magenta Catholic shrine just past Kilometer 140, and descend the windy dirt road down to the narrow valley below. It's a land of acidic red soil and seasonal streams. The April sun pushes 100 degrees.
Near the barrio (village) of Rio Plaza, we begin where MI starts with most communities: a family garden. Each features 12 varieties of vegetables, such as onions, broccoli, red cabbage, and lettuce. Silver plastic wraps five garden beds 60 feet long. Holes poked with an aluminum can on a stick allow the garden plants to emerge. A drip irrigation system conserves water and reduces labor.
The garden's design keeps the soil soft, allowing the produce to grow bigger. I pluck a red cabbage and sink my teeth into it. The taste is fresh and organic, with a sharp bite.
Past a few bends in the road is an invernadero, a greenhouse run by a Mixteca cooperative called Yute Nuu Yavi. The local climate is too cold or varied for tomatoes. The 1,000 8-foot-tall vines spanning 12 rows are mostly barren, a testament to the just-completed third harvest at MI's largest greenhouse. The harvest is timed for the high point of the tomato season when demand and thus prices are highest.
The garden and greenhouse are carved into the mountainside along the road so passersby will see them and become interested in MI's techniques. An example of this word-of-mouth advertising is Eunize Lopez Martinez. The 42-year-old mother of seven lives up the road. Next to a mound of smoking dirt, where her husband is making charcoal, is her garden.
"I never planted a plant until MI taught me how to have a family garden," said Lopez Martinez. Before she had to walk to the weekly traveling market, where produce was often unavailable, too expensive, or of poor quality. Sometimes her family would go weeks without vegetables. Now they have vegetables for lunch and dinner daily. And passersby ask her how they can get a garden of their own.
Over the next ridge is the village of Monte Flor, a sprawling community of 1,500 where 10 volunteers are building a cement water tank that will collect rainwater from the corrugated roof of a nearby house. Four men mix cement, water, and gravel while others use rods of rebar to pack the mixture down to the bottom of wooden forms. The 10-foot diameter tank takes one day to build and three days for the concrete to set.
Group leader Carlos explains that local families maintain small gardens near the river below but must walk three hours from their mountaintop homes. The 400-gallon tank allows for gardens near the house, as the rainy season will provide enough water to last the dry season, from March to July. The tank will be Monte Flor's third, following 14 latrines and 26 stoves built since 2008.
The Monte Flor community started working with MI after seeing the results of its projects in neighboring Rio Plaza.
"This is the multiplication effect," said Raul Casaos Martinez, MI's family project coordinator. "People saw the impact in the lives of recipients and wanted their own. It's like evangelizing."
Observing the tank construction is Gumercindo Martinez, a 33-year-old with an affable smile and rumpled cowboy hat. He lives a four-hour walk from Monte Flor, but heard about MI's projects by word of mouth.
"I saw the onions from the family gardens. I was amazed at how big they were," he said. After training on family gardens in Rio Plaza, today he is growing his own cauliflower and onions.
Just down the hill, Don Claudio Hernandez, 49, shows off his month-old ecological stove, which features a barrel lid for baking, two makeshift burners, and a flue. The corrugated aluminum roof of his pine slat house used to be silver. Today it is solid black, a testament to the smoke that his wife and six children inhaled for years as they cooked over a hearth.
His MI stove will improve their health, as will the water tank outside the one-room house's only door. He learned of both MI projects from Epigmenio Miguel Lopez, the farmer of the family garden we saw first.
The MI projects are partnerships, not handouts. In the case of the gardens, families contribute 30 percent of the 150 peso starting costs for seeds, and MI the remaining 70 percent and the training. The families are responsible for labor.
Next we descend to the valley to visit a tree nursery in Ojo De Agua where a rotating three-person team of caretakers is raising 30,000 seedlings, making it the largest of MI's seven nurseries. Six tiers showcase the eight-month progression from seeds shaded by netting to saplings in the open sun. The species — cedar and Oaxacan, Michoacán, and Suedostro pines — are commercial trees whose long needles are used for making baskets and other handcrafts.
The caretakers point to areas in the surrounding mountains where batches of thousands of trees from previous years have been planted. Reforestation is done by churches and schools who coordinate weekly blitzes by volunteer planters. They are waiting for the wet season's first rains to plant the next batch in July.
"Before we saw the hills nearly empty," said a former nursery caretaker who lives nearby. "Now we can see trees growing again. It looks beautiful."
Beside green pastures
At a Wednesday night church service back in Rio Brava, about 20 people fill the 12 wooden pews of the Presbyterian church. Men leave their straw cowboy hats outside the door. We stand and read Psalm 8 from the Reina Valera, then sing three hymns before hearing a message and ending the service reciting Psalm 23.
Over a late-night dinner of giant quesadillas, 42-year-old pastor Efrain Ortiz Lopez sits on his porch under a bare light bulb among his seven kids, ages 12 to 2, and talks about how MI has helped his church. Ortiz has used MI materials and staff to evangelize local youth for four years. The MI pickup bed currently has a load of balls to distribute at the church's upcoming Children's Appreciation Day.
"Children are very important," said Ortiz. "They now understand that they are children of God. I can see the difference in their lives."
The next morning we read Psalm 24 as a devotional over a hearty breakfast of scrambled eggs, beans, and bananas. Corn tortillas are hand-pressed and baked on an oil-drum stove as we speak.
His wife, Eunize, whose garden we visited the day before, shows off the basket she wove from foot-long pine needles as part of an MI women's microfinance group. "Before we just made charcoal and didn't have enough money to raise the family," she said. "I had seen the baskets but never thought I could learn to make them. Now I can help my husband raise the family."
Seeing shoots
After breakfast we drive through El Oro, MI's first partnering community. We pass a Presbyterian church with a 70,000-liter tank that collects rainwater from the roof for community use since MI helped built it in 2006. Along the ridge we pass the hopeful symbols of cement gray tanks and sky blue latrines, which seemingly alternate with the discouraging symbols of woodpiles and bags of charcoal.
Leaves fall from the dry trees as songbirds and woodpeckers flit about and the sun bakes off the morning mist. About 15 minutes later we hit the edge of the remnant forest and the frontier of the deforested wasteland: Loma de Ardilla.
Here signs of change abound. At the village entrance, a dozen goats are clustered in an MI-inspired wooden pen rotated around the hilltop so that their droppings might create a thick bed of fertilizer for future planting.
The village's Presbyterian church began hosting workshops of Church, Community, and Change, a Floresta curriculum developed to transform the physical and spiritual environment of communities such as Loma de Ardilla. The workshops teach church members to first identify the needs of their community, then develop the resources to meet those needs.
MI trained the church members as they built a cement water tank in 2006 that provides 22 families with clean water, saving them the long hike down to the valley. The project was followed by 10 ecological latrines and 22 ecological stoves in 2007. Recipients are selected by ballot, and benefits are shared among Christians and non-Christians.
We have an impromptu lunch on the hand-carved pews as a strong breeze blows through the wall-less chapel toward the deforested hills. We dig into bowls of mole amarillo containing chicken from an MI community project that trains locals to raise better chickens in coops. Those who do well at the community garden can receive a chicken project.
In the valley sits Loma Chimedia, where we visit a women's microfinance group, one of 12 run by MI.
Isadora shows off her table decorations made out of corn husks, pine needles, and flowers. She has spent three hours of her free time from daily chores each day since 2004 on her handcrafts, which she sells in nearby towns. Her yarn purses take one month to make. Her bracelets take five minutes.
"I'm very glad to learn how to make things that I didn't know I could do," said the hardworking mother of four. "I feel better about myself, I have more self-confidence, and now I can help with the costs of the house."
Loma Chimedia first partnered with MI five years ago over their most basic need: access to water. A water tank was followed by family gardens, latrines, and ecological stoves. Then a tomato-producing greenhouse, MI's first of 20.
"Now I can't imagine carrying buckets of water or using the same old latrines. We have a better quality of life because we have water," said Alier, 26, president of Grupo Xe'e Xiki, which operates the greenhouse. The Catholic group will use proceeds to build a training center to preserve their Mixteca language.
Next we visit Rio Yutanume, where MI helps an independent missionary church provide its neighbors with family gardens and chicken projects.
"For me this work is a testimony," said Eracleo Garcia, 73, pastor of the church since he came to faith in 1984 after healing from a kidney ailment. "We can evangelize through these projects."
The adobe church with red metal doors built in 1992 offers the Community, Church, and Change workshop to helps its 40 attending families identify community members in need and bring MI projects to them.
"We share projects and share the gospel so they can have a better quality of life," said Garcia. Seven chicken projects have led to conversions. A greenhouse project brought two families to faith. This weekend Garcia is going to a nearby community where recipients of MI projects have asked to learn more about God.
MI doesn't evangelize or disciple directly. Instead they connect people to the local church. "Even though I don't always share the gospel with the Bible in my hand, my attitude is even more effective," said Eduardo Lopez Cortez, who coordinates MI's reforestation projects.
This partnership is healing souls as it heals the land. "We are completing the commandment of God to serve our neighbor," said MI director Castellanos. "We know that as Christians we are the body of Christ. Churches do worship, preaching, and evangelism. MI helps meet people's physical needs. One hand helps the other hand, and together they complete the integral mission."
Jeremy Weber is associate editor for news at Christianity Today.
Related Elsewhere:
This article accompanies one on Floresta's work, "Trees of Life: How Floresta integrates development, discipleship, and creation care overseas."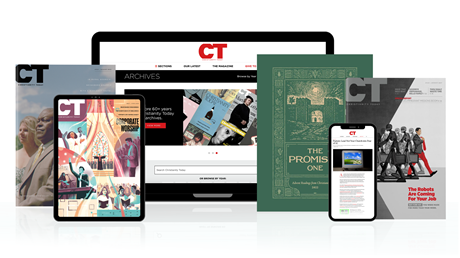 Subscribe to Christianity Today and get access to this article plus 65+ years of archives.
Home delivery of CT magazine
Complete access to articles on ChristianityToday.com
Over 120 years of magazine archives plus full access to all of CT's online archives
Subscribe Now
A Grounded Faith
A Grounded Faith