American Christianity, like the Southern California shore, gets hit by many waves. As a Southern California native, Todd Hunter has caught some of the most notable evangelical breakers.
In the fall of 1979, he and his wife, Debbie, were the first church planters sent out by John Wimber's Calvary Chapel of Yorba Linda—more than two years before that group joined the nascent Vineyard movement. By 1994, Hunter was national coordinator of the Association of Vineyard Churches. In 2000, he became a church planting coach for Allelon, a group devoted to cultivating (here comes a buzzword) the missional church. Four years later, he took the leadership of Alpha USA, an evangelistic program with roots in a prominent charismatic parish in England. And after four more years, he left the leadership of Alpha to launch the Society for Kingdom Living in Boise. But he soon found himself recruited to plant 200 Anglican churches on the West Coast, becoming a priest this March and a missionary bishop in September.
Is Hunter's history a farrago of fads? Or is his career a history of the fresh winds that have blown across America's religious landscape?
You just became an Anglican priest in March and a bishop this month. Did you ever remotely envision aligning with Anglicanism?
Two of the earliest people to shape my theology were J. I. Packer and John R. W. Stott. Through John Wimber, I knew almost every charismatic Anglican leader in the world. In Alpha I grew to love and respect a lot of key Anglican leaders. I wasn't on the Canterbury Trail and didn't see it coming. But now I realize that I do fit this tribe.
When you left the Vineyard leadership, you connected to the early emerging church movement. What did you learn?
I linked to the emergent thing because I loved these young Christians who were trying to figure out church and what it means to be a follower of Jesus in this new era. We coached church planters all over the world who were trying to create communities of faith that made sense to their postmodern, post-Christendom friends.
Now you can't broad-brush the emergent movement. But I saw two big problems in the emergent world.
First, the emergents are so sensitive to issues of community, relationship, egalitarianism, and being non-utilitarian in their relationships, that evangelism has simply become a synonym for manipulation—a foul ball, relationally. If you and I were work colleagues and I built a relationship in which I could influence your journey toward Christ, that would be considered wrong in these circles. I cannot be friends with you if I intend to lead you to Christ.
Second, after 10 or 12 years of the emerging church, you have to ask where anything has been built. Evangelism has been so muted and the normal building of structures and processes hasn't moved forward because there's no positive, godly imagination for doing either evangelism or leadership. Such things are by definition utilitarian, and so they were made especially difficult.
What do you think about churches in the seeker mode—if that means "non-participating mode"?
I love all the seeker guys and was one myself. But anybody today who wants to be a seeker and follow God in the way of Jesus is going to want a religion to practice. I'm wondering if Anglicanism and other streams grounded in spiritual practices aren't going to be used by God in a way they have not been used since frontier America and Wesley.
America is going to become increasingly secular and hostile to the church. But what will build the bridge to whatever authentic Christianity emerges next is going to be a serious practiced Christianity. I think there's going to be a revival of religion.
You're planting churches that require people to understand liturgy. How do you engage people with old traditions?
The book I've just now finished writing is called Giving Church Another Chance: Finding New Meaning in Spiritual Practices (InterVarsity). I walk readers through a service from prelude to benediction, and I try to recast preludes, Scripture readings, the sermon, and so forth to show how these practices can be spiritual disciplines that animate, energize, and enliven a spiritual life in Christ.
In one public service, I didn't wear all the vestments. I wanted to give parishioners just a taste of liturgy. So when I went behind the table, I put on my stole. I said, "This is a stole. On the same night that Jesus said, 'Do this in remembrance of me,' he put a towel around himself, washed the disciples' feet, and said, 'See, I've set the example.' This stole is symbolic of me as a servant and us together as a community taking up the towel of Jesus."
When we pass the peace, I say, "This used to be a revolutionary activity. When you were in a village church and you knew that that guy had stolen one of your cows and he's here to have Communion, this was the time to go to him and repair the relationship." Those little explanations blow people away.
You're building the church up experience by experience.
Yes, because I'm working mostly with the de-churched—people who had been in church and had some kind of bad experience. Here's my real vision: I feel I really understand the postmodern, post-Christian angst of the 16- to 29-year-olds. I know people this age who are sleeping with whomever they want and are vaguely spiritual but not sure they want to be religious. I have a vision of them praying the prayer of confession week after week, and me doing spiritual formation with them, not saying, "Bad dog, you can't sleep with him or her," but saying, "Why don't you come to church every week and just pray this prayer, and then come back and see me in a month?"
Some of these people honestly don't know what they can believe. I have a vision of saying to them, "Don't worry about it. I want you to come to church every week for six months. Just say the Creed, and let's connect every few weeks over coffee." And we'll ask, "So, what are you stumbling over?"
I have a vision of liturgy as a tool for evangelism and discipleship, a tool that is grounded in Scripture.
How do the prayers of the people—which methodically cover every kind of intercession we should make—shape a worshiper's imagination?
Christianity is for the sake of others. And praying the prayers of the people pickles you in the otherly orientation, which is fundamental to being the people of God.
When you think through the prayers of the people, it dawns on you that you're supposed to care about that guy with no job or this widow or that sick person. I can use those prayers to shape a missional, other-oriented worldview. And I will explicitly teach on these things, but just in little bites.
In the book, we'll walk through a typical liturgical service. Take the prelude. I tell how I love to walk into a church ten minutes early and quiet myself while a prelude is being played. I then talk about how the historic spiritual disciplines of silence and solitude can inform, empower, and enliven a genuine Christian spirituality.
I take things everybody will think are boring and talk about how they are linked to historic spiritual practices and can inform Christian spirituality in a postmodern, post-Christendom setting. I hope I'm saying these things in a way that a de-churched audience can hear.
You will be planting churches in some pretty unchurched places. How Anglican will those churches look?
We're going to engineer these churches backwards from missional and pastoral concerns. They will be Anglican in theology and Anglican in polity, but they may not look Anglican.
In Christianity Beyond Belief, you set aside evidentialist apologetics in favor of a behavioral apologetic. What is the role of apologetics?
I don't hear people asking, "How do I know Jesus rose from the dead?" anymore. But I do hear young people outside the church asking, "Is the church a force for good or a force for evil?" The New Atheism is questioning the essential goodness of the church.
I don't set aside evidentialist apologetics. I just see people come into a community more experientially and then start asking, "Will you show me what we believe and why we believe it?" We still answer those questions, but later in the process.
You write about the evangelistic importance of shaping the imagination. What does that mean?
The average person doesn't live out of data and propositions. They live out of their imaginations. When I almost moved to Washington State to play rookie league baseball, what animated me was my dream of playing in the major leagues. I knew the facts of baseball. I knew the rules. I knew the history and the great players. But what fueled me was my imagination.
Stories create imagination, and imagination creates possibility.
This is where Eugene Peterson's work about the power of story to shape imagination has been so helpful. He says that if you genuinely think Christianity is a story about going to heaven when you die, it is no accident that fostering discipleship is like pulling teeth. I'm trying to get people to switch stories to reshape their imaginations. If we recast the gospel as something that gives us life, not just a secure death, then discipleship and mission become normative because they become more intuitive.
How do people move to the bigger good-life and secure-death story?
In our story, heaven is not the goal; it's the destination. We're going to reign with God forever in the renewed heaven and renewed earth. That's our destination. But the goal of Christianity is spiritual transformation into Christlikeness.
If my dream of playing baseball had come true, I wouldn't have called my dad and said, "I'm going to New York." No, I would have said, "I got drafted by the Yankees." New York is not the goal. It's simply the destination.
When people are on a journey of discovery, at what point do you think, The Spirit of God is now leading me to pose the question that gets them to cross the line?
In much of post-World War II evangelicalism, we asked people to cross a finish line. So it went: apologetics, apologetics, apologetics, then, okay, you get it now, you need to make a decision, and you get to go to heaven when you die. What I'd prefer to see is apologetics, enculturation, saying the prayers, and then you come to a line, but it's a starting line: Are you ready to become a follower of Jesus? Can you now see the big intention of God for the earth and what he was doing through Christ and Pentecost and creating the people of God? Are you willing to join that family and take up that family's cause through following Jesus?
Related Elsewhere:
Todd Hunter's Christianity Beyond Belief is available at ChristianBook.com and other book retailers.
Previous Christianity Today articles about evangelism and Todd Hunter include:
Getting Back on Course | It's time to return to the priority of evangelism. (November 2, 2007)
Evangelism Plus | John Stott reflects on where we've been and where we're going. (October 13, 2006)
To the Pentecostal & Charismatic Churches by Todd Hunter | To the Pentecostal and Charismatic Churches of North America. (October 25, 1999
Have something to add about this? See something we missed? Share your feedback here.
Our digital archives are a work in progress. Let us know if corrections need to be made.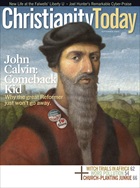 This article is from the September 2009 issue.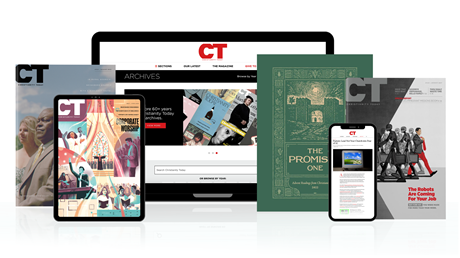 Annual & Monthly subscriptions available.
Print & Digital Issues of CT magazine
Complete access to every article on ChristianityToday.com
Unlimited access to 65+ years of CT's online archives
Member-only special issues
Subscribe
The Accidental Anglican
The Accidental Anglican