Former Evangelical Theological Society (ETS) president Francis Beckwith's reversion to Rome in 2007 reignited perennial questions of how evangelicals should relate to Catholics. Namely, can a Roman Catholic credibly claim the evangelical label? Beckwith thinks so, and he has an ally in Beeson Divinity School dean Timothy George. Nevertheless, during their charitable dialogue George and Beckwith reiterated key differences on authority and how Christians are counted righteous before God. The Penner Foundation and Center for Applied Christian Ethics hosted the discussion at Wheaton College on September 3.
Familiar with speaking before evangelical audiences, Beckwith testified to an upbringing in a Catholic parish where he did not learn much about who Jesus claimed to be or what he came to do. His desire to follow Jesus led him to a Protestant church. After years of nurture and study among evangelicals, the philosopher ascended to the ETS presidency in 2006. Even after returning to his Roman Catholic roots, Beckwith contends he could sign the ETS doctrinal basis, which reads: "The Bible alone, and the Bible in its entirety, is the Word of God written and is therefore inerrant in the autographs. God is a Trinity, Father, Son, and Holy Spirit, each an uncreated person, one in essence, equal in power and glory." He noted that someone could maintain ETS membership in good standing while holding any number of heresies, such as denying original sin. But as he learned during the controversy surrounding his reversion, Catholics are excluded.
"Apparently you can be a semi-Pelagian Nestorian in ETS," Beckwith said. "But Saints Athanasius, Augustine, Aquinas, and Thomas à Kempis are not welcome."
George responded by noting significant cultural changes since ETS formed in 1949. Evangelicals at the time positioned themselves against Protestant liberals and Roman Catholics. But liberal churches have since withered. And George maintains that statements such as "The Gift of Salvation," signed in 1994 by 20 prominent theologians with Evangelicals and Catholics Together, indicate growing consensus. Ten evangelicals and ten Protestants each agreed that "justification is not earned by any good works or merits of our own; it is entirely God's gift, conferred through the Father's sheer graciousness, out of the love that he bears us in his Son, who suffered on our behalf and rose from the dead for our justification." They even went so far as to write, "We understand that what we here affirm is in agreement with what the Reformation traditions have meant by justification by faith alone (sola fide)." George likened changes in the Roman Catholic Church to Martin Luther's gradual awakening as he studied God's Word.
"I want to challenge the fallacy of binary delineation," George said. "Evangelicals and Catholics are not polar opposites but are both within the spectrum of Christian faith and commitment."
Beckwith frequently appealed to experience when navigating the more treacherous terrain still separating Catholics from Protestants. He described a renewed spiritual life since he resumed practicing Catholic disciplines. Despite evident gifting and training in apologetics, Beckwith said he no longer worries so much about winning every argument. Now he is more willing to live with mystery. Speaking in a warm, personal tone, Beckwith worked to avoid antagonizing the mostly Protestant crowd that filled Wheaton's Edman Chapel.
"God's grace is meant not only to save me but transform me from the inside out," Beckwith said. "Protestants describe something similar as sanctification."
Moderator Chris Castaldo, author of Holy Ground: Walking with Jesus as a Former Catholic, worked to draw out the significant differences that still prevent Beckwith and George from worshiping together in a local church. He noted that some Catholics have described the Protestant belief in forensic justification as a "legal fiction" absent from early church and medieval sources. George responded that the biblical evidence (Rom. 4) for imputation would be enough to persuade him, even if the doctrine never appeared in church history before Luther in the 1500s. Still, he cited Augustine's commentary on Psalm 51 as one pre-Lutheran precedent. Beckwith did not exactly contest George's interpretation. But he maintained that the Council of Trent rightly taught that the imputation of Christ's righteousness at conversion should not exclude the gradual infusion of grace. Whatever the progress made between Protestants and Catholics on justification, they remain divided on this key point of imputation versus infusion. George later elicited a couple shouts of "amen" and "hallelujah" when he argued that imputation exalts God's grace and ought to lead to a life of grateful obedience.
As George and Beckwith fielded audience questions, authority emerged as another key point of ongoing tension. George reminisced about late-night debates with the late Father Richard John Neuhaus in his New York apartment. George said Neuhaus told him, "You Protestant evangelicals want to talk about orthodoxy, but you have orthodoxy on the cheap. You want the Trinity and Christology, but you don't want the pope and the Magisterium." George responded, "The problem is that you Roman Catholics have orthodoxy with a surcharge. You're adding too much to it." He defended Protestant evangelicalism as the best way to be catholic, that is, in succession with the New Testament and the church of the apostles. As much as he reveres the late John Paul II and Benedict XVI as the two best popes since the Reformation, George does not view them as vicars of Christ on the earth or successors to Peter.
This difference came into even sharper focus when Beckwith described how he came to trust church authority in two controversial dogmas. The Roman Catholic Church made belief in Mary's immaculate conception binding in 1854, and followed in 1950 by teaching her bodily assumption. He compared these difficult doctrines to God's order for the Jews to kill every Canaanite man, woman, and child.
"You don't throw away the Bible if you can't understand everything," Beckwith said. "Once I understood apostolic succession and the authority of the Magisterium, a lot followed."
When asked to define the gospel, however, Beckwith and George found common ground once more. Beckwith deferred to George, who recited Paul's words in 1 Corinthians 15:3-5 from memory. "For I delivered to you as of first importance what I also received: that Christ died for our sins in accordance with the Scriptures, that he was buried, that he was raised on the third day in accordance with the Scriptures, and that he appeared to Cephas, then to the twelve."
Collin Hansen is a CT editor at large and author of Young, Restless, Reformed: A Journalist's Journey with the New Calvinists.
Related Elsewhere:
Wheaton College's Center for Applied Christian Ethics has mp3 files available for the dialogue and Q & A session. The college also has video available.
Previous Theology in the News columns are available on our site.
More on Catholicism is available in our full coverage area.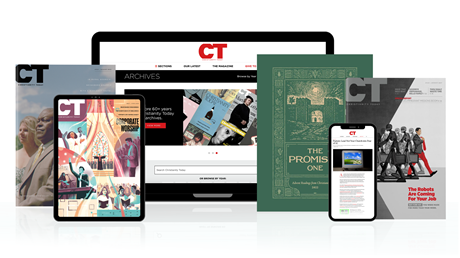 Subscribe to Christianity Today and get access to this article plus 65+ years of archives.
Home delivery of CT magazine
Complete access to articles on ChristianityToday.com
Over 120 years of magazine archives plus full access to all of CT's online archives
Subscribe Now
Amiable Impasse
Amiable Impasse