true
In summer, it's easy to define "beautiful." Sunshine and green grass, leafy trees, running water, laughter, warmth. The poets compare their loves to summer's days.
But it's winter now. Winter can be beautiful, too. Before we enjoy snowy landscapes and glinting icicles, we must experience the barren landscapes, the leafless trees, the grey skies and brown, dead plants. In early winter, it's hard to see beauty.
Alejandro González Iñárritu's Biutiful lives into life's early winter, a world of brokenness and a man who isn't ready to leave it. Uxbal (Javier Bardem) can see his own life is ebbing; he's been diagnosed with an advanced, aggressive, untreatable cancer, something he must endure while making a living on the shadier side of Barcelona, finding work for illegal immigrants, but often among the unscrupulous.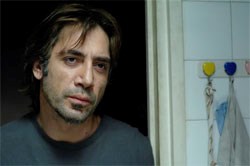 His ex-wife Marambra (Maricel Alvarez) is emotionally and perhaps mentally unstable, and his brother Tito (Eduard Fernandez) is a bit underhanded. Their father's body has been exhumed and shipped across an ocean to them—a father they never really knew—and the pain and intrigue of who he was and who that makes them is full of hurt. But his two young children are, quite literally, the light of his life: he never smiles except around them.
You can see in Uxbal's pained eyes that he cares deeply about everyone his life touches—from Marambra to the immigrants he works with—but as small mistakes begin to unwind and irrevocably ruin those around him in ways he can't anticipate, he is gripped by the fear that his own children will be hurt, too, in a world full of cruelty and injustice. He can't let go. He doesn't want to tell his children that he is going to leave them soon.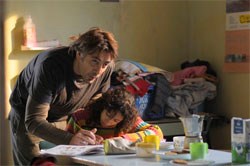 Iñárritu has never tried to make terribly straightforward films. His earlier work—Babel, 21 Grams, Amores Perros—play fast and loose with time, leave the viewer chasing the narrative breathlessly to keep up. Biutiful, by contrast, is almost entirely linear: the story of one man and the people in his life. Javier Bardem seems to have not just taken on Uxbal's pain, but the pain of the entire broken universe into his haggard frame and furrowed brow. It is—not surprisingly, for Bardem—a beautiful performance.
But the film is almost too broken and painful for most moviegoing audiences to be able to experience Uxbal's pain. It's all here, and laid on a bit too thick, a slow burn toward oblivion: illegal immigrants treated with inhumanity by cruel taskmasters, dead children, broken families, acts of kindness turned fatal, mental illness, cancer, pain, widows with weeping children. While Uxbal fights, and at times succeeds, in mending the world, we're knocked numb by the litany of atrocities and sadness. We need more time to love the characters before we can feel for them well.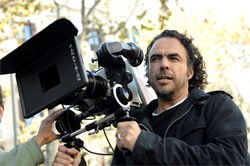 That said, it's good for people—especially Christians, who are tasked to care for the downtrodden—to watch films that help us enter into the pain of the world and remember what others experience. But Biutiful is also weirdly haphazard, even if its timeline is linear. There are too many narrative strands introduced early on to keep us tracking properly with everyone. And Uxbal has a strange ability to see and speak with the spirits of the dead, to discover what's keeping them on earth instead of passing into the beyond—a fascinating but wholly underused character trait.
Biutiful is named for Uxbal's daughter's childishly innocent observation about her world. And so perhaps, it's only through the eyes of a child that the brown, broken winter can seem beautiful. Eventually, the snow falls, and it's all covered in beauty again.
Talk About It
Discussion starters
Have you ever been in a position where the good things you did ended up hurting someone? What did you do to make things right, if you could?
Uxbal's work is morally ambiguous. Do you think the ends justified the means? Is he doing good even if he is making a profit off of it?
Uxbal loves his children and would do anything for them, even considering welcoming Marambra back into the family. What do you love? What drives you and makes your life worth living? What sacrifices are you willing to make for what or whom you love?
The Family Corner
For parents to consider
Biutiful is rated R for disturbing images, language, some sexual content, nudity and drug use. There's an extended scene of suggestive female nudity, along with frank sexual conversations and other profanities (though the film is not in English). A man stands in his underwear after a sexual encounter with another man. A scene takes place in a strip club (and we see quite a bit of the performers). Characters snort cocaine. Police cruelty leaves men dead; an accident with a heater leaves another roomful of people disturbingly dead. Spirits of dead people occasionally appear floating in the air.
Copyright © 2010 Christianity Today. Click for reprint information.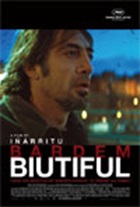 Browse All Movie Reviews By: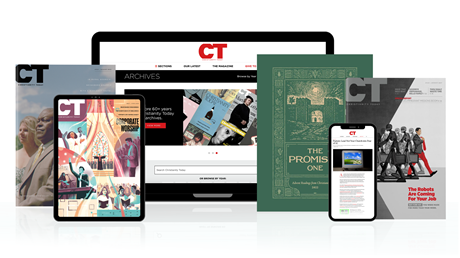 Subscribe to Christianity Today and get access to this article plus 65+ years of archives.
Home delivery of CT magazine
Complete access to articles on ChristianityToday.com
Over 120 years of magazine archives plus full access to all of CT's online archives
Subscribe Now
Biutiful
Biutiful