true
Somewhere, the new film from writer-director Sofia Coppola, begins, ironically, in the middle of nowhere: a desert dotted by a few cacti and a paved racetrack of mysterious origins. We hear and see nothing. Then the lazy drone of an engine emerges from screen left, portending a Ferrari idling around the track. Where is it from? Where is it going? The vehicle continues on its circuitous path, moving in and out of our sight at a surprisingly slow pace. Suddenly its driver stops and emerges from his den, a scruffy 30-something wearing untied boots and black shades. He stares at his lifeless, sun-scorched surroundings without moving a muscle. He continues to stare.
The little Ferrari symbolizes its driver, Johnny Marco, a bad-boy, B-grade actor played convincingly by bad-boy, (mostly) B-grade actor Stephen Dorff. Somewhere, which won the Golden Lion award at the Venice Film Festival, is Coppola's subtle character study of a man who is barely a character. The privileged son of Hollywood parents, Johnny has cruised through life without challenge or lack of choice. A smorgasbord of beer and cigarettes and women are ever before him in dizzying variety, awaiting his consumption between stints in trite action flicks. The gospel according to Epicurus would seem to have Johnny moving along at a pleasant pace. We soon see, however, that it has left him dead.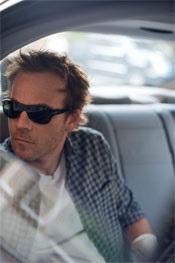 At 39, the Oscar-winning Coppola has developed a keen eye for quirky, true-to-life characters and details, as shown by her previous films—The Virgin Suicides (1999), Lost in Translation (2003), and Marie Antoinette (2006). Her newest, its themes of loneliness and surprise connection reminiscent of Lost in Translation, unfolds less as a plot than as a collection of quiet vignettes. (Coppola, inspired by acclaimed father Francis Ford Coppola, said recently she wrote scenes and moments of the film first, then strung them together.) While the film critiques both Hollywood's shallowness and the "male fantasy" of casual sex, it is more interested in exploring the glimmer of grace in Johnny's inert life: his 11-year-old daughter, Cleo, played by Elle Fanning.
Most of Somewhere is shot in the iconic Chateau Marmont on Sunset Boulevard, the star-studded Hollywood hotel where Johnny's holed up. Early on we see the actor lounging on his bed in an arm cast after a drunken spill down the stairs, watching two personal strippers toting portable poles. We sit through two of their extended routines, but the effect is anything but titillating; their outfits and canned moves are comically absurd, Coppola is quick to show. Even Johnny falls asleep. In fact, 15 minutes into the film, we have yet to hear our protagonist say a word. In one simple but profound scene, Johnny sits on a couch in his low-lit apartment, smoking a cigarette, waiting for—he doesn't seem to know. He begins fiddling with a basket of fruit provided by the hotel. In another scene, Johnny approaches an attractive woman (one of many in this film) at a party to go to bed with her—and falls asleep in the middle of their lovemaking. This Ferrari has an engine problem.
Clearly, sex plays a dominant role in Somewhere; scenes abound of random women eyeing and propositioning Johnny. But Coppola's thematic use of sexuality is put to somewhat redemptive ends, as if the film is saying: If an accomplished, attractive guy is so desolate despite so much sex, surely life must be about far more than scoring.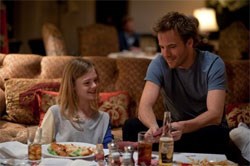 The next time we see Johnny in bed, he has a surprise guest: a blond child drawing a heart on his cast above the name "Cleo." "Hi Dad," the ethereal beauty murmurs, as if rousing a clumsy bear from hibernation. Johnny's former girlfriend stands in the doorway, saying she needs to leave Cleo with him for several weeks. Here, Coppola turns her attention to the awkward but affectionate moments between parent and child—or more like big brother and little sister. We see Johnny and Cleo eating gelato in a king-sized bed watching Friends dubbed in Italian. One day is spent poolside at the Chateau, basking idly in the sun, taking breaks to play "tea party" at the bottom of the pool. After a quick trip to Italy for one of Johnny's film premieres, Cleo lays her head on his shoulder while hotel employee Romulo earnestly croons for them "Teddy Bear," the cheesiest Elvis song ever. The soundtrack—a blend of ambient electronic music and indie twee—is signature Coppola. And the sum effect is sweet but not saccharine, warm but detached. Rightly so: To show Johnny becoming a responsible, caring father or show Cleo learning to trust him as that, all in a few weeks' span, would be dishonest.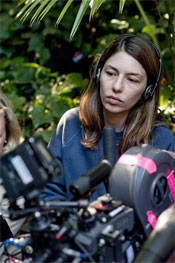 Yet I had hoped for that. So devastatingly sad is Johnny's life, I wanted Cleo to cure her father's soul malady, to change his habits and reorder his loves. In the end, I guess, I wanted his redemption. Coppola—herself having growing up with a father engrossed in Hollywood, now a Hollywood mother with two young daughters—seems to know it's not that easy. Neither is her new film, which, formally speaking, is gorgeous. Instead, Somewhere barely hints at Johnny Marco's transformation without letting us see it.
But I'm glad it hints at it.
Talk About It
Discussion starters
Sofia Coppola wrote

Somewhere

after giving birth to her first daughter, Romy. "Having a kid makes you think about your own childhood," she said recently. What does

Somewhere

teach about the relationship between parent and child?
What does the film teach about Hollywood and LA culture? Does its depiction resonate with your own impression of Hollywood?

Somewhere

clearly portrays a life of emptiness. According to the film, what would be the elements of a meaningful life?
The Family Corner
For parents to consider
Somewhere is rated R for sexuality, nudity, and some language. We see the main character sleep with several women. While these scenes are not graphic, they are disturbing because they are devoid of care or emotional connection. There are two extended scenes of strippers dancing, though they do not include nudity and are comical more than erotic. Several women walk through the Chateau Marmont topless or wearing little. Throughout the film, the main character receives eerie text messages that include profanities. Overall the mood is depressing and heavy. Not recommended for children.
Copyright © 2010 Christianity Today. Click for reprint information.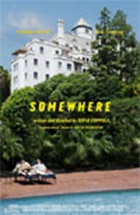 Browse All Movie Reviews By: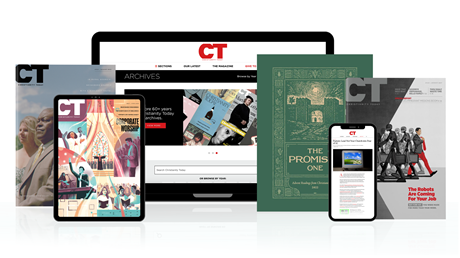 Subscribe to Christianity Today and get access to this article plus 65+ years of archives.
Home delivery of CT magazine
Complete access to articles on ChristianityToday.com
Over 120 years of magazine archives plus full access to all of CT's online archives
Subscribe Now
Somewhere
Somewhere