true
Disney's 1982 original may be unfamiliar to many, but many movies owe inspiration for story and effects to Tron, an ambitious video game adventure that utilized groundbreaking animation and computer generated visuals. Though it wasn't a box office smash at the time, it would become a favorite among 10-year-olds, a guilty pleasure among sci-fi loving adults, and ultimately a cult classic.
After all these years, and at a time when no '80s movie seems safe from being remade, Disney elected for a standalone sequel. Knowledge of the original film isn't necessary, though the little details and references sprinkled throughout help the visual experience. In any case, Tron: Legacy is a visual experience in need of help.
The first movie featured a video game programmer named Kevin Flynn (Jeff Bridges) attempting to hack into the mainframe of Encom, his former employer, for proof of his stolen work. He ends up inside a virtual world where living programs bear resemblance to their users, battling each other in video games for survival and freedom/supremacy. With the help of a heroic security program named Tron, Flynn returns to our world victorious and becomes the head of Encom.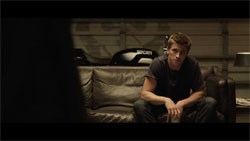 In Tron: Legacy, Flynn (Bridges, reprising the role) has mysteriously disappeared again, this time for nearly 20 years, leaving behind his Encom empire and his young son Sam. Without a father figure to guide him, Sam (Garrett Hedlund) grows up to be a sullen and reckless adult more interested in sabotaging his father's company than in running it. But when Flynn's old friend and business partner Alan (Bruce Boxleitner) receives a mysterious page from Flynn's office at a closed-down arcade, Sam decides to check it out. There he finds an old computer lab and before you know it, he's been uploaded to the game grid.
The virtual world is still devoted to gladiatorial combat in the form of deadly disc battles and intense light cycle races. As with the original, these are the best scenes in Tron: Legacy, and the filmmakers have outdone themselves here to make the action vibrant and captivating. This half hour alone is almost enough to recommend the movie—if only that pesky story didn't get in the way.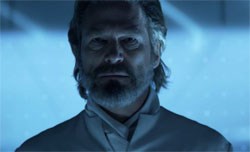 Amidst the gaming, Sam meets Clu, the computerized alter ego and spitting image of his father 20 years ago. (Bridges is made to look younger through digital technology, but the effect looks fake—sort of like the motion capture of The Polar Express.) Clu has since launched a coup in a fascist pursuit for perfection among programs and seems all too willing to delete Sam.
A mysterious female program named Quorra (Olivia Wilde) arrives in the nick of time to rescue Sam and bring him back to her benefactor's hideout. To little surprise, it's the real Flynn, looking much older. He's been trapped in the virtual world all these years, unable to return because of Clu's intent to destroy his creator so he might somehow cross over to our reality for world domination.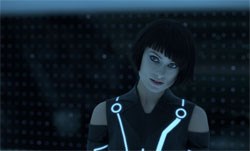 Keeping up so far? Congratulations, but things quickly become pointless and confusing thereon. The original Tron had a simple plot reminiscent of Star Wars—good guys on a mission to destroy the big bad master computer. In Legacy, the goal is mostly to find transportation for escape. Given all the cool vehicles, including some nifty new light jets, you'd think that wouldn't be a problem and that we'd be treated to some thrilling chases. You'd be wrong.
There's a long, meaningless subplot involving a forger/smuggler named Castor or Zuse (an enjoyably campy Michael Sheen)—the movie can't quite decide what his name is. All the characters show up to his nightclub, one at a time, and somehow manage to waste 30 minutes without advancing the plot. After that, Legacy becomes a slow, clumsy race to escape the game grid before the portal closes.
You might be wondering where Tron is in all of this, given that he's still the titular hero. He's involved, but in a way so subtle it's hardly worth mentioning. The plot instead hinges on the identity of Quorra, and I'm not sure I could explain that detail even if I wanted to—the movie's explanation is so brief and puzzling, it's surprising that it becomes so important. Cheating us further, the story has a key character switch allegiance with no explanation, and the climax relies on one of those yawn-worthy "what just happened?" visual effects to wrap things up.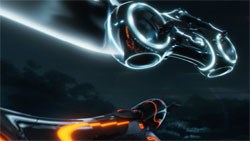 For a movie that showcases flashy action sequences, Tron: Legacy's pacing is pokey and labored, weighed down by dull flashbacks and long, clichéd philosophical discussions about embracing the "digital frontier," making the world a better place, and father-son relationships—blah, blah, blah. Thoughtful dialogue improves a good sci-fi movie (see The Matrix and Inception), but this script is a sloppy mess that plays more like amateur fan fiction. Joseph Kosinski could be forgiven with his directorial debut (he's an architect by trade), but we've come to expect greatness from screenwriters Adam Horowitz and Edward Kitsis (TV's Lost and Felicity), not to mention the folks at Pixar who consulted on last-minute scenes to better flesh out the characters. No dice.
There are actually some interesting themes at play in this movie, but they're completely underdeveloped: the religious relationship between users and programs, appreciating the perfection of our imperfections as people, embracing leadership with adulthood, and even the basic principle of a father passing his legacy to his son. Now that's a truly inept script—when great ideas wither in favor of dopey dialogue.
But if visuals are all you want, don't let the lame story stop you. Legacy truly does look amazing. Kosinski and his team have done an excellent job of evolving the design of the vehicles and characters, adding to the adrenaline rush of the action scenes. I'd even say it's worth seeing in IMAX 3-D, though the excellent electronica soundtrack by Daft Punk gets a little overwhelming at times, covering up some of the dialogue—though, all things considered, that may not be a bad thing after all.
Talk About It
Discussion starters
Do you think Flynn had a good relationship with Sam when he was young? Is Flynn's explanation for his absence sufficient? What really kept father and son apart? Does the absence of a father justify Sam's actions as an adult? What does this movie say about the importance of fathers and parenting?
Is it wrong to pursue perfection? How is Clu's pursuit of perfection different from the Christian pursuitof holiness? How is Flynn's discovery of perfection in imperfection similar to the Christian view? In other words, how does Flynn's view of his son mirror God's view of us?
What do you make of the religious undertones in the virtual world? Do the programs view users the same way we view God? How is their faith similar or different to Christian faith?
The Family Corner
For parents to consider
Tron: Legacy is rated PG for sequences of sci-fi action violence and brief mild language. The violence is highly stylized like a video game. Programs "killed" in the virtual world "de-rez" into clusters of circuits and energy, an effect that looks like shattering glass. One character loses an arm through this effect, though it is later restored. Sam also suffers a minor injury, revealing just a little bit of blood. He mutters "damn it" out of frustration—the film's sole profanity. Flynn also makes a number of references to Buddhist philosophy which might need to be explained to kids.
Copyright © 2010 Christianity Today. Click for reprint information.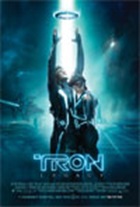 Browse All Movie Reviews By: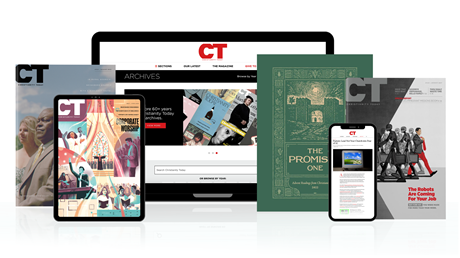 Subscribe to Christianity Today and get access to this article plus 65+ years of archives.
Home delivery of CT magazine
Complete access to articles on ChristianityToday.com
Over 120 years of magazine archives plus full access to all of CT's online archives
Subscribe Now
Tron: Legacy
Tron: Legacy