true
Whatever you do, don't call it a remake.
True enough: The 2010 movie True Grit—film No. 15 for the Coen Brothers—bears certain resemblance to the 1969 film of the same title, which starred John Wayne and featured some campy singing from Glen Campbell. The new one doesn't have any singing, but it's hard to miss a few parallels. The plot's almost the same as the original. And the character names.
But the Coens insist it's not a remake, and in fact, they haven't seen The Duke's movie since they were kids. It is, rather, a more faithful adaptation of the classic American novel by Charles Portis, which provided a slightly looser basis for the 1969 film. Not everyone quite buys it, but if you see this new version, you'll be convinced that the Coens are as steadfastly true as ever to their own spirit—and the relationship of the original to this one is simply an interesting historical footnote.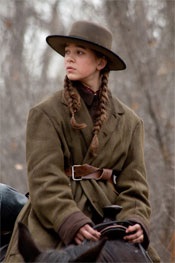 The 2010 version really is a more faithful adaptation of the Portis novel—much of the dialogue is lifted straight from the book—and yet it still plays out like the quintessential Coen Brothers. There's a lot of deadpan humor, interspersed with outbursts of violence, and as the bodies stack higher the humor becomes blacker, and more ridiculous. The characters speak in a slightly exaggerated dialect that isn't based on any particular land or geographic locale, but rather takes joy in the sheer sound of the words and rhythmic poetry of the backwoods cadence. And though this is arguably the first true Western for the Coens, the formal similarities—to movies like No Country for Old Men and even The Big Lebowski—are difficult to miss.
So it's typical Coen—at once distinct from anything they've done before and yet thoroughly fitting their body of work—and a perfect marriage of directors and source material. It's nearly the opposite of their last movie, the jet-black existential comedy A Serious Man; it's a pure joy, an absolute hoot of a movie, hysterically funny and as comfortable and familiar as an old flannel shirt. The Coens are always pushing themselves—and I would call this one of their best—but here they're clearly having fun with the material. And by their standards, the movie is uncommonly warm.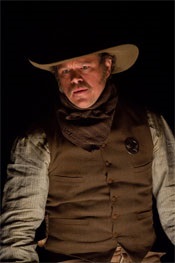 Which is not to say that it isn't a little dark, as well. The movie opens with the welcoming glow of a well-lit front porch, but as the camera pulls back, we realize that things aren't as serene as they might appear: There's a dead body on the ground, and with it the impetus for whole story. The man who was killed left a family behind, and though his wife is too grief-ridden to care about anything as coldly calculating as vengeance, his fourteen-year-old daughter Mattie Ross (Hailee Steinfeld) is out to see justice served, spilt blood repaid with more spilt blood.
Here is a girl who has been forced to grow up too fast. More than once we see her literally sleeping with death surrounding her—she spends a night in a funeral home, sleeping in a coffin with corpses all around, and later she spends the night in a house where there's just been a gunfight, and the bodies are still warm as they lay out on the front porch—but her attitude toward it is dispassionate. It's just part of her life and her world.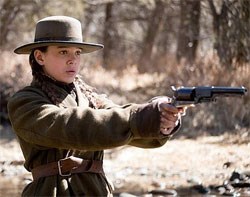 So she heads into town, her father's death still fresh on her mind, and seeks to put his affairs in order. When some townspeople try to take advantage of her youth, she informs them in no uncertain terms of her legal rights and the lengths she will go to to see justice served, and she comes out the victor in every one of her run-ins. She wields the law like a sword, unhesitant to sick her attorney on people or turn to the courts for aid when it suits her needs. But we know that, for Mattie, the law is just a means to an end; she is not out for justice, but vengeance, and though she learns that the man who killed her father is wanted in another state for another crime, seeing him brought to justice under those circumstances isn't enough. He must pay for the crimes he committed against the Ross family particularly, or else she simply doesn't care.
LaBoeuf (Matt Damon)—a Texas ranger who gets wind of Mattie's quest for blood and seeks a meeting with her—has greater emotional distance from the killer; he has been on his trail for months and simply wishes to see him brought to justice. If the man is hanged for his crimes, LaBoeuf reasons, then why does it truly matter whether the charge is for the murder of Mattie's father, or for a senator in Texas? Here is a man who is bound by a code, zealous for seeing the law carried out; yet to Mattie, who seeks not the fulfillment of the law but personal revenge, this man might as well be the enemy.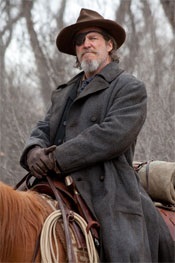 So she turns to a gruff, unkempt drunkard of a man named Rooster Cogburn (Jeff Bridges). We first see him in a court room and later learn that when he was a younger man he studied law, ultimately deciding it just wasn't for him; like Mattie, he sees the wheels of justice as useful means to an end, but he is unable to actually keep the law in his own life, and so he operates outside it. She deems his unorthodox methods to be a better match for her purposes, and so the two of them set out to find the man who shot her papa.
Lest this all sound rather heavy, I'll reiterate: This movie is absolutely delightful, the dialogue so rich in humor and fine characterizations, the actors moving through this thing so effortlessly. Bridges is a riot, and impressively unlike the character he played in The Big Lebowski, while Damon proves himself once again to be both a stalwart character actor and an impeccable comedic one. But it's Steinfeld who most amazes; she is not a child actor who's simply given room to be a child, but an actual performer, playing a character. That the movie is filmed beautifully, or that the score—based on old-timey hymns, actually—is perfectly evocative … well, it's a Coen Brothers movie. These things don't really need to be said.
What might need to be said is this: For all its pleasures, there is a sort of lingering melancholy that makes the movie stay with you. In the theater, I thought it was a zany Coen comedy along the lines of Raising Arizona or Lebowski, but as I reflected on it later I realized it to be a much sadder and wiser film than it initially seems. It's a movie about death, and about justice and revenge. It's also a movie about manhood, as seen through the eyes of a young girl whose only examples of manhood are limited and flawed. (Aren't we all?) We see these men through her eyes, and we see how it shapes her into the woman she becomes. In some ways, the way all this plays out is a little bit subversive for a Western; of course, it's also about as pure and unironic a genre picture as these filmmakers have yet made. In other words, typical Coen Brothers.
Talk About It
Discussion starters
Think about the three main characters—Mattie, Rooster, and LaBoeuf—and the different ways in which they relate to the law. How do they view the law, justice, and vengeance? How are their views similar, and how are they different?
How would you characterize the different attitudes toward death and violence?
What kind of girl is Mattie? What kind of woman does she grow into? How do you think her character is shaped by the events of her life, and the men in her life?
The Family Corner
For parents to consider
True Grit is rated PG-13 for violence and disturbing images. Scenes of violence include a couple of gunfights, one rather squeamish scene of a snakebite, a graphic scene of a man getting his fingers chopped off, a stabbing, and a shooting in the head. There are also a couple of disturbing images of dead bodies. There is also one instance of God's name being profaned.
Copyright © 2010 Christianity Today. Click for reprint information.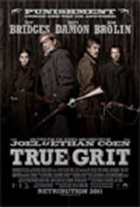 Browse All Movie Reviews By: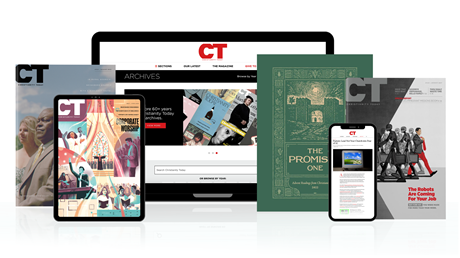 Subscribe to Christianity Today and get access to this article plus 65+ years of archives.
Home delivery of CT magazine
Complete access to articles on ChristianityToday.com
Over 120 years of magazine archives plus full access to all of CT's online archives
Subscribe Now
True Grit
True Grit