true
Legion redefines the "disaster movie," though not in the apocalyptic sense that director Scott Stewart intended.
The film is a confused mess of ideas reminiscent of The Prophecy, The Matrix, and the standard horror/action standoff depicted in virtually every zombie movie. Oddly enough, Stewart steals most heavily from The Terminator, in both story and imagery. (James Cameron ought to sue concerning the desert highway shots with the voiceovers.)
Whatever. Legion is a rip-off any way you slice it, and not just because the action and core storyline are both so derivative. The plot is ultimately nonsensical, the questions it raises are never answered, and a recap of the details should be enough to turn off any Christian with half a brain—though attempting to summarize the story is good enough for some laughs. That's because Legion pretends to be about spiritual/apocalyptic warfare, but ultimately depicts nothing more than the confused cynicism of the filmmakers.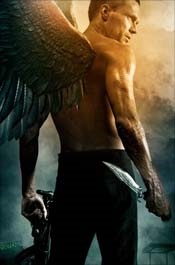 In Legion, God has given up on mankind … again. Why? The movie never specifies beyond generic references to mankind's propensity for hatred, racism, and war. One character says it's because God is "sick of all the [BS]." That's apparently a brilliant enough answer for Stewart (who co-wrote) to use in the movie twice.
As the film points out, God used a flood to destroy humanity last time. Now the extermination is to be carried out by the angels, his "dogs of heaven." Golly, you'd think God would be more efficient than that and do it himself, right? Why not use a global catastrophe like the one depicted in 2012?
All right, angels it is—because they look cool. Except one of them, Michael (Paul Bettany), still has faith and love for mankind—according to him, equal to the Lord's. So he defies God's orders, comes to earth, chops off his wings, and removes some sort of mystical collar that's never explained. Then he proceeds to the local armory and steals an arsenal of weapons to protect the last hope of all mankind. (More on that in a bit.)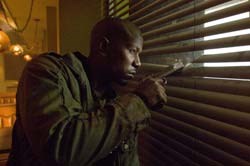 Now in Legion, angels can fly and deflect bullets with their steely wings, as well as use them to cut their foes in half. So why would Michael dispose of his wings readily? For that matter, much like demons (or the agents in The Matrix), angels can supposedly possess the "weak-willed" to do their bidding. This causes human eyes to become dark, their teeth to grow pointy, and allows them to climb the walls like some scuttling ghoul—yet bullets will still bring them down. Once again, given all their strength and power, why would angels (and God) go this route to carry out the death sentence?
Here's the kicker: In defiance of God and his army of angels, Michael arrives with a car trunk full of machine guns to protect a young pregnant waitress named Charlie (Adrianne Palicki), who is on the verge of giving birth to … who? John Connor? Neo? Superman? Since the story takes place around Christmas, one would think the story is suggesting the Second Coming of Christ—except of course, God wants this child dead and Jesus is never mentioned in the movie (excluding profanity). All we know is that the baby's survival is the only hope that mankind has.
Any further questions? Sorry, Legion never answers them. It's all lazy spiritual mumbo jumbo between the characters holed up at the Paradise Falls diner (natch) in the middle of nowhere. Percy (Charles Dutton), the diner's cook, tells Michael that none of this sounds like what he knows of God in the Bible; the archangel then more or less dismisses the Bible as a source of truth. That should give you an idea of how much this movie respects the source material.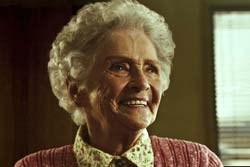 However, the filmmakers' depiction of God in Legion is quite inconsistent. Mankind is supposedly worthy of eradication because we're so hate-filled. Yet in two different scenes, the angel-possessed lay traps that prey on the good intentions of characters willing to risk their lives to save others. Michael foreshadows this earlier in noting how the angel-possessed were initially testing the strength of characters, but will later test their weaknesses. Since when in God's universe is selfless sacrifice a weakness, and why are these angels in the right with such evil tactics?
Actor Doug Jones (a Christian) has a 30-second cameo in the movie as a demonic, angel-possessed ice cream truck driver, and notes in an interview with CT that Stewart wanted to make a movie about God's wrath and judgment, pretending the New Testament never happened. Yet we see at least a couple crucifixes in the movie: one through an explosion caused by Michael, the other used to kill a man in horrific fashion upside down. To me, this reveals a filmmaker too confused and inconsistent in his own beliefs to tell a coherent story—you simply can't ignore two thousand years of Christianity in a movie with this subject.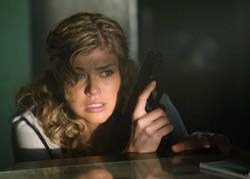 For a film that boasts a lot of action in the trailers, Legion is surprisingly dull and talky, taking ten minutes to say what could be depicted in a minute or two. Characters state the obvious and repeat it without ever showing depth or brains. The story might have been partly salvageable if the script allowed people to meaningfully ponder their own mortality (and possible redemption) in preparation for the apocalypse. But all the characters are so thinly developed and unlikable, the dialogue so corny and tedious, it all amounts to junk best left to a Mystery Science Theater skewering.
Thus another movie that fails in every way. And talk about the cart leading the horse, Legion has the audacity to set itself up for sequels without ever giving the audience enough compelling reason to care about this first installment. Heaven help us if Legion 2 should ever come to pass.
Talk About It
Discussion starters
Re-read the story of Noah in Genesis. Why did God destroy mankind with a flood? Why did he spare Noah? Why did God send a rainbow afterward? Now compare and contrast all those points with

Legion

: How does the movie get it wrong? Are there ways that the movie gets it right concerning God's wrath?
Director Scott Stewart supposedly made

Legion

to focus on the God of the Old Testament, ignoring the New Testament. Are the Old and New Testaments incongruent with each other? How is this movie's depiction of God understandable from someone who chooses to ignore the New Testament? What does the New Testament add to our understanding of God?
What do you make of the film's ending, particularly Gabriel's final showdown? What is meant by giving God "what he needs" rather than "what he wants"? What does God need from us? Do you believe God is capable of wanting and "needing" the same thing?
The Family Corner
For parents to consider
Legion is rated R for strong bloody violence and language. Most of the violence involves shooting an onslaught of demonic-looking, angel-possessed people with handguns and assault rifles, including an elderly woman and a young child. There are cuts and slices involved too, but everything happens so quickly, it's hard to see the violence as anything more than fast-edited bloodshed, though it certainly merits the R rating. One character is crucified upside down with pus-filled sores exploding in a shower of acid that kills another character. Profanity is pervasive, including lots of f-bombs and misuse of God's name. The film's theology is the most offensive thing about it, depicting a wrathful, fallible God that no longer knows how to love mankind—and no, there's no mention of Jesus and his role in the salvation of mankind.
Copyright © 2010 Christianity Today. Click for reprint information.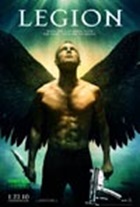 Browse All Movie Reviews By: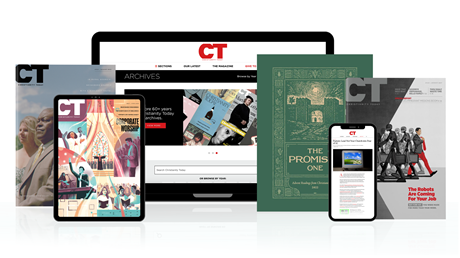 Subscribe to Christianity Today and get access to this article plus 65+ years of archives.
Home delivery of CT magazine
Complete access to articles on ChristianityToday.com
Over 120 years of magazine archives plus full access to all of CT's online archives
Subscribe Now
Legion
Legion