true
Over the course of a half dozen albums, soulful folk singer Patty Griffin has won an impeccable reputation as an insightful songwriter and passionate vocal performer, and her songs have been covered by artists as diverse as The Dixie Chicks, Solomon Burke, and Bette Midler. But the last few years have seen Griffin expand on an already revered body of work. Her 2007 album Children Running Through revealed a previously unexplored focus on gospel music, and on songs such as "Heavenly Day" and "Up to the Mountain (MLK Song)" she added her own voice and words to the timeless gospel tradition. And in early 2009, she collaborated with R&B/gospel legend Mavis Staples on the gospel chestnut "Waiting for My Child to Come Home," one of the cornerstones of the critically lauded Oh Happy Day compilation.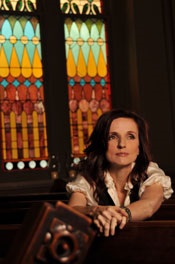 Griffin's latest album, the just released Downtown Church, represents her most immersive foray yet into the genre. Mixing country and bluegrass hymns, obscure and classic spirituals from the black gospel tradition, Hispanic hymns, a 13th century praisefest from St. Francis of Assisi, and a couple gospel originals, Griffin shows off the breadth of this remarkable music, and reminds us again that "gospel" is a musical tradition that crosses cultures and centuries. CT spoke with Griffin about her new album.
Can you share a little bit about how this gospel album came about? What started the process?
A little over a year ago I was asked to sing with Mavis Staples on a gospel compilation called Oh Happy Day. And, you know, other than being totally intimidated at the prospect of singing with Mavis, I was honored. I don't really have much of a background in gospel music. Other than some Staple Singers albums, and Aretha Franklin's Amazing Grace album, I don't really know gospel music very well. But being with Mavis, just being around people who took the music, and what the music represented, so seriously, I realized that something very moving was going on. We would hold hands before we recorded, and pray together, and it was the most amazing thing. I was really touched by it.
Shortly after that, Peter York [president of EMI Christian Music Group] suggested that I do an entire gospel album. That started the ball rolling. I told him that I wouldn't do it unless Buddy [singer/songwriter and producer Buddy Miller] would produce it—and Buddy signed up right away. He's kind of a walking encyclopedia for this kind of music, and he sent over hundreds and hundreds of songs for me to listen to. And he found this beautiful, old church in downtown Nashville—the downtown church of the album title—in which to record the songs. That's how it started.
There's a real eclecticism in the songs you've chosen—country and bluegrass classics, African-American spirituals, ancient Catholic hymns. Did you consciously set out to make an ecumenical album—or a "mongrel gospel" album, if you will?
"Mongrel gospel"—I like that! I was pretty intentional about [the song choices]. If you listen to my other albums, the albums where I've written my own songs, they're all over the map stylistically. There's folk and country and blues and gospel and rock 'n' roll. I'm not a fan of labels and categories, really. I like to mix it up. And I did that on Downtown Church as well.
You've incorporated Hispanic songs in your catalogue for a long time, and you've included a Hispanic hymn here ("Virgen de Guadalupe"). What's the role of Hispanic culture in your life and in your music?
It's from living in Texas for the past 13 years. It's certainly not a part of my upbringing; I mean, I grew up in Maine—not exactly a hotbed of Hispanic culture. Michael Ramos, who has produced me and played in my band for a long time, gets the credit for the Hispanic influence in my music. He introduced "Virgen de Guadalupe" to me. It's such a lovely, tender hymn.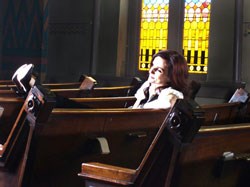 I love "Coming Home to Me," one of two original gospel compositions on Downtown Church. You sing "When you're lost and you're found and you're found and you're lost / When you're dancing with no one around." What does it mean to be lost and found in the context of the same gospel song?
Well, that's the mystery, isn't it? Look, we can talk about beliefs and doctrines and what have you. But when you get older, my experience has been that it's not that simple. People are complicated. That song—like a lot of my other songs, I suppose—is trying to get at what really goes on inside, deep down. It's about feeling alone and abandoned, and simultaneously aware that there is something or someone bigger and outside of you, and feeling connected to that. Both those things are true. It's not one or the other. I don't want to put a label on it. (Laughs). I guess that's sort of a recurring theme with me, isn't it? But both those things are true. That's what I wanted to communicate. You're lost and you're found. Both those things are true.
You've talked about listening to Bob Dylan's Christian music as you prepared for Downtown Church, and how that led you to write your own gospel songs, songs "that feel like me." How do you see your own songs as reflecting the viewpoints expressed in those Dylan albums, and how do you see your songs differing from the evangelical (and sometimes hellfire-and-brimstone) approach used by Dylan?
Yeah, you said it—hellfire and brimstone. That's not me. I don't particularly connect with those Dylan songs. Again, I don't want to get into beliefs and doctrines. But in some ways the songs I wrote for Downtown Church were a reaction to those songs, the certainty of those songs.
You know, to paraphrase John Lennon a bit, "Whatever gets you through a life." I'm in favor of that. I grew up as a Catholic, and there was so much that was beautiful there, and also so much that was troubling. The whole patriarchal thing, the whole male-dominated approach, really bothered me. And I struggled with it on this record, too. There were certain words and phrases that I just had trouble singing. And I didn't want to sing them.
Like "All Creatures of Our God and King"?
Right. That was one. I didn't want to sing "King." It bothered me. And Buddy made me do it. I mean, we even argued about it. And in the end he won, and now I'm glad he did. It's just a word. I still don't feel entirely comfortable with it, but I can appreciate the impetus behind it.
Your song "Mother of God" (from Impossible Dream) is one of the most beautiful and heartbreaking songs I've ever heard. In that song, you capture the unanswered questions we all face. You tell the story of a dysfunctional family that is falling apart, and you sing "Something as hard as a prayer on your back / Can wait a long time for an answer." I don't know if you consider that a gospel song, but I know that I hear it as a kind of prayer. How do you view songs like that in light of the more straightforward gospel songs you've recorded on Downtown Church? Is Patty Griffin a gospel songwriter, even when she's not covering Hank Williams or St. Francis of Assisi?
Well, thanks. But the short answer is "No." No, I'm not. It's that fear of being labeled again. (Laughs). But I will say this. The times when I'm most aware of God, however you define God, are when I'm making music—when I'm singing, or when I'm writing songs. Something happens during that process. I don't think that makes me a gospel songwriter. But maybe it makes me a little more aware that it's not just about me. There's something much bigger happening. For now, I'm content to leave it at that.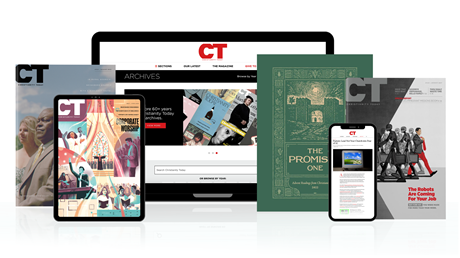 Annual & Monthly subscriptions available.
Print & Digital Issues of CT magazine
Complete access to every article on ChristianityToday.com
Unlimited access to 65+ years of CT's online archives
Member-only special issues
Subscribe
'Mongrel Gospel'
'Mongrel Gospel'