true
Given the disappointing competition in movie theaters as of late, animated features are rapidly becoming the last bastion of imaginative, family-friendly entertainment. Not that there hasn't been a share of animated duds, but Toy Story 3 and How to Train Your Dragon have been two of the best movies of 2010 so far. Despicable Me deserves to join that short list for similarly doing just about everything right.
At the heart of the film is Gru (voiced by Steve Carell), a bald and angular grouch from Eastern Europe, judging by the unusual name and Carell's goofy accent. He also happens to be a super-villain with a secret lair in a conspicuous looking dark house in the middle of sunny surburbia—chances are good that The Addams Family were previous owners. It's there that he plans devious schemes with his inventive, codgerly partner-in-crime Dr. Nefario (Russell Brand) and served by hundreds of little minions that resemble little green potatoes with appendages, goggles, and denim overalls.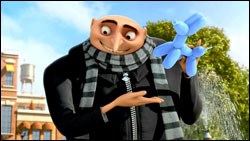 Gru's latest project—to shrink and steal the moon—runs into a snag due to lack of funding. And the Bank of Evil won't provide a loan until Gru first shows some progress. It doesn't help that up-and-coming super-villain Vector (Jason Segel) seems to be having more success with his schemes, including swiping the experimental shrink ray that Gru needs for his plan. What's an evil mastermind to do?
Gru is not a nice man at the start of this film; there's something vaguely Count Olaf (from the Lemony Snicket books) about him. We're talking about the sort of villain who'll comfort a crying child by making a balloon animal for him … and then pop it before his eyes. He'd even pretend to be the perfect father to adopt three little orphan girls if it would somehow help him in his scheme—which it does, in this case.
Where's the hero to thwart this scoundrel, you ask? Maybe we'll meet Gru's equivalent to Superman or James Bond in another film. But it's not hard to figure that orphans Margo, Edith, and Agnes have an effect on this anti-hero, despite his misguided attempts at parenting, including dangerous weapons lying around the house and newspapers laid out on the floor. "I was hoping this would be more like Annie," quips one of the girls, and yet there's still enough of a bond to make Gru question whether he should commit ultra-larceny or attend their dance recital.
Hopefully you've heard enough to get a sense of Despicable Me's hilarious comedic sense; the theater I was in laughed itself silly, self included. The slapstick gags come quickly for much of the film, recalling classic Looney Toons from Warner Bros. and Mad Magazine's Spy vs. Spy at times (particularly when Gru tries to break into Vector's suburban fortress). The things meant to inspire laughs in the trailers are at least twice as funny in the context of the film. Now there's a sure sign of good comedy—you know what's coming but still laugh because the humor is communicated well.
The film is also family friendly despite its PG rating for "rude humor" involving poop and fart jokes. Maybe I'm splitting hairs here, but while other movies revel in crass gags, Despicable Me handles it more like a parent might share a laugh with their kids—it's the difference between classic slapstick and pointless potty humor I suppose. The humor gets a little dark at times (see The Family Corner below), but not in a way that would scare kids as much as tickle adults.
There's also a lot of sweetness to Despicable Me. The girls are cute, especially Agnes, the little unicorn-obsessed girl who bears some resemblance to Boo from Monsters Inc.—she's got one of the best lines of the summer with, "It's so fluffy!!!" Despite all the film's weirdness, the relationship between Gru and the girl feels tender and real as it develops.
Despicable Me scores extra points for quality animation, particularly the excellent use of physics and textures. The look is more cartoonish than realistic, somewhat reminiscent of The Incredibles, but the characterizations are strong and the details are terrific—love the lion's head mounted on a wall in Gru's home that has a dog in its mouth … and a cat in the dog's mouth. And it makes good use of 3D without being too distracting; the effect pleasantly takes center stage during a roller coaster sequence at a theme park.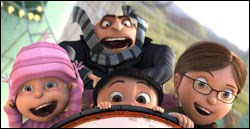 This is the debut feature from Illumination Entertainment, a new company started by producer Chris Meledandri (Ice Age, Horton Hears a Who!) to serve as the animation branch for Universal Pictures. In fact, many of the people responsible for that excellent Horton movie are involved with Despicable Me. There's also a new version of Dr. Seuss' The Lorax in the pipeline, along with adaptations of Where's Waldo? and The Addams Family.
But now the inevitable question facing all animated features these days: Does it measure up to the work of Pixar? Not quite, though it comes close. That certain magic/genius is missing to make the story work on multiple levels for adults and children. The first two acts are hilarious and inventive, but the final third plays more predictably. Also, given the caper involved, the ending isn't as awe-inspiring or epic as, say, the finale of Toy Story 3.
Living up to Pixar is a tall order, not to mention a high expectation for Illumination's first outing. Despicable Me won't resonate as deeply or inspire tears, but it does offer something sorely lacking from most movies as of late: pure fun.
Talk About It
Discussion starters
According to the movie, why does Gru become a villain? Might there be other reasons? Is evil a choice? Are we all capable of good? What does the Bible say about our capacity for good and evil? (See Genesis 2 and Romans 5.)
Could Gru have become a villain because of his ambition to succeed? For personal glory? Is such ambition wrong? How can it be twisted into something selfish? Is it possible to pursue success and not be selfish (or evil) about it?
What happens when Gru finally launches into space to steal the moon? How is the scene a reflection of Matthew 16:26 and 1 Corinthians 13?
Does Gru find his calling in life at the end of the film? Who is the hero of this story? What does the film suggest concerning our capacity for good? About the need to love others, including our enemies?
Explain how Gru's unicorn story at the end of the movie reflects his change of heart. Do you think he's completely changed? What do you suppose is next for him, professionally speaking?
The Family Corner
Despicable Me is appropriately rated PG for rude humor and mild action, though it is still generally family friendly. The humor admittedly gets a little dark at times. "Unruly" children at the orphanage are placed in a cardboard "Box of Shame." And one scene implies that a girl has died in a horrible accident, but the "blood" turns out to be juice from her juicebox. There are some gags involving poop and fart humor, but it's all relatively tame in comparison to other films. The action isn't anything scarier than what's found in other films from Pixar and Shrek.
Copyright © 2010 Christianity Today. Click for reprint information.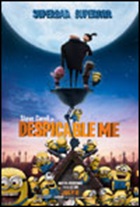 Browse All Movie Reviews By: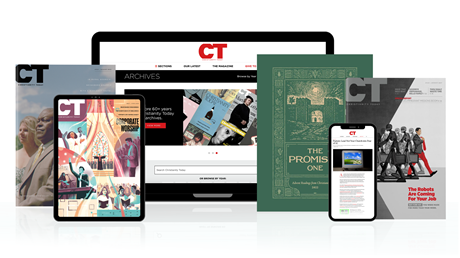 Annual & Monthly subscriptions available.
Print & Digital Issues of CT magazine
Complete access to every article on ChristianityToday.com
Unlimited access to 65+ years of CT's online archives
Member-only special issues
Subscribe
Despicable Me
Despicable Me