In a therapeutic culture in which psychology is the lingua franca, it's easy to inadvertently subvert the gospel, to imagine we're talking about the gospel when we're really talking about the anti-gospel.
A few months ago when I was traveling, I attended a local church that was "the" evangelical church in that suburb. The text for the day was the story of the prodigal son (Luke 15:11-32). The preacher began by reminding us of the context—the search of a shepherd for a valuable sheep; the search of a woman for a valuable coin. We were then told that the father in the parable, when he saw his wayward son far off, did not see someone who was selfish or a loser. Instead, through all the junk, he saw something valuable: a son. The sermon concluded with a reminder that God gives us the ability to see the treasure, the value in everyone we meet.
I am one with this preacher's motives and aims, and his insight that the father first and foremost saw a son is the essence of the gospel. But in his desire to proclaim the magnificent love of God, he inadvertently fell into language that risks proclaiming bad news—the talk that suggests the intrinsic value in the object of love. This preacher did not go so far as to say it, but I've heard the following in sermons and read it in books by respectable evangelicals: "You are unique and valuable. You were worth so much to God that he was willing to die to redeem you, so you could be in his family." And this: "We are worth the price God paid for us, the death of his Son."
But of course this gets it exactly backwards. Unfortunately, in an attempt to convey the radical love of God, such well meaning Christians actually sabotage it.
For if we have some measure of intrinsic value to God, a number of things follow: First, it is our value, and not God's love, that forces God's hand. He looks at us and sees something of value, and being a reasonable fellow—one who knows and appreciates things of value—he pretty much has to redeem us. The love of God is not given freely in mercy to the undeserving, but instead to the deserving—because, after all, we are of infinite worth! God would be a poor judge of character if he did not choose to die for us.
Second, if we had intrinsic worth, then it is hard to imagine why Christ would have had to die for us. We are already people of "infinite worth"—what's there to die for? Instead, you'd think Christ would come to earth to pay us homage. You would think his mission might have been to tell us about our infinite worth, and to makes sure we not only get that point but also live it. The mission of Christ would be educational and moral, but it would hardly need to be salvific.
Third, it would be hard to know what it means when the Bible talks about—and it talks about this stuff a lot—our being God's enemies, in rebellion against him, deserving of death. The ideas that swirl around our supposed infinite worth, of course, emphasize that we're mostly victims, trapped in a nexus of sin and death. God sees people of great value chained by circumstances beyond their control and comes to the rescue. God becomes a big brother helping the innocent but infinitely valuable lost, and not a merciful savior of the very people who are his enemies.
No longer worthy—really
If this approach gets it exactly backward, the prodigal son gets it exactly right: "Father, I have sinned against heaven and before you. I am no longer worthy to be called your son."
The real truth of the matter is that we are no longer worthy. We are not mere victims but rebels. We're not the innocent lost but God's enemies. We're not people hard on our luck, deserving of another chance, but people who deserve death. People who deserve death are not people of infinite worth.
So those bouts we have with feelings of unworthiness are more right than they are wrong. To be sure, there is a neurotic, self-shaming that we are right to reject. But then there are those moments of lucidity, when it becomes rather clear that in the larger scheme of things, we really are unworthy. We do not deserve to be loved by God or by neighbors. We have sinned against heaven and earth, and we really are no longer worthy to be called sons or daughters.
Instead of trying to talk people out of such feelings, a better pastoral approach might be simply to say this: "You are right. What you are feeling is an accurate sense of reality about yourself. You really are not worthy of Jesus. Peter's sense after the catch of great fish—'Depart from me, for I am a sinner'—and the Centurion's sense—'I am not worthy that you should enter my house'—capture what is true for all of us: before Jesus we are sinners and we are not worthy of his entering our lives."
We do people a grave disservice if we deny what they instinctively know is true. But we also do people a disservice if we don't continue: "So isn't it all the more amazing that God loves us?—"Amazing love, how can it be? / That Thou my God would die for me!"
So in one sense, our instinct—that we are valuable—is right and true. But Christ did not die for us because we are valuable; we are valuable because Christ died for us. It is not for us to say to one another, "Worthy are you!"—which is the mantra of a great deal of modern psychology. Instead, we turn to God and say, "Worthy are you, O Lord our God!" (Rev. 4:11).
This is good news indeed. Life is not about us, about living up to our potential, proving our inherent worth, and all the other exhortations used in motivational rhetoric—what a burden all that is! Instead, life is about living in gratitude, the unworthy basking in the gift of sheer grace.
And when it comes to others, it's not a matter of trying to believe something that is patently untrue—that everyone has infinite worth, so we should love them! First, only God has infinite worth. And second, anyone who has lived and worked with people for more than a few seconds knows that people are stinkers. It's not a matter of finding something valuable in them—some treasure, some gift, something worthy and deserving of our love. Many days, we just won't be able to see anything worthy at all! But that's no reason to stop loving. No, the people we live and work with are just as undeserving of love as are we—which is the only reason we love them. We love just as God first loved us.
A world of reasons
We live in a world driven by reasons. Not reason, but reasons. We can't imagine doing anything significant unless there is a good reason to do it. But there is one thing that we've been shown has no reason, and yet it is the greatest thing we can do for another. Just as God loved us for no apparent reason, so we are called to love one another.
It is not our worthiness but the reason-less love of God that is extolled in Scripture. Never does the Bible say that God loves us because we were created in his image, because he believes we have intrinsic worth. Indeed, a few verses speak of our value to God (like Matthew 6:26), but the dominant message is not that our value prompts God's love, but that God's love establishes our value. So we repeatedly hear things like this:
Have mercy on me, O God,
according to your steadfast love;
according to your abundant mercy,
blot out my transgressions. (Psalm 51:1)
And this:
Help me, O Lord my God! / Save me according to your steadfast love! (Psalm 109:26)
And of course,
But God, being rich in mercy, because of the great love with which he loved us, even when we were dead in our trespasses, made us alive together with Christ—by grace you have been saved. (Eph. 2:4-5)
Time after time, God's mercy and love are not prompted by our intrinsic worth or value or potential, but by love without reason—"great love."
What we discover in God is that love is not love in the deepest sense if it is motivated by anything intrinsic in the beloved—another's worth, value, gifts, or potential. If our actions are motivated by such things, it is not love. We are merely giving people their due, obligated by some value in them to honor and respect them. Love is not love unless freely given, given for no reason at all but merely out of that "great love." Love needs no reason and has no reason. Love is its own reason.
It may seem circular, but such is the nature of the gospel. God loves us because he loves us. It doesn't get any simpler, or more profound, than that.
Mark Galli is senior managing editor of Christianity Today, and author of A Great and Terrible Love: A Spiritual Journey into the Attributes of God (Baker). The original posted article was edited by the author on March 25, 2010.
Related Elsewhere:
Previous SoulWork columns include:
Love of Unimaginable Proportions | What to do when you find yourself praying to the quid pro quo god. (March 4, 2010)
Should Churches Be as Friendly as a Bar? | Perhaps people are looking for something else. (February 18, 2010)
Are We Transformed Yet? | Why the spiritually mature don't talk about how God has made them spiritually mature. (February 4, 2010)
SoulWork
In "SoulWork," Mark Galli brings news, Christian theology, and spiritual direction together to explore what it means to be formed spiritually in the image of Jesus Christ.
Mark Galli is former editor in chief of Christianity Today and author, most recently, of Karl Barth: An Introductory Biography for Evangelicals.
Previous SoulWork Columns: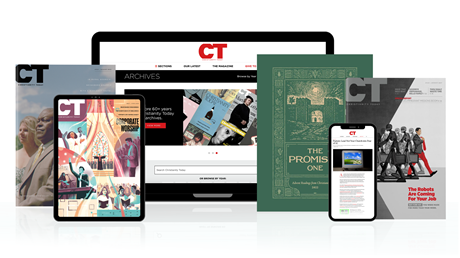 Annual & Monthly subscriptions available.
Print & Digital Issues of CT magazine
Complete access to every article on ChristianityToday.com
Unlimited access to 65+ years of CT's online archives
Member-only special issues
Subscribe
Love Needs No Reason
Love Needs No Reason