true
Bethany Hamilton has a story worth telling. Born and raised on the island of Kauai, Hawaii, Bethany was a natural surfer already winning competitions and securing endorsements as a pre-teen. In 2003, at the age of 13, her promising future appeared to be jeopardy when a 15-foot tiger shark bit off her left arm in a well-publicized attack. The fact that she survived—despite losing 60 percent of her blood—is a miracle; the way she has thrived ever since is astonishing and, it would seem, perfect source material for a feature film. Enter Soul Surfer, an imperfect but compelling movie that succeeds largely on the strength of Hamilton's incredible-but-true story.
Aspects of her journey have already been well documented, from the extensive media coverage of her accident, to her own biography (2004's Soul Surfer: A True Story of Faith, Family and Fighting to Get Back on the Board) and the 2007 short-film documentary Heart of a Soul Surfer. Challenged with translating so much already-familiar material for the big screen, Soul Surfer's producers wisely sought out an accomplished cast.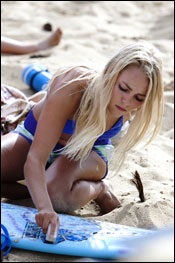 AnnaSophia Robb (Race to Witch Mountain, Bridge to Terabithia) is strong in the central role, capturing both Bethany's resiliency and her vulnerability with natural charisma. Dennis Quaid (Vantage Point, The Rookie) brings plenty of heart to the role of Bethany's father, Tom, and Academy Award winner Helen Hunt (What Women Want, Pay It Forward) is a touch wan but convincing as Bethany's worried mother, Cheri. Most of the supporting cast is strong as well, including Lorraine Nicholson (Jack Nicholson's daughter) as Bethany's best friend, Alana Blanchard, TV veteran Kevin Sorbo as Alana's father and a key participant in Bethany's rescue, and Craig T. Nelson as her empathetic physician and close family friend.
The trailer for Soul Surfer emphasizes another cast member: Country music star Carrie Underwood, who plays Bethany's church youth group leader and mentor, Sarah Hill. Underwood's feature film debut has upped the buzz factor, and her photogenic features do translate well on screen. However, in a couple of key emotional scenes, Underwood fails to equal the cast around her, and her lack of acting experience detracts from the film.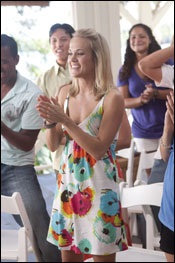 In fairness, the film asks a lot of Underwood; the screenplay counts on Sarah to be the primary mouthpiece for the Christian faith that is integral to Bethany's story. The Hamiltons have always been frank about their beliefs, and the film, to its credit, is just as overt about exploring the role that faith played in Bethany's recovery and continues to play in her everyday life. (In the opening minutes, we see the family attending a beachside worship service, and they pray together and cling to relevant Scriptures throughout the turmoil surrounding the shark attack.)
There's another scene, more than a year after the shark attack, where Bethany joins Sarah and others on a World Vision-sponsored missions trip to Thailand, several months after the tsunami of December 2004. After seeing the devastation, meeting orphans, and connecting with a people who also had good reason to fear going back into the water, Hamilton gains additional perspective on living in the wake of tragic circumstances.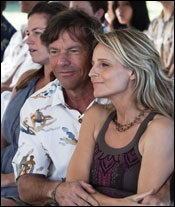 Although the film's religiosity may feel odd to secular filmgoers, evangelicals will recognize it as a reasonable approximation of daily American Christianity. The character of Sarah, however, is given the sometimes thankless burden of articulating some of the film's more pedantic themes—delivering a youth-group object lesson on perspective, scolding Bethany early in the movie when she doesn't make time for a missions trip, and offering up some not-quite satisfying resolutions about God's plans in the face of tragedy.
But it's not all Underwood's fault. Some of the blame must be put on the screenplay, which does manage to nicely honor Bethany's own real-life hard-won resolutions, but hits some clunky stretches getting there. Oddly, the writing seems to have fallen not only to director Sean McNamara, but to a large team of collaborators whose chief collective credits are Hawaiian Baywatch episodes. This story deserved a better brain trust.
Director, co-producer, and writer McNamara is best known for helming youth television programs like Jonas and Sonny With a Chance; his lack of previous big screen experience is sometimes apparent throughout Soul Surfer. Shot on location in Hawaii, the film does not feel as panoramic as one might expect; the cinematography is decent where it might have been spectacular. The filmmakers reportedly used footage of the real-life surfers, Hamilton and Blanchard, in an effort to make the surfing more authentic; unfortunately, less-than-satisfying integration of the real individuals and the characters who play them means that sometimes the camera cuts away just when we most expect the movie to deliver.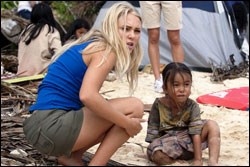 But even if the film is not all that it could be, it is still more than worth viewing—if for nothing else than following Bethany Hamilton's remarkable story: surviving the attack, getting back on a surfboard and in the water just three weeks later, finding her balance with just one arm (she rejected the notion of a prosthetic arm early on), and eventually becoming one of the top professional women's surfers in the world. (Early in 2011, she was ranked in the top 25.). Her faith, courage, and perseverance are on full display here.
McNamara captures the strong central cast most effectively in the smaller, more nuanced moments of the film, where Quaid, Hunt, and Robb portray with poignancy a family grieving, grappling, and growing through tragedy. Although the Big Question of this film—why does God allow bad things to happen?—is sometimes handled clumsily, it is always approached sincerely and respectfully, and the real-life events of Hamilton's life ultimately point clearly to the difference faith can make. In this sense, Soul Surfer, like its protagonist, is unstoppable.
Talk About It
Discussion starters
Bethany asked repeatedly why God allowed the shark attack to happen. Do you think that question was answered in the movie? Do you think that question was (theologically-speaking) the right question to ask?
Sarah played a game with her youth group early in the movie about perspective. What perspective did Bethany gain in her missions trip Thailand?
Bethany's dad quoted Philippians 4:13 to her: "I can do all things through him who strengthens me." Would Bethany still be able to say that verse was true if she had not been able to surf again? If so, how?
Divorce rates are very high when there is tragedy in the family. What factors do you think contributed to the Hamiltons' staying together?
The Family Corner
For parents to consider
Soul Surfer is rated PG for an intense accident sequence and some thematic material. It's a wholesome, profanity-free film that would be completely appropriate for the whole family were it not for the necessary element of the shark attack. Although not treated gruesomely, the very fact of the attack, and the strong sense of peril, may be too intense for younger viewers.
Copyright © 2011 Christianity Today. Click for reprint information.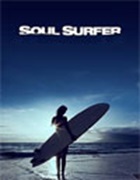 Browse All Movie Reviews By: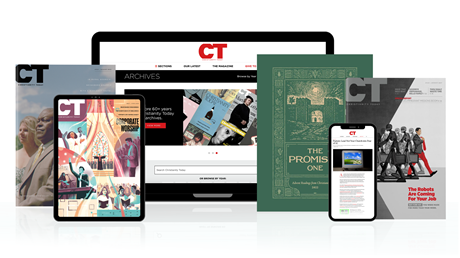 Annual & Monthly subscriptions available.
Print & Digital Issues of CT magazine
Complete access to every article on ChristianityToday.com
Unlimited access to 65+ years of CT's online archives
Member-only special issues
Subscribe
Soul Surfer
Soul Surfer