true
If you've seen one James Bond movie, you've more or less seen them all, right? Any variation in tone mostly depends on who's playing 007. So there's something refreshing in the way the Mission: Impossible movies keep the same lead actor, yet bear the unmistakable stamp of their directors.
The first film in 1996 featured Brian De Palma's unique flair for close-ups and long tracking shots—perfect for building the tension of an espionage thriller. John Woo's follow-up in 2000 transformed Ethan Hunt (Tom Cruise) into a kind of Hong Kong action star, complete with ballet-like fight sequences, slow-motion, and shots of doves flying into the sky. In 2006, J. J. Abrams brought the series back to its roots while infusing it with his penchant for character drama—even secret agents need a home life).
So what to expect from Mission: Impossible - Ghost Protocol with director Brad Bird, the man behind The Iron Giant, The Incredibles, and Ratatouille? Sure enough, this is M:I at its most animated—not a cartoon, but truly action-packed.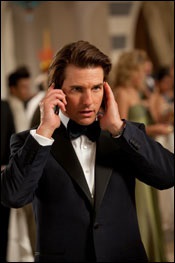 Ghost Protocol finds Hunt imprisoned in Moscow, where an Impossible Missions Force (IMF) team breaks him out. Hunt learns that the IMF needs his help in recovering the launch codes for a nuclear sub, which a crazed Russian strategist plans to use to help spark the next stage of human evolution ("survival of the fittest").
Complicating matters is a terrorist attack at The Kremlin while Hunt and his team try to gain intel. The IMF is blamed, and the U.S. government is forced to shut it down. The "ghost protocol" of the title refers to Hunt operating without government aid. His resources are limited, including just three team members to support him: tech expert Benji Dunn (Simon Pegg reprising his role from the third film), previous team leader Jane Carter (Paula Patton), and an analyst named William Brandt (Jeremy Renner) with a secret past.
Cruise is pushing 50, but that's hard to believe from watching this movie. The action is relentless, and Cruise, as usual, insisted on doing his own stunts—including an impressive sequence that involves scaling the world's tallest building, Dubai's Burj Kalifa. Sure, there's camera trickery and a safety crew, but the results are nonetheless enthralling.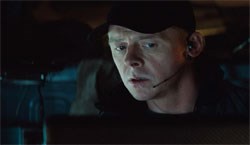 Credit that and the film's success to Bird's confident direction—a remarkable achievement with his first major live-action movie. Everything plays out with the expertise and skill of a veteran, in both action and drama. Bird and Cruise have already expressed interest in doing a fifth film together—here's hoping.
Ghost Protocol has almost everything you'd hope for in a spy action movie. The action sequences themselves are over-the-top, but in a good way. These agents do things that are truly impossible, yet seem plausible because of the way the stunts are carried out. A fight in an automated car park building may rely on computer effects, but the scene itself is clever as hero and villain work their way around the moving parts. Even cleverer is the opening breakout from the Russian prison, making sly use of electronic locks and crowded walkways. As with the Bond and Jason Bourne franchises, this film demonstrates why it's important to keep real action at the core.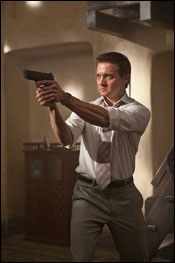 Much of the writing and explanation makes everything sound overly complicated, but Bird does a terrific job of clarifying with the camera. For example, in a key scene where the team needs to infiltrate a trade between two villains, they split into two groups, each pair pretending to be one half of the drop-off while listening in to the other pair for necessary information. See, even that makes it sound complicated, but a Bird's-eye view smartly shows us how it all plays out.
Of course, there are gadgets galore. Mythbusters will have a field day with this movie, but it's thought out well enough to where they're believable. Electronically enhanced adhesive gloves allow Hunt to climb glass like Spider-Man. A steel mesh suit helps Brandt to float magnetically. And a digital projection screen is used to render people invisible in a hallway.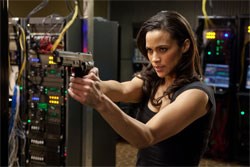 Ghost Protocol is true to the film franchise, but also to the original TV show. That's because Bird and company finally get something right that has been lacking in the previous films: teamwork. The original show always featured a group of operatives collectively using their skills to pull off the impossible. The movies mostly show Hunt shouldering the fate of the free world with minimal support. This time we have a quartet of fleshed-out characters with distinct back stories, personalities, baggage, and style.
So for once all four characters have (almost) equal weight. Hunt is still clearly in charge, but in some scenes, he would be toast if not for his teammates—and vice versa, of course. The result is a well-oiled machine that could sustain the franchise for future installments.
The only real shortcoming with Ghost Protocol is that the story itself feels somewhat secondary, as if it exists only to string together all the wonderful action scenes. It's rather vaguely defined for the first 45 minutes, seemingly complicated in the middle act, but ultimately pretty basic by the end.
But many have said the first Mission: Impossible was too complicated, even though it made more sense after repeated viewings; maybe this will be the same way. Action fans will want to watch Ghost Protocol several times, trying to recapture the adrenaline rush they'll feel after the first viewing of this thrill ride.
Talk About It
Discussion starters
Why is Jane so remorseful after the failure of her previous mission? What personal stake did she have in it? How does her failure affect her confidence in her new mission with Ethan? How is her confidence ultimately restored? Why is affirmation (and a kind word) so vital to job performance?
What secret shame does Brandt carry and why does he hide it from Ethan? Why does Brandt blame himself? How does he ultimately overcome this burden? Why is confession important to conflict resolution?
How does

Ghost Protocol

demonstrate the importance of teamwork in success? Give examples of where Ethan would have failed without his teammates. Read 1 Corinthians 12. How is teamwork vital to the body of Christ?
The Family Corner
For parents to consider
Mission: Impossible - Ghost Protocol is rated PG-13 for sequences of intense action and violence. If you're familiar with the previous films in the franchise (as well as James Bond and Jason Bourne movies), you'll know what to expect. The violence isn't very graphic, though there is some blood shown from a handful of shootings. The fistfights are plentiful and sometimes bone-crunching, but it's more like comic book action rather than reality. There is very little profanity. One female character uses her curves to seduce a target, but it's pretty chaste and there's no sex.
Copyright © 2011 Christianity Today. Click for reprint information.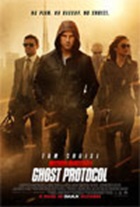 Browse All Movie Reviews By: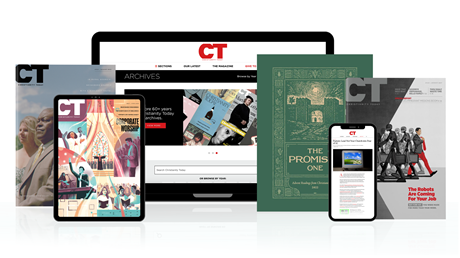 Annual & Monthly subscriptions available.
Print & Digital Issues of CT magazine
Complete access to every article on ChristianityToday.com
Unlimited access to 65+ years of CT's online archives
Member-only special issues
Subscribe
Mission: Impossible - Ghost Protocol
Mission: Impossible - Ghost Protocol