Egyptian Copts murdered while at worship. The threat of religious extremists gaining political power in Egypt, Tunisia, Jordan, Yemen, and elsewhere in the Middle East.
The terrorist "Party of God" (Hezbollah) in control of Lebanese democracy.
Catholics slaughtered at mass in Baghdad. Iraq's ancient Christian population shrinks, and many non-Muslim minorities flee Iraq.
A Pakistani Christian mother sentenced to death for insulting the prophet Muhammed. A Muslim governor murdered for defending her; the public supports the murderer. Al Qaeda continues to operate in nuclear-armed Pakistan.
Taliban ideology flourishes in Afghanistan. Muslim reformers are prosecuted for blasphemy.
Iran's religious courts impose death. Iranian Christians are subjected to a massive roundup by authorities. The Iranian theocratic regime seeks nuclear weapons and supports Islamist terrorists.
The fact that the Middle East is a cauldron of religious persecution and extremism is perhaps unsurprising.
What many Americans may not know is that the United States has for over a decade had an official policy of countering persecution and extremism by advancing religious freedom.
In 1998 Congress passed unanimously, and President Bill Clinton signed, the International Religious Freedom (IRF) Act. The law established at the State Department a very senior diplomatic official—the IRF ambassador at large—to lead in matters of policy, and to put the promotion of religious freedom at the center of American diplomacy.
No administration has succeeded in doing that. But both Clinton and President George W. Bush appointed well-qualified ambassadors, and U.S. IRF policy, while not without serious problems, became a fixture at the Department of State.
The Obama administration, however, has largely ignored that policy. Today, as the Middle East cauldron threatens to boil over, there is quite literally no one in charge.
In November, the Senate Foreign Relations Committee held a hearing for Suzan Johnson Cook, President Obama's nominee for IRF ambassador at large. Despite having a whole platoon of senior envoys in place to pursue favored initiatives (e.g., closing Guantanamo, outreach to Muslim communities, disabilities, and climate change), the President had taken18 months even to nominate Johnson Cook.
After her nomination, some voiced concerns about her qualifications for the job. Such concerns led Senator Jim DeMint (R, SC) to place a temporary hold on the nomination in committee, but neither Senate Democrats, the State Department, nor the White House paid much attention, and time ran out in the last Congress. The administration has now re-nominated Johnson Cook, but, even if she is confirmed, it remains highly unlikely that she will have the authority or the resources within the State Department to succeed. Unlike other ambassadors at large, such as the ambassador for women's issues, she will not work directly under Secretary Clinton, but will be buried in State's bureaucracy under a much lower ranking official.
The utter indifference to this key office, and to IRF policy, by the White House and the State Department has been scandalous. The administration apparently does not believe that religious persecution and extremism in the Middle East and elsewhere constitute a humanitarian imperative for U.S. action.
Additionally, it clearly fails to grasp the national security implications of religious freedom's absence.
In few places are these implications clearer than in Egypt. Christians have been present in Egypt for two millennia, but their existence has proven fragile for two interrelated reasons: the authoritarian policies of President Hosni Mubarak and the growth of Islamist extremism. Thus far the Obama administration has cautiously shepherded Mubarak to the exits, perhaps too cautiously. But whatever happens next, the United States cannot afford to make the same mistake it did with the Palestinian Authority in 2006—simply hoping that "free and fair elections" will be the gateway to stable democracy. It bears recalling that Adolf Hitler came to power in 1933 through free and fair elections.
If democracy is to be stable, especially in the highly religious societies of the Middle East, it must entail a commitment in law and culture to fundamental human rights, especially religious freedom. This means, inter alia, the freedom of minorities to worship and to engage in public life without fear and on the basis of full equality with majority groups.
But—critically—religious freedom also means that religious groups from the majority, such as Egypt's Muslim Brotherhood, must accept limits on their power. Even if (under the most optimistic of scenarios) a stable transition to democratic government takes place in Cairo, the Muslim Brotherhood will have considerable influence on Egyptian politics and society in the coming years. But will it accept the norms that make democracy stable and lasting? Will it embrace, in law and practice, the equality of women, of non-Muslims, of opposition Muslims, and of secularists? Will it foreswear the coercive powers of the state to privilege Islam (e.g., in laws against blasphemy, apostasy, or conversion)? Will it work to undermine the virulent anti-Semitism that dominates Egyptian media?
Some are certain that the answer to these questions is a resounding "no." They may be right. But the honest answer is that we don't know the answer. American diplomacy has never "done" religion well (remember Tehran, 1979?) and, while things are beginning to change on that score, they are changing much too slowly.
The mass protests now afoot in the Middle East are likely to be met either by force or by reform. The United States cannot control the outcome, but it should state its principles clearly, and be ready to act upon them: if the people of Egypt and elsewhere in the Middle East seek stable, durable democracy, they must embrace religious freedom in full.
To have an influence on this critical element of our own national security, the United States must begin to take its international religious freedom policy seriously. Both the administration and the Senate should move quickly to put in place a credible, experienced ambassador at large with the authority and the resources to get the job done.
Thomas Farr is a visiting professor at Georgetown and senior fellow at the Berkley Center for Religion, Peace, and World Affairs. He served as the first director of the State Department's Office of International Religious Freedom from 1999 to 2003. He is author of World of Faith and Freedom: Why International Religious Liberty is Vital to American National Security.
"Speaking Out" is Christianity Today's guest opinion column and (unlike an editorial) does not necessarily represent the opinion of the publication.
Related Elsewhere:
CT covers other political developments, including Suzan Johnson Cook's nomination and how it was stalled, on the politics blog.
Previous stories on international religious freedom include:
Pew Forum Releases Landmark Survey of International Religious Freedom | 70 percent of the world lives in areas with high restrictions on religion, report says. (December 16, 2009)
Looking for Clear Signals | Religious freedom needs less talk and more action in Washington. (November 4, 2009)
'We're Not Actually Advancing Religious Freedom' | Thomas Farr says it's time for policies that actually improve liberty around the world. (April 13, 2008)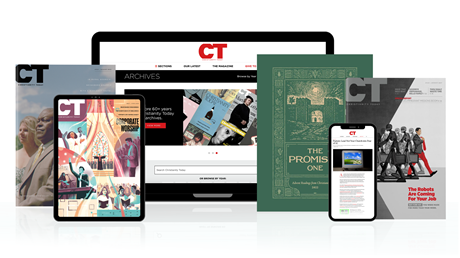 Subscribe to Christianity Today and get access to this article plus 65+ years of archives.
Home delivery of CT magazine
Complete access to articles on ChristianityToday.com
Over 120 years of magazine archives plus full access to all of CT's online archives
Subscribe Now
The United States Needs an Ambassador for Religious Freedom Now
The United States Needs an Ambassador for Religious Freedom Now