It's everywhere, bursting from our schools and neighborhoods and playgrounds. According to the Centers for Disease Control and Prevention, about 1 in every 110 children in the U.S. is diagnosed with an autism spectrum disorder. But with numbers like this, shouldn't our churches, of all places, be bursting with autism too? Certainly our pews are packed with families basking in the love and support of the church. Right?
Not exactly.
The truth is that most families with autistic children can't make it to the door of the church. So our churches don't always see the need. I know, because for many years we were one of these invisible families. Church, like the rest of life, just didn't work. There were barriers, unspoken requirements, like sitting still and staying quiet and paying attention. But there isn't a pause button for autism. Max didn't seem to fit. For five years we stayed home on Sunday mornings. Actually, we stayed home most every other day too, me and my beautiful son, isolated like we were lepers.
Finally, when Max turned 13, I could bear it no longer. I brought him back for the one thing he always loved about church when he was a toddler: when it was over. So, that's exactly when we showed up. We called it "backwards church." People were pouring out of the sanctuary and we walked in! It was the coffee hour, which at our church feels more like a backyard barbecue—friends talking and laughing, children playing Nerf football. Max fit right in. But something else was going on: God was about to grab his spiritual tool belt.
Within minutes Max started helping some of the men who were stacking chairs in the sanctuary. Before we left, one of the men approached Max. He put his hand on Max's shoulder and asked if he would like to be an official member of the "Grunt Crew," the team of men who clean and stack the chairs after each service. Max straightened his back and gasped with a rush of air so cool and cleansing that it felt like menthol. One small invitation, that one touch, changed our lives and the life of our church. For six years now Max has been a member of the Grunt Crew. He's even become a greeter, which for Max includes leaping and dancing when the worship music begins. Max still doesn't sit through the service, but his joy in serving is contagious. And he is a vital part of our church. It's as if being with Max, this boy without armor or pretense, who knows the privilege of church, lets us all feel a bit of victory too.
I'm not going to suggest that others follow our model of backwards church. God doesn't have a stamped-out assembly line plan for anyone. But when desperate needs are in sight, God is not the kind of guy to wait around for his nonprofit status to come through or to complete his disability training. God wants us to be his hands, to reach out to the weak and disabled, right now.
Alexa feels those hands when she attends her own church in Andover, Massachusetts, and is met by her "Team." Several women volunteer and take turns serving Alexa on Sunday mornings so that her parents can attend worship. With support Alexa sits through part of the service, sometimes even joins a classroom. But typically you can find Alexa sitting with one of these women, reading a book together or playing a game. Alexa doesn't have much spoken language, but something happens there in the stillness of an empty classroom. Alexa begins to sing, her voice strong and sky-blue clear.
This isn't childcare. The women who serve Alexa say that in the blush of her smile, the touch of their hands, even in the faint scent of pancakes lingering on Alexa's breath, they see God.
Those hands have reached a church in Charleston, South Carolina. Every Thursday Barbara, the mother of a teenage boy with autism, sinks into the deep leather couches, letting the stress she has hidden so carefully seep from her body. She is safe with these women in her caregiver Bible study, able to lay out her crumbling heart for all to see. But as these women talk and study and pray together, all her struggles fade in the shadow of the everyday miracles that shine through her son.
And hands are reaching out from the pulpit of an inner-city church in Philadelphia. The pastor there told me once that he has autistic children in his congregation, the noisy ones, the kind who have lost their volume control. "Does it disturb the service?" I asked politely, curiously. "Not at all," he answered without a change of expression. "I tell the congregation that they will only hear the noise at first. But then, it will become like any other noise—a dishwasher, an air conditioner—they will get used to it. And after a few Sundays, autism is simply background noise."
Many believe autism has reached epidemic proportions. We may need to build bigger schools to hold them all, but we don't need bigger churches. When God reaches for his spiritual tool belt, he builds love and compassion in us. And when we let God grow our hearts, there's room enough for everyone.
Emily Colson, daughter of Chuck Colson, is the author of Dancing with Max: A Mother and Son Who Broke Free, which Her.meneutics blogger Amy Julia Becker recently reviewed.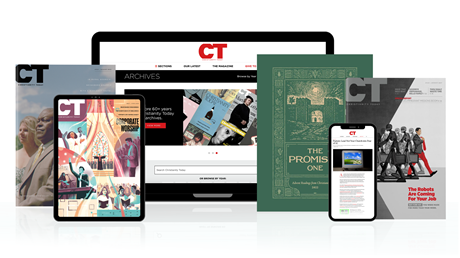 Annual & Monthly subscriptions available.
Print & Digital Issues of CT magazine
Complete access to every article on ChristianityToday.com
Unlimited access to 65+ years of CT's online archives
Member-only special issues
Subscribe
Is Your Church Open to Autism?
Is Your Church Open to Autism?