true
MTV may not go down in history as the network that best encouraged young viewers to make wise choices and live responsibly. But two of its most popular shows, 16 and Pregnant and its Teen Mom spinoffs (TM2 premieres tonight), just might be promoting—ironically and unintentionally—a few moral lessons after all.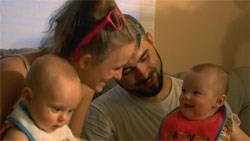 You're not likely to hear MTV preaching abstinence any time soon; "safe sex" and/or "responsible sex" are more likely the network's unwritten mantras. But by letting the cameras capture the gritty and difficult consequences of teen pregnancy and motherhood, these popular reality TV shows are certainly delivering a message. But is it a good one? Depends who you ask.
Bristol Palin—a teen mom herself and a fellow reality show star—insists that Teen Mom doesn't "glamorize teen pregnancy" but illustrates "how difficult it really is." The National Campaign to Prevent Teen Pregnancy and the Henry J. Kaiser Family Foundation praise the show. But other critics, including the Parents Television Council, say Teen Mom normalizes, or even romanticizes, teen pregnancy and parenthood.
While the pundits dispute its merits, the world watches. Teen Mom attracted close to three million viewers every week and six million for the season finale. Teen Mom 2, with an all-new cast (featuring the girls from Season Two of 16 and Pregnant), expects similarly high ratings. The shows' producers don't have to look very hard for subjects: According to the Centers for Disease Control, 435,000 infants were born to teenaged mothers in the U.S. in 2008.
Tabloid fodder, poignant scenes
Before the two seasons of Teen Mom (watch episodes), Amber Portwood, Catelynn Lowell, Farrah Abraham, and Maci Bookout composed the cast of 16 and Pregnant. Since then, their faces and the intimate (and sometimes banal) details of their lives have been tabloid fodder with titillating headlines: "Teen Mom Slapped with Domestic Violence Charges!" "Teen Moms Under the Knife!" "Teen Mom: 'I'm broke!'" (The stories don't mention that the young women reportedly received compensation of $65,000 last season.)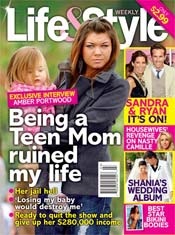 Viewers are stunned by scenes of Amber physically abusing Gary Shirley, the father of her baby. (Portwood is currently under investigation for these attacks and, in November, temporarily lost custody of her daughter.) We are shocked by the snapshots of Farrah's split lip, an injury suffered at the hand of her mother. We wince at the expletives that the teen moms, their boyfriends, and their parents exchange.
And we weep as Catelynn and Tyler Baltierra—the father of her baby, Carly—stand on a suburban sidewalk and lovingly place Carly into her adoptive parents' arms, who then drive away in their luxury SUV. In later episodes, we meet Carly as an older baby and toddler. She is thriving and loved.
When Catelynn and Tyler place baby Carly with her new family, the young parents—as well as viewers—feel a sense of relief. During the pregnancy, they had lived with their parents—a strange situation in itself. Tyler's father, Butch, and Catelynn's mother, April, met and married after the two teenagers began dating. Butch is a cocaine addict who had been incarcerated for much of Tyler's childhood; April verbally abuses her daughter. At one point, Tyler told his father that Carly "deserves much better than this." At another, he said, "How am I supposed to raise a kid when I'm a kid myself? Can you imagine how screwed up this kid would be?"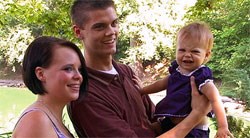 Powerful words, effective social commentary—and, for many, good advice. Teen viewers can't help but hear the words as wise counsel from a peer. And it's probably better advice than the teens on these shows are getting from adults. The closest most of them get in solid "grown-up advice" comes from Dr. Drew Pinsky in post-show interviews and filmed therapy sessions. An addiction specialist whose TV credits include Celebrity Rehab with Dr. Drew and Sex Rehab with Dr. Drew, Pinsky provides common sense advice, sprinkled with occasional factoids like this: "Sixty percent of sexually active kids say they wished they had waited longer." Pinsky refers viewers to the show's website for more information, but they won't find much on abstinence there. One of the organizations listed, Stayteen.org (from the National Campaign to Prevent Teen and Unplanned Pregnancy), tells teens "it's okay not to have sex," and to "Stay silly. Stay random. Life is full of positives. Don't let a pregnancy test be one of them."
Wise counsel; adoption honored
Happily, two of the teen parents, Catelynn and Tyler, did have access to a wise adult—Dawn Baker, supervisor of the Pregnancy Counseling and Infant Adoption Programs at Bethany Christian Services in Michigan. Count her among the shows' supporters.
"I believe that 16 and Pregnant does a terrific job of showing the reality of teen pregnancy and the hurdles teens face in parenting," Baker tells CT. "It does not glorify the process in any way but gives an accurate accounting of the personal struggles and the difficult adult decisions that teens are faced with when they encounter an unplanned pregnancy. 16 and Pregnant and Teen Mom have both honored the process of adoption."
For better and worse, Teen Mom provides valuable—if not embellished—lessons about the consequences of unplanned pregnancy as well as insights into the legacy of adults repeating, with their own children, the patterns of abuse they suffered. But with Catelynn, Tyler, and Carly, we get a glimpse of something redemptive. When the teen parents make the brave choice to place their baby for adoption, the cycle of abuse is broken and viewers get a hint of what adoption into God's family is like.
Jennifer Grant writes for the Chicago Tribune. Her book, Love You More: The Divine Surprise of Adopting My Daughter, will be published this summer by Thomas Nelson.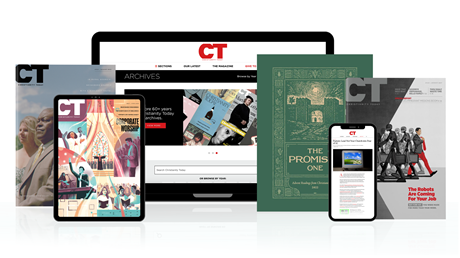 Subscribe to Christianity Today and get access to this article plus 65+ years of archives.
Home delivery of CT magazine
Complete access to articles on ChristianityToday.com
Over 120 years of magazine archives plus full access to all of CT's online archives
Subscribe Now
Pregnant Pause
Pregnant Pause