true
I fear that the most intriguing, captivating thread of Captain America's story will fall largely off-screen in the gap between his origin story, Captain America: The First Avenger, and 2012's The Avengers. This film, Cap's fifth live-action adaptation, is a capable, safe, and simple—if bland—movie squarely focused on the hero's creation and derring-do during World War II.
For the majority of the movie, Captain America doesn't have much complexity or struggle—internal or external—beyond stopping the bad guy, looking dashing, and winning the girl. But in the film's final minutes, his journey hits a yet-unseen gear of intrigue as Cap is thrown into a world he doesn't understand. Suddenly, I felt the energy ramp up and the character come alive. Much drama is promised in the concept of this stalwart, patriotic war hero of the 1940s suddenly having to wrestle with regret, confusion, and times he doesn't understand.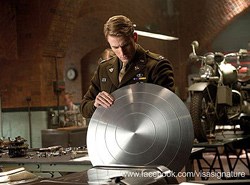 Then the credits roll.
The compelling fish-out-of water plot point—a unique distinctive for Cap's comic book journey—is used simply to keep the ball rolling toward Marvel's The Avengers movie, coming next May. Meanwhile, the main plot is more common and ho-hum.
Steve Rogers (Chris Evans) is a scrawny, plucky Brooklyn kid who wants nothing more than to serve his country and fight bullies—"wherever they're from." After repeatedly being deemed unfit for service for a litany of ailments, a mysterious scientist (Stanley Tucci) approaches Rogers with an alternative. The government's Strategic Science Regiment (SSR), run by Tommy Lee Jones' Colonel Phillips, is looking for a candidate to be the war's first super soldier. Soon, Rogers is known far and wide as Captain America, a true American hero who is pitted against Johann Schmidt (Hugo Weaving), a diabolical figure who leads Adolf Hitler's "deep science division," HYDRA.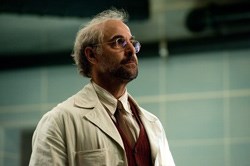 As Rogers longs to be a soldier, vies to be the SSR's guinea pig, and discovers his new self, the movie sparkles with an innocence and discovery—much like the first Spider-Man film. This is followed by a lot of nostalgic fun and charm in a sequence where Rogers serves his country as a sort of mascot—a symbol—to boost America patriotism and sell war bonds. (Included in this: a great wink toward the hero's first comic book cover.) But once Cap enters the war, the film goes on cruise control. The central plot is simple, been-there-done-that action movie stuff that plays out as you expect. The story is a bit weak with holes that make you think, "So, why did he have to do that?", followed by a climax where lights flash and winds whirl and then everything is magically okay.
Captain America is a no-risk, by-the-book superhero movie. The flaws aren't egregious; it's just meh. The movie hits its plot points and often replaces real emotion with manipulation—forcibly signaling when you're supposed to cheer, cry, laugh, etc. I felt like I wasn't experiencing an adventure, but was just being told about it—as if I were being read a book instead of living it. I was surprised that during some climactic, action-filled sequences I actually felt removed, detached and even bored.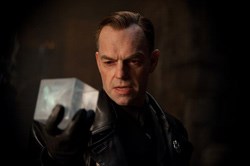 Still, there's a certain charm. The movie knows what it is and proudly stands by it. It takes no risks but just straight-forwardly tosses out its big silly yarn. And it does so at times with real panache, especially the scene-stealing performances by Tucci and Jones. Comic book movies—especially those with stoic leads—often include colorful side characters, and that's true here. Tucci and Jones are a joy. Weaving does his best to add sinisterly gravitas to a bad guy without much to do. (By the way, comic book fans will be let down by the handling of one classic character.)
Designed as an old-fashioned adventure—like its screen origins as a 1940s serial—the film possesses a cool, retro style and look. There's joy in the simplicity. Mixing that era's war movies with the feel of Raiders of the Lost Ark, Hellboy, and Sky Captain and the World of Tomorrow is an intriguing blend but can lead to feeling like two movies depending on who's on screen; it's either Cap's war movie or Johann Schmidt's sci-fi flick. The 1940s feel will also turn off some audiences as it results in cheesiness, stiff line reading, and dumb dialogue, like that which George Lucas used in Star Wars to evoke the old serials.
Thematically, the movie deals primarily with patriotism, sacrifice, and standing up to bullies for what is right and true. A key thread can be boiled down to a General Patton quote spoken by Tommy Lee Jones early on: "Wars may be fought with weapons, but they are won by men." Johann Schmidt is determined to forge bigger, badder weapons. Captain America is a great man with classic values of hard work, justice, fairness, etc. As the SSR seeks its perfect test subject, a reluctant colonel says, "You don't win wars with niceness." Tucci's scientist emphasizes that their super soldier must be centered not on brawn, but the heart and the mind.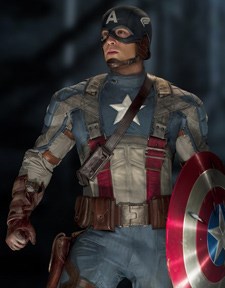 Overall, Captain America serves its chief end to introduce the character for a planned string of Marvel Avengers movies, and Evans fills the role nicely. But as a stand-alone adventure, it's not captivating enough. Had it been released a few years ago—before Iron Man, Batman Begins and The Dark Knight upped the ante for superhero films—I might have enjoyed it more. But I expect more from this genre.
Note: Stick around for the final credits for a special teaser trailer for The Avengers.
Talk About It
Discussion starters
What do you make of the Patton quote, "Wars may be fought with weapons, but they are won by men"? How do you see it play out in the film?
What is the difference between magic and science?
Is it hard for a person who has never been weak to feel compassion? Why?
The Family Corner
For parents to consider
Captain America: The First Avenger is rated PG-13 for intense sequences of sci-fi violence and action. It's pretty light comic book/war movie violence; most of those killed are disintegrated or just fall down. There is at least one scene of a bloody death as a masked bad guy goes through an airplane propeller (a la Raiders of the Lost Ark). There are only a few swear words. A guy moons Captain America but it's off-screen.
Copyright © 2011 Christianity Today. Click for reprint information.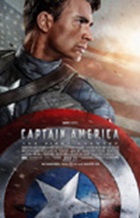 Browse All Movie Reviews By: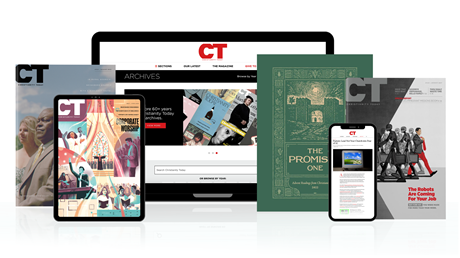 Annual & Monthly subscriptions available.
Print & Digital Issues of CT magazine
Complete access to every article on ChristianityToday.com
Unlimited access to 65+ years of CT's online archives
Member-only special issues
Subscribe
Captain America: The First Avenger
Captain America: The First Avenger