true
During this section of the calendar, all new film releases seem to arrive with over-the-top superlative adjectives attached: "the biggest," "the wildest," "the most expensive," "the most explosive!" I don't think any have been tagged "the sweetest" or "the most sincere." Till now.
Winnie the Pooh, Walt Disney Picture's first big-screen adaptation of A.A. Milne's classic characters since Pooh's Heffalump Movie (2005), is charming, winsome, and funny. It's also a notable bit of nostalgia. While Milne's characters have left direct-to-video for the theater a few times in the last decade (2000's The Tigger Movie, 2003's The Piglet Movie, and Heffalump), this marks Disney's return to the tone, character and look of the vintage 1960s and 1970s featurettes.
This retro-approach includes the age-old Pooh staples: live-action bookends, integration of the printed page (full of words and letters) into moving story, and interaction between Pooh and the narrator (now voiced perfectly by John Cleese). The Pooh-centered story is mined from classic Milne stories including sections of 1928's The House at Pooh Corner. The animation is again the hand-drawn art style inspired by Ernest H. Shepard's book illustrations. And Burny Mattinson, a key animator on the 1974 featurette Winnie the Pooh and Tigger Too!, serves as senior story artist.
These aspects all pay off. This is the gentle, simple, and whimsical Pooh you remember. There's no big plot, no big crisis. Just Pooh high jinks and adventure. In fact, the storyline is exceptionally light: It's a typical day in the Hundred Acre Wood. When Eeyore's tail goes missing, the gang has a contest to find a new one until a misunderstanding leads to a hunt for an imaginary beast, the Backson.
The film's simplicity is also reflected in its length; the 68-minute runtime includes a short called The Ballad of Nessie, a cute tale with a good moral, though it's delivered heavy-handedly. While theater prices make a movie this short seem a better fit for NetFlix, the brevity and its gentle, quiet nature make it perfect for young children, especially for their first trip to the theater. It also means that parents who grew up on the old Pooh toons can get a stellar and engaging nostalgia hit without it getting stale.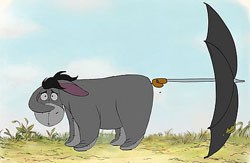 The characters are quite true to the Milne stories and Disney's old featurettes. For me, the silly old bear and gloomy Eeyore steal the show; the voicing is spot-on and they're given classic Pooh and Eeyore things to do and say. (Pooh: "I'm glad I noticed or else I wouldn't have seen it."). In fact, the dialogue between the characters is the film's strength. When a writing team knows their character ensemble well, a fine group dynamic can spark, and that's what happens here. There are at least three fantastically crafted bits of Abbot-and-Costello-type wordplay comedy.
There are light moral lessons. Ideas of friendship and sticking together undergird the story; at one point, Pooh chooses to say no to honey (a huge sacrifice obviously) to help a friend.
A secondary story arc entails the Backson (introduced in my favorite song of the movie and with great stylized chalk art), a sort of made-up boogieman who takes the shape of whatever an individual character fears. He is blamed for whatever each of Pooh's friends most worries about: To little Roo, the Backson breaks crayons. For momma Kanga, he wakes babies. To Tigger, he steals stripes. (And if Dan Aykroyd were here, the Backson would likely appear as the Stay Puft Marshmallow Man.)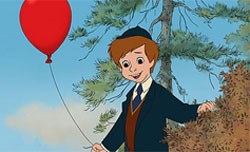 Under the simple story and lessons, however, runs a fascinating subtext about literacy. Several jokes and bits of dialogue play upon the multiple meanings or similar sounds of words. The central misunderstanding—leading to fear, confusion, and real trouble—is due to the characters' inability to correctly read and understand a note. And what should eventually—and literally—get Pooh and friends out of a serious pickle? Words. In the midst of a tale where the lead character says "long words bother me" and tail is spelled tael, a deeper meaning surfaces: The misunderstanding of words causes trouble, and the wise use of them solves problems.
While Winnie the Pooh is a faithful step back in time, it does not shun all modern touches. The pacing is deliberately faster for new audiences. The voice actors obviously aren't the same from the '60s featurettes. Jim Cummings brings stability to the cast; he has voiced Pooh for more than 25 years and Tigger for more than 10. Most of the others, however, are brand-new for this feature, including late-night host Craig Ferguson in a great performance as Owl.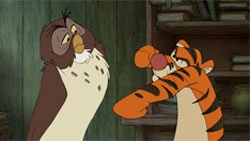 The movie also starts with a new sound. Yes, the beloved theme song still plays over moving book illustrations but it's now performed by actress/singer Zooey Deschanel to appeal to the nostalgic hipster parents in the audience. Her indie folk band She & Him also lends a very good original song to the film's end credits. In the body of the film, seven new songs were written by Robert Lopez (a Tony winner for Avenue Q and The Book of Mormon) and his wife Kristen. Not all of the songs are great, but some legitimately are. I'm still singing some of them.
In fact, one of the new songs really sums up the film: "Everything is honey and life is sweet."
Note: Stay through the credits for a special treat.
Talk About It
Discussion starters
Eeyore asks, "Ever have one of those days where you just can't win?" Have you? What do those days make you feel like? What do you do?
Why did the characters think the Backson took Christopher Robin? How could this misunderstanding have been avoided?
Why were Pooh and his friends so sacred of the Backson? What do you do when you are afraid?
Pooh gives up honey to help Eeyore. Have you ever given up something you love for a friend? What?
The Family Corner
For parents to consider
Winnie the Pooh is rated G. A couple notes if taking little ones: When the characters seem to be stuck in a bad situation, one says, "We're all going to die!" During a dream-sequence about honey, Winnie sees doppelgangers of himself made out of honey and sings, "He's just made of honey so I guess I'll eat him too" and chomps one's head off.
Copyright © 2011 Christianity Today. Click for reprint information.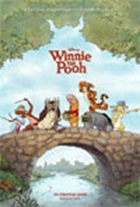 Browse All Movie Reviews By: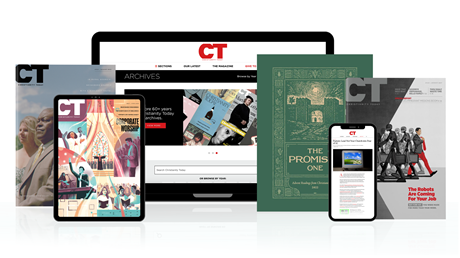 Subscribe to Christianity Today and get access to this article plus 65+ years of archives.
Home delivery of CT magazine
Complete access to articles on ChristianityToday.com
Over 120 years of magazine archives plus full access to all of CT's online archives
Subscribe Now
Winnie the Pooh
Winnie the Pooh