true
Machine Gun Preacher is based on the true, complex story of a violent, angry, drug-dealing convict who finds Jesus. But the character's conversion is not the climax; it's only the beginning of his story—and of the film's gritty and honest exploration of a messy faith.
After coming to Christ, ex-con and drug addict Sam Childers founded a Pennsylvania church and felt called by God to become a freedom fighter in East Africa. After seeing the firsthand the tragedy of kids caught in Sudan's civil war, Childers built an orphanage. Not being content, however, with merely sheltering the kids targeted by the brutal Lord's Resistance Army (LRA), Childers went on the offensive. With hired Sudanese soldiers, Childers leads dangerous military missions to retrieve kidnapped children. His autobiography, Another Man's War, sums up his mission this way: "Save the children, no matter the cost," and the movie's tagline is, "Hope is the greatest weapon of all."
In exploring Childers's controversial methods, the dark, R-rated, and explicit Machine Gun Preacher is provocative, faith-affirming, and challenging. Made by Relativity Media (300, American Gangster, Charlie Wilson's War) and directed by Marc Forster (Quantum of Solace, Monster's Ball, The Kite Runner) and executive-produced by star Gerard Butler (300), this is the story of a Christian told by mainstream filmmakers. And it does so much right. By merely being real, sticking to storytelling and not trying to sell something, Machine Gun Preacher helps model what Christian-made films could be. Instead of showing faith with a tidy, safe sheen, Childers's Christianity is shown as the mysterious, dynamic, and intricate force that it is.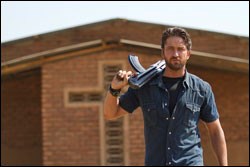 It's clear the filmmakers didn't want a one-note profile of Childers, but to show the full, complicated mixed bag that is this fascinating man—and the faith that drives him—warts, rough edges, and all. Interestingly, this is the second film currently in theatres to take a full, nuanced approach to faith. Like Preacher, Vera Farmiga's Higher Ground depicts—as ThinkChristian wrote—that "tumultuous combination of joy and frustration that comes with living as a member of Christ's kingdom." Childers's tale is not used to show how safe or problem-free faith makes your life; for him, it's mostly quite the opposite experience. The movie doesn't preach. There's no didactic lesson. Just captivating and gripping story.
The film begins as Childers (Butler) leaves prison to discover that his wife Lynn (Michelle Monaghan) has quit smoking, drinking, and stripping because "God helped me change." Childers is not fond of Lynn's newfound Christianity. When he hits rock bottom, though, he knows his life must change. He attends Lynn's church and finds new life in Christ. He also discovers overwhelming need in Africa. When his first attempt at an orphanage meets a violent end, Childers sees that doing good requires a more aggressive approach. "God gave you a purpose," Childers says, and he sees that God can use all we bring to him—including a penchant for violence and a willingness to do what others will not for the defenseless. As Childers takes back from the LRA the lives they've stolen, Machine Gun Preacher becomes Rambo or a modern-warfare Robin Hood.
Despite a lack of "agenda," the simple power of story raises many compelling, deep questions for Christians and non-believers alike.
From the beginning of his faith journey, Childers preaches the necessity of service for the Lord. He tells his Pennsylvania congregation, "In actions, you serve the Lord. He's not interested in your good intentions. He wants your backs, your hands." As the film continues, this honorable drive spins out of control. Soon, it is clear that serving God has become a destructive idol—even causing strife within his own family. Childers is serving, but is it to honor God? At one point he screams, "I'm done with the Lord! Did he save these kids? I have to save these kids."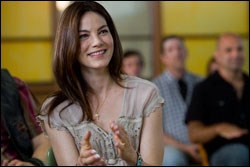 As Childers descends into an all-consuming fervor for his mission, he also grows more aggressive in his work. It's not enough to serve God with your hands—you have to get your hands dirty. To him, all means seem just when the end result is all that matters. As one character says, the darkness is swallowing him. Childers roars at his congregation: "God don't want sheep! He wants wolves with teeth." The movie wants the audience to consider: Is Childers a humanitarian or a mercenary? Does it matter how one does good? Or only that good is done? One character even suggests that LRA founder Joseph Kony started his reign of terror with much of the same spiritual warfare rhetoric as Childers.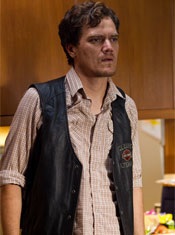 For as real the movie is in its portrayal, Childers's cinematic arc is slightly too tidy. His post-conversion struggles with balancing faith with a broken world, anger with hope, and action with trust are deep and realistically sketched. But in the film's ending, they are just neatly wrapped with only prudent words from a kid wise beyond his years. It's a common problem for films to excel at the messiness and not so much the clean-up, and that could have been improved here. How is Childers thinking about God as the film ends? How does he balance the competing urges within? How has his approach changed after pulling out of his darkness?
Butler is strong and dynamic as Childers. For an actor known for loud, forceful "This is SPARTA!" moments, his most powerful moments here are quiet and stirring. For example, on the Sunday morning when Childers goes to church for the first time, Butler conveys layers of guilt and inferiority by distantly uttering, "I don't have any good shoes." This is clearly Butler's vehicle—a powerful story built to showcase him and he dominates the film. The underrated Monaghan (as Childers's wife) and 2009 Oscar nominee Michael Shannon (as Childers's friend) are solid, but could have been asked to do far more. It is refreshing to see a strong woman of faith who several times in the film not only supports her husband but inspires and pushes him. In one scene, she challenges him: "Get off your butt. Stop crying and [try] again."
I have often wondered about audience for films that depict faith within an R-rated setting. What is the audience when many Christians will be bothered by language, sexuality, and violence, but mainstream audiences won't want to sit through the faith talk? I am not concerned about mainstream audiences digging Machine Gun Preacher; its craftsmanship, story, and a handful of exceptionally powerful, heartbreaking or inspiring sequences will satisfy viewers and critics. Believers will want to be aware of the film's content (see The Family Corner below), but the film would not be as redeeming or affecting without seeing the darkness and explicit horror.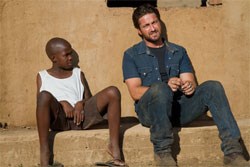 Some faith questions are easy to answer in a vacuum, but it is in bloody, broken, and troubling reality that they become real—and harder to answer. And this is the issue that undergirds Childers's story. Claiming a set of morals is well and fine, but what do they mean in context? We know God forgives, but how do we live day-to-day with the reality of what we've done? Pledging to serve God is honorable, but what service is God looking for in a dark world?
And lastly, as the real Sam Childers says during the end credits, "If a madman abducted your child and I said I could bring them home, does it matter how I do it?"
Talk About It
Discussion starters
Do the ends justify the means? Is it acceptable to kill to save children? What could one be sacrificing by killing to stop the killing of innocents?
How do you answer Childers's question, "If a madman abducted your child and I said I could bring them home, does it matter how I do it"? Does what you want mean that it is right?
A child says, "If we allow ourselves to be full of hate, they have won. We cannot let them take our hearts." What does this mean to you? Compare and contrast this statement with moral instructions in Scripture.
What good thing has become an idol to you? How do you still hold on to that thing without it becoming a god? How could Childers do his work without letting it or the darkness overtake his heart?
What do you think of the church scenes? What makes Childers's church more acceptable to the "sinners" of society than the church where he is baptized?
What do you make of Childers's statement "God don't only call the good"?
Donnie asks, "You really think God's gonna forgive all we've done?" How would you answer?
The Family Corner
For parents to consider
Machine Gun Preacher is rated R for violent content including disturbing images, language, some drug use and a scene of sexuality. Despite redeeming faith elements, take the rating seriously. The film is bloody and gory—realistically showing the horror of savage warfare inflicted on adults and children. Among these disturbing images: a pile of charred children, a woman whose lips have been hacked off her face, a child whose legs have been blown off. Language takes full benefit of the R-rating with a handful of uses of the f-word, including five in one speech by a frustrated believer. Derogatory terms for black people are used several times. While there is no nudity, there are too sexual scenes—one of graphic sex and one of a woman giving a short but sensual lap dance to her husband. A woman is seen in panties and cut-off shirt a few times.
Copyright © 2011 Christianity Today. Click for reprint information.
Browse All Movie Reviews By: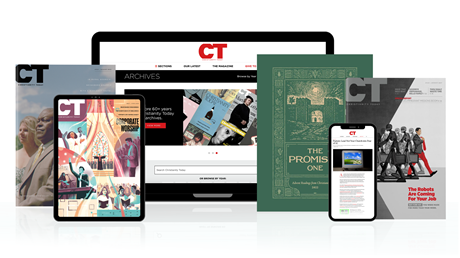 Subscribe to Christianity Today and get access to this article plus 65+ years of archives.
Home delivery of CT magazine
Complete access to articles on ChristianityToday.com
Over 120 years of magazine archives plus full access to all of CT's online archives
Subscribe Now
Machine Gun Preacher
Machine Gun Preacher