true
Some people are mystified by those who love baseball. It's so boring, they say. Nothing happens. And there's so many games. Who can keep on top of it all?
Baseball fans know this is true (after all, the best part of some games is the hot dog). But something about the game is still compelling to our national imagination. It's hard not to feel patriotic when (and here I reveal my biases) listening to the national anthem in Fenway Park. And when I'm asked why I like the game, I say I was raised by a father from south Boston and am therefore genetically impelled to be a Red Sox fan.
Yet there's something more than that, and that something is what Moneyball captures—and in such a way that even baseball haters will find themselves gripping the armrest around the 100-minute mark.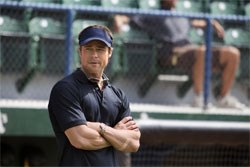 The film—based on an excellent book by journalist Michael Lewis—begins with the Oakland A's losing the American League pennant to the Yankees at the end of the 2001 season. The Yankees, of course, have the biggest payroll in baseball, and the A's have the smallest, putting them at a distinct disadvantage. That's the same reason they're losing both Jason Giambi (to the Yankees) and Johnny Damon (to the Red Sox), and they have little hope of having a good season the next year, without the ability to pay great players.
The team's general manager, Billy Beane (Brad Pitt), is fed up: his scouts aren't giving him players that can make a winning team, and his owner can't give him money to buy better players. After trying to make trades in a particularly frustrating meeting with the Cleveland Indians, Billy runs into Peter Brand (Jonah Hill), a Yale economics graduate who is convinced the way teams are managed is all wrong. Brand claims that scouts are looking at the wrong things—and that by looking at statistics on the players more carefully, and by hiring players who fit together as a team and not as individual stars, even the poorest team might have a shot at winning.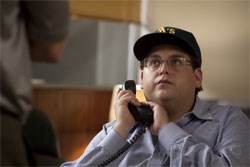 Billy has a lot of experience with that flawed system—he was recruited by the Mets right out of high school and turned down a full scholarship to Stanford, but then crashed and burned and quit playing pro ball to become a scout. Sensing that Peter might be right, he hires him as his assistant general manager and sets about cleaning house and hiring a team that might be able to win games. In the process, he infuriates a few people—including the manager, Art Howe (Philip Seymour Hoffman), who's trying very hard to just stay employed. But Billy's after more than just a string of wins: he wants to change the game altogether. And now he's risking that on a team of misfits and has-beens.
Moneyball is directed by Bennett Miller, whose last film was Capote; his pedigree as an actor shows through here, as he gives his characters space and breathing room. This is a finely cast film with some surprisingly perfect choices—for instance, Chris Pratt, known for playing loveable idiot Andy on NBC's Parks and Recreation, here dons a straight face as Scott Hatteberg, the injured young catcher who's given a chance to play for the A's, if he'll learn to play first base.
As Beane, Pitt looks sort of wise and weathered and boyish all at once, and the screwball comedy staple Hill—whose credits mostly include movies like Superbad and Get Him to the Greek—perfectly fills out the nerdy Ivy Leaguer who's out of place among gruff baseball types, but who loves the game, loves the people involved, and has faith in his methods. Hoffman, having slipped into the character of the team's manager, wanders around looking grumpy and skeptical and on the verge of violent outbursts. And there's a host of character actors so authentic fill out the clubhouse, you wonder if they're actually actors.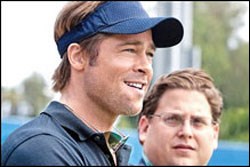 Because the acting and storytelling—the screenplay is written by two of the best in the business, Steven Zaillan (American Gangster, Schindler's List) and Aaron Sorkin (The Social Network, The West Wing)—are so compelling, there's no distraction from the real heart of the film: baseball is a tough game, and it's tough precisely because it is, yes, slow. Individual games move slowly and can last for many hours; teams play 162 regular-season games, which can weary even the most ardent fan; and the game is old and slow to change. Winning the first game is important, and winning lots of games is important, but as Billy points out, history only remembers the guy who wins the last game.
The thing about baseball is that it forces you to take the long view, to experience a lot of discomfort and heartbreak and nail-biting along the way. Players get traded suddenly, and injuries can turn a team's hopes into disappointment. And furthermore, it's all underpinned by something that feels very unfair to our American ears: money. History tells us that the teams with the biggest payrolls win the most World Series games.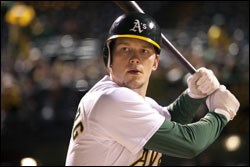 So Moneyball succeeds, and inspires, because it says, first of all, that money is important, but it's not everything—not for individuals, and not for teams, either. It also says that sometimes people who are usually overlooked are worth a second look, and it says that without succumbing to a Disneyfied "anything is possible if you follow your dreams" trope. And it says, finally, that changing an old game—or anything, really—requires a lot of hard work, patience, and, yes, teamwork.
Talk About It
Discussion starters
Have you ever had your hopes dashed, and had someone give you a second chance? Or have you ever given someone a second chance?
When do the A's start winning? What does that say about what makes for a good team—and not just in baseball?
Billy Beane's experience, and its results, mirror a lot of the difficulties that people run into when they set out to "change the world." What is something in culture you'd like to change? What would you need to develop in order to accomplish your goal? What happens if you don't reach it?
The Family Corner
For parents to consider
Moneyball is rated PG-13 for some strong language—a handful of profanities, including a couple of f-bombs. One character is intimated, in vague terms, to like partying and going to Vegas a lot.
Copyright © 2011 Christianity Today. Click for reprint information.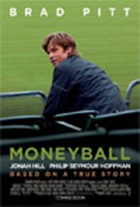 Browse All Movie Reviews By: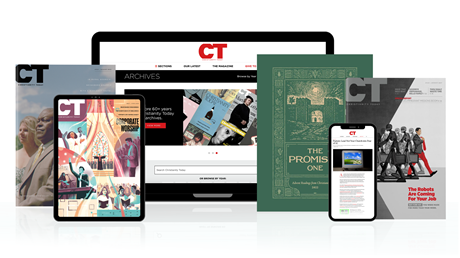 Subscribe to Christianity Today and get access to this article plus 65+ years of archives.
Home delivery of CT magazine
Complete access to articles on ChristianityToday.com
Over 120 years of magazine archives plus full access to all of CT's online archives
Subscribe Now
Moneyball
Moneyball