true
Midpoint in The Grey, while trying to survive a pack of wolves in Alaska's wilderness, a group of men sit around a fire reflecting on their lives while literally staring death in face. One of them insists on the pertinence of faith and the existence of God in the midst of their suffering, while two others refute the claim and call his belief a "fairy tale," claiming there's no life after death. These opposing ideologies stand front and center of this chilling new adventure by writer-director Joe Carnahan (The A-Team). He puts the two ideas to the test in his grey and desolate wasteland, looking to see which prevails.
Liam Neeson stars as Ottway, an Irish hunter and one of the two men without faith. After surviving a plane crash in the freezing conditions of Alaska, he and a few members of an oil drilling team, including Diaz, an arrogant womanizer (Frank Grillo), and Talget, a passive family man (Dermot Mulroney), find themselves being hunted by a pack of wolves. Hopeless with nowhere to go, they do all they can to escape into a wooded area, which may or may not be a safe haven, but the wolves begin to take their lives, one by one.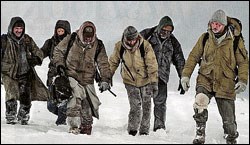 Within these bleak circumstances, Ottway voluntarily becomes the leader because of his experience killing wolves. But even though he may be a trained hunter, he secretly faces problems of his own. In the opening sequence, we see him walk outside a bar and proceed to attempt suicide, with a rifle placed in his mouth, only to be distracted by the howl of a wolf in the distance. We learn that his inner struggles stem from his wife leaving him—and now he's got hungry wolves circling for the kill. Much to fret about.
The film, adapted from the short story Ghost Walkers by Ian MacKenzie Jeffers, weaves Ottway's struggles together in redemptive fashion. Forced to be the leader and give hope to the rest of the men, despite his own feelings of hopelessness, Ottway faces his internal demons because of the external, fang-baring ones. Ironically, the dire circumstances act as a catalyst for his personal redemption.
Such optimism doesn't extend to every character or the entire situation, so The Grey is hardly a morality tale. As the title implies an underlying moral ambiguity, the film often settles into a cynical outlook void of redemption and God. In many ways, these darker aspects actually trump the small, personal thread of Ottway finally coming to terms with the absence of his wife and, even more so, with his life.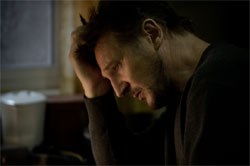 This nihilistic worldview and unbelief in God emerges first and foremost visually. Working with few colors, a range of grays and a fixed graininess, Carnahan gives his film dark and lifeless imagery that, in turn, creates a prevalently melancholic tone. He takes the same approach with the scenery. The cold, dreary climate, with no hope in sight and an enemy in the middle of it, further establishes it.
But the bleakest component of all is the wolves and their relentless attacks. In the course of all the blood, guts, and death, the question surfaces: Where is God and meaning in all of it? Like the wolves themselves, this rhetorical question runs rampantly throughout the story as the group becomes smaller and smaller, death after death, until a moment in which Ottway cries out to God, pleading for help. Desperate and facing death, he admits his need for a savior only to remark, "Fine, I'll do it myself." The scene epitomizes the moral haziness of The Grey, but it also leads the film into its gripping finale. Seamlessly paced with suspense and anticipation throughout—thanks in part to a vigorous score—the whole story points to this intense moment, putting Ottway face to face with the wolves and the alpha of the pack.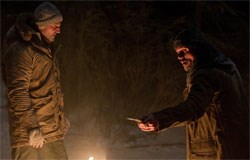 Neeson carries the film, bringing physical action and human emotion from start to finish. He balances out his tough, grizzly persona with a hurting, vulnerable side. His role, autobiographical in regard to the loss of wife three years ago, keeps the film grounded in humanity and, in the end, stops it from falling into cynicism, despite Ottway's conflicted morality. In one scene, he looks at pictures of the families of men who died, thinking about his own wife. This moment of pure sentiment feels so personal, so transcendent.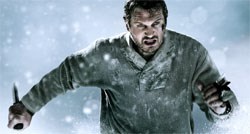 Moments like these elevate the film from being just another action movie, or just another drama with lofty ideas yet no heart or soul. Even more, such moments almost provide enough clarity to keep it from being a complete moral vacuum. But as the film concludes and we seek hope, God, and life in the midst of the mess, we're still left in The Grey.
One large marketing firm has prepared a "film companion" discussion guide for faith-based audiences; the guide explores the movie's spiritual themes.
Talk About It
Discussion starters
The film clearly pits two opposing ideologies, a belief and unbelief in God. In the end, which ideology prevails? Why?
How does Ottway deal with his wife leaving him through his circumstances (the weather and wolves)? What does he ultimately learn?
What does the film say about suffering? Why does God allow us to suffer, or does he? Can suffering change and mold us? How?
The Family Corner
For parents to consider
The Grey is rated R for violence/disturbing content including bloody images, and for pervasive language. Throughout the movie, men are killed in bloody battles with wolves. Though violent and intense, these scenes move rapidly and chaotically, making them less graphic than they could be. The characters use excessive profanity, especially the f-word. But the language never proves to be exploitive or out of context.
Copyright © 2012 Christianity Today. Click for reprint information.
Browse All Movie Reviews By: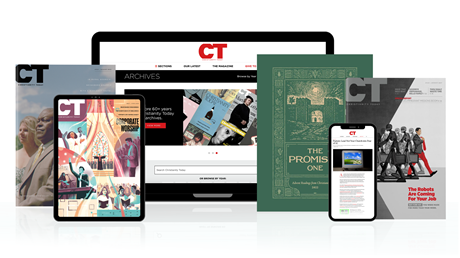 Annual & Monthly subscriptions available.
Print & Digital Issues of CT magazine
Complete access to every article on ChristianityToday.com
Unlimited access to 65+ years of CT's online archives
Member-only special issues
Subscribe
The Grey
The Grey