true
Jean-Pierre and Luc Dardenne, filmmaking brothers from Belgium, have been quietly churning out masterpieces for decades with their distinct brand of spare, naturalistic cinema. Tackling family and social struggles in lower class Belgium, their films—like Rosetta (1999), The Son (2002), and The Child (2005)—have received widespread critical praise and garnered numerous awards at the Cannes Film Festival, where their latest, The Kid with a Bike, won the Grand Prix in 2011.
Now playing in limited theaters and on demand in the U.S., Bike—in French with English subtitles—is like many of the Dardennes' films: It's a deceptively simple and yet powerfully humane portrait of children and parents, set against the downtrodden urbanity of a contemporary Europe haunted by the vestiges of a Christian past. The film is a clear riff on Vittorio De Sica's Italian neo-realist masterpiece, Bicycle Thieves (aka The Bicycle Thief, 1948), which also explored issues of family and economic struggle in urban Europe. Both Bike and Bicycle are about a father, his son, a bike, and a search. But where De Sica's film is about a man and his boy searching a city (Rome) for a bike, the Dardennes' film is about a boy who finds his bike early in the film and then rides it around a Belgian city, searching for his absentee father.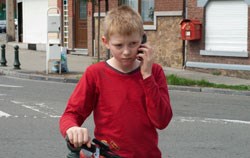 The boy in Bike is 11-year-old Cyril (Thomas Doret), a freckled, strawberry blonde rapscallion who's quite the handful: he bites, he bolts from authorities, he can't sit still. He's the epitome of unsettled. In the film's opening shot, Cyril is on the phone trying to get in touch with his absentee father (Jérémie Renier, a Dardenne regular), but there is no dial tone. The tragic one-sidedness of this summarizes Cyril's plight: he needs a father and wants so much to receive his father's love, but there is no answer on the other end.
We learn that Cyril's father recently dropped him off to live in a juvenile home, promising it would just be for a month. In reality he wants nothing more to do with his son ("I want to start over," he eventually admits), and yet Cyril holds out hope that they'll be together again. It's painful to watch as Cyril pursues his father and yet gradually comes to realize that his father doesn't reciprocate any interest in a relationship. Cyril, like all of us, has a deep need for a father, or a mother—for someone to love and look after him. Who will that be for him? That's the real search of this film.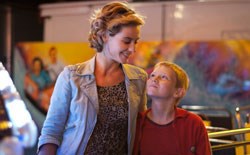 Thankfully, along the way, Cyril bumps into Samantha (Cécile De France), a kind, thirtysomething hairdresser who agrees to be his foster parent. She takes him in and loves him unconditionally, even if he's a bit of a pill (he's the kind of kid who turns the water faucet on harder after he's told to turn it off). For Cyril, Samantha is a literal Godsend; without her seemingly random appearance, his tenuous path would have taken him who knows where. Among the film's many merits is the way it compellingly illustrates how vulnerable kids like Cyril often end up with the wrong crowd while trying to find a community that cares. Samantha is an angelic protector doing her best to keep Cyril from such things, wrestling him away from the door at one point to keep him from going out at night to meet a shady gang leader.
Yet while Samantha seems to be a guardian angel, she's very much as broken and needy as Cyril. She needs him as much as he needs her, and their timely meeting feels less like serendipity than the movement of some larger unseen force, looking out for the both of them.
Bike is as much Samantha's story as it is Cyril's. At one point Samantha's boyfriend, fed up with her inexplicable patience with the badly behaving Cyril, tells her "it's me or him." Samantha says "him." What motivates her Christ-like, unconditional love for Cyril? As with Cyril, we know nothing of Samantha's back story. Did she lose a child? Was she also abandoned by her own parents at a young age? All we know is what we see—an incredibly moving pursuit of one human being after another, the former desperately wanting her love to be received, the latter having a hard time trusting anyone's affections.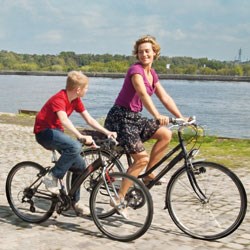 The powerful human drama of Bike is enhanced by the Dardennes' distinctive visual style, characterized by handheld but subtle camerawork and an unobtrusive, observational disposition that makes it feel as if there is no camera. This spare approach puts the focus on the characters and lends every Dardenne film an uncanny realism. You get lost in the world of these films, pulled into the narrative vignettes of everyday folks in the industrial town of Seraing (the directors' hometown), where most Dardenne films are set. It helps that, though they are very specific, the narratives are deeply human and universal. We all can relate to the punch-in-the-gut pain of loving someone who doesn't love you back.
Another aspect of the Dardennes' minimalist style is that their films have, up until Bike, not contained any music. With Bike, however, the Dardennes tiptoe ever so slightly into the world of music-accompanied film. About 60 seconds of Beethoven appear in Bike, broken up into a repeated 15-second excerpt from the Adagio un poco mosso of the Emperor Concerto. The instances of music jolt the viewer both in their rarity and their evocative power. The four moments the music comes in feel like some sort of spiritual reality hovering above, dipping down periodically to assert its presence and offer catharsis. It's as if God, who has been watching all along and moving unseen in every frame, wants to let us know—through 15-second rapturous bursts of Beethoven, naturally—that all will be well in the end.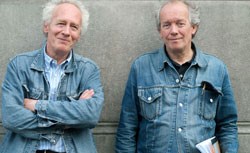 Indeed, this film could very much be called The Kid with a Bike … and God, because the divine is certainly a main character. He isn't uttered by name and no churches are seen; this is contemporary Europe, after all. But God is active in the lives of Cyril and Samantha, bringing their paths together at a time when they both seem to need each other most, guiding them both through hardship and sheltering Cyril from all kinds of danger, something we see powerfully in the final harrowing episode.
If the film begins with Cyril holding a phone to his ear, looking for answers but getting no dial tone, it ends with him feeling—perhaps for the first time—that someone is there for him, looking out for him. Indeed, this is one of the things Bike eloquently reminds us: that there is an ever-present help for us in times of trouble, but it often comes to us in a different way than we anticipated.
Talk About It
Discussion starters
What is Cyril really looking for in this film? What is Samantha looking for?
The four brief uses of music in the film stand out; what purpose do you think the filmmakers had in their decision to use music so sparingly but deliberately?
Do you see the presence of God in this film?
The Family Corner
For parents to consider
The Kid with a Bike is not rated, but it did receive an MPAA rating it would likely be PG. There is no sex, nudity, or bad language. There is some minor violence, though it is not bloody or gratuitous. It's a film about families and the dynamics between parents and children, so it is entirely appropriate to view it and discuss it as a family. Note: Young children and slower readers may have trouble keeping up, since it's in French with English subtitles.
Copyright © 2012 Christianity Today. Click for reprint information.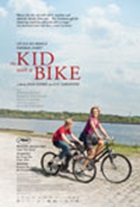 Browse All Movie Reviews By: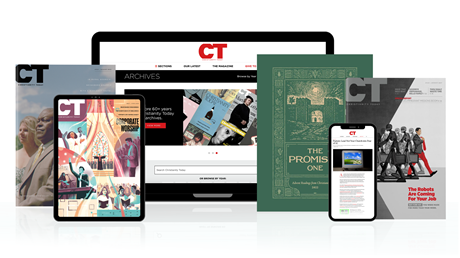 Annual & Monthly subscriptions available.
Print & Digital Issues of CT magazine
Complete access to every article on ChristianityToday.com
Unlimited access to 65+ years of CT's online archives
Member-only special issues
Subscribe
The Kid with a Bike
The Kid with a Bike