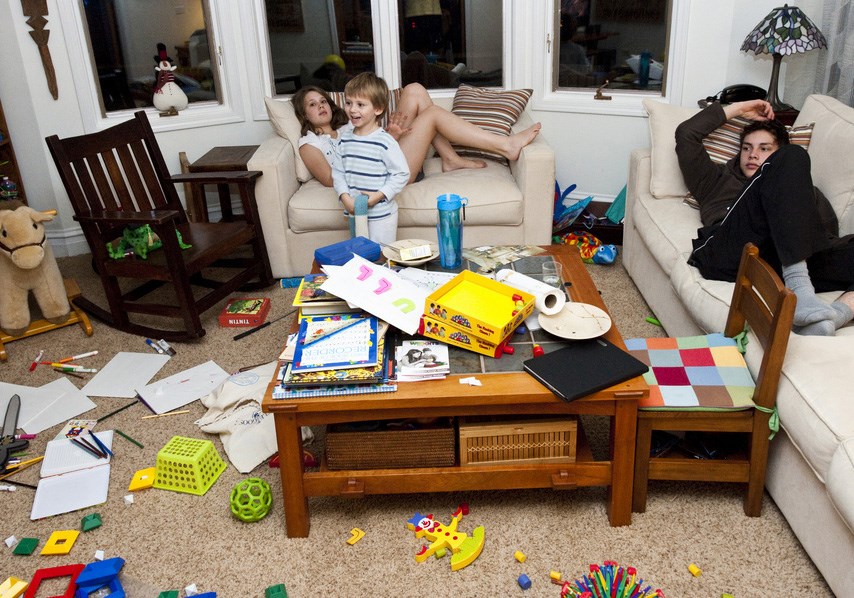 Image: Upsilon Andromedae / Flickr
I confess: I make macaroni and cheese from that box. A green vegetable, organic or otherwise, has rarely passed the lips of my six-year-old. It's summer, and my kids have not been bathed in days (swimming in the pool counts, right?).
Once a "Dare I say it?" backlash against the picture-perfect family lives portrayed on the web, these kind of parental confessions have become a popular trope around the blogosphere, particularly among Christians. Recently, Jen Hatmaker's "Worst End of School Year Mom Ever," an expose of scavenged posterboard and last-second costume improvisation, went viral enough to land her a televised interview on Today.
Hatmaker, along with writers like Ann Voskamp and Jamie Wright (a.k.a. Jamie the Very Worst Missionary), with their stories of burned dinners and piles of dishes and moments of hair-pulling frustration, are making messiness cool.
But all stories, including self-deprecating humor and amusing little blog anecdotes, have theological implications. As Christians, our current obsession with brokenness may have us getting a little too comfortable with a life defined by often-petty imperfections.
Posts about failing do get so much right, and Christians, of all people, rightly understand what it means to be broken. Before the face of a holy God, we have no illusions about our own righteousness (the great Apostle Paul called his "rubbish"), and we have no need to pretend otherwise. It's no secret that we are the undeserving recipients of grace. We should be authentic, rejoicing with Paul: "Christ Jesus came into the world to save sinners, of whom I am the foremost" (1 Tim. 1:15).
Christ gives true hope to one who is the worst.
But these online confessions tend to underestimate sin. We read about spilled milk and overflowing laundry baskets and call it brokenness. We applaud the authors for being messy and raw. But sin is serious, and such posts can blur our understanding of what failure actually is.
Writer Marie Osborne voiced this in a recent blog comment: "I hate how often I hear moms say 'worst mom ever' or 'I'm such a bad mom' for stuff that has nothing to do with the guidance, training, and nurturing of children through life." If everything is failure, then nothing is. We warp our perception of sin when feeding my child Cheetos for breakfast qualifies me for worst mom ever.
Before calling himself the worst sinner, Paul describes his former life as a "blasphemer, persecutor, and insolent opponent" (I Tim. 1:13). If we also have authentic confession in view, returning to biblical categories of sin would be more helpful. Instead of writing winking admissions of our forgetfulness or stress, let's talk seriously about our unkindness or laziness or anxiety.
Only when we acknowledge that we have really sinned can we be thankful for sin's authentic remedy: Jesus our Savior. Messiness—of the it's-been-a-rough-day variety—doesn't require a Savior. My sin does.
Such posts also create a culture where brokenness is the standard for relevance. Why did 4,000-plus readers comment on Jen Hatmaker's post? Because she's so funny and a great writer. But, mostly, it was because we feel like she gets us.
Increasingly, we think that only someone who has failed can understand our failure. We believe only the woman who was not a virgin on her wedding night can speak to sexual temptation and only the woman whose children are rebellious can understand the difficulty of parenting teens.
C.S. Lewis calls this a fallacy. In Mere Christianity, he writes:
A silly idea is current that good people do not know what temptation means. This is an obvious lie. Only those who try to resist temptation know how strong it is. You find out the strength of the German army by fighting against it, not by giving in. You find out the strength of a wind by trying to walk against it, not by lying down. A man who gives in to temptation after five minutes simply does not know what it would have been like an hour later.
Ultimately, this kind of thinking drives us away from the sympathetic arms of Christ. The author of Hebrews tells us "For we do not have a great high priest who is unable to sympathize with our weaknesses, but one who in every respect has been tempted as we are, yet without sin" (Heb. 4:15).
If we are constantly looking for someone else who is broken in all the same places, we overlook the comfort we can have in the perfect God-man. Lewis puts it this way, "Christ, because he was the only man who never yielded to temptation, is also the only man who knows to the full what temptation means—the only complete realist." Jesus is more authentic than any "worst ever" blogger.
What's more, Christ at work in me doesn't permit me to rest in my failure.
One writer summarized the message of the current trend: "I'm broken and sinful, and I'm not really able to make a lot of progress as a Christian. But God's grace is awesome, and it covers me."
Grace covers. And it covers again and again. Thanks be to God. But if we stop there, as so many writers do, we are only telling half of the story. Titus 2:11-13 says, "For the grace of God has appeared, bringing salvation for all people, training us to renounce ungodliness and worldly passions, and to live self-controlled, upright and godly lives in the present age."
Grace covers my sin, and then it pushes me to be more like Christ.
As Pastor Harry Reeder said, "Brokenness is never an objective in the Christian life." Instead, because of God's grace—and never apart from it—we press on toward holiness (Phil. 3:12-16). Receiving grace for my failures also includes Christ's help to turn from sin and embrace new obedience. Have I been impatient with my children? I must ask for grace to be patient tomorrow. Have I been unkind to my husband? I must seek to love him better next time.
That dinner-time-grocery-store-decorating disaster is not the whole story. In our blog posts, as in our whole lives, it is more of Christ that we need. Christ who died for sins, Christ who perfectly sympathizes with us along the way, and Christ who makes us more like him.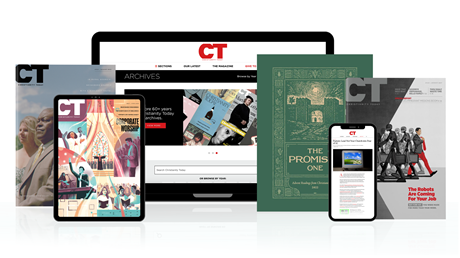 Annual & Monthly subscriptions available.
Print & Digital Issues of CT magazine
Complete access to every article on ChristianityToday.com
Unlimited access to 65+ years of CT's online archives
Member-only special issues
Subscribe
The Very Worst Trend Ever
The Very Worst Trend Ever