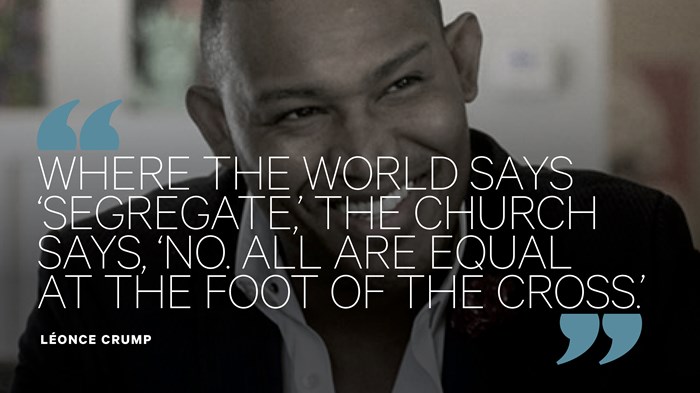 When God called Léonce Crump to plant a church in Atlanta in 2006, he didn't want to go. After years playing pro football for the New Orleans Saints, his sights were set on California—its perfect weather, its beautiful beaches, its status as a safe haven where interracial marriages like his own could thrive. During a visit to the city, however, when he found himself lost and wandering through Peoplestown, he stopped at the corner of Ormand Street and Hank Aaron Drive and knew what God was saying: "This is where you're going to give your life."
That was nearly a decade ago—and much has changed. Today, Crump serves as the founder and lead pastor of Atlanta's Renovation Church, a body of believers who, according to their website, are dedicated to "cultivating environments that make Jesus tangible and leave people gloriously ruined for the transcultural church." Ask him how he feels about his city now, and you'll receive a straight answer: he's head-over-heels for it—even to the point that he wrote a book about how loving where you are can change who you are for the sake fo the Gospel.
For this week's episode of The Calling, CT associate editor Kate Shellnutt met up with Crump to learn about the fruits of his unexpected ministry, as well as the road that brought him to it.
On his time playing in the NFL: "It was very challenging. Imagine if—particularly if you grew up poor—all of a sudden, you have the ability to buy virtually anything that you want. And everyone everyday tells you how great you are. How many of your idols would that surface? That's what it's like to be a professional football player. People are hard on these guys, and really critical of their actions and their decisions and what they say, not taking into account that if we had an endless stream of money and praise, then we would make many of the same mistakes—if we aren't making them now."
On not resting on your seminary laurels: "You find out, the longer you do this, that you actually know less than you thought. Coming out of school—particularly out of seminary—you feel like you have all the tools to do what you feel called to do. Over time, you realize that there are tools that you don't have, tools that you do that are dull, tools that you have that you really need to throw away because they're not helpful. . . The biggest lesson that I've learned is that I don't ever know as much as I think I do."
On what a church party looks like: "DJ. Dancing. Inviting our neighbors to experience life with Jesus's people—in a normal way, rather than trying to bait-and-switch them into a bible study."
On how the church can be an example to the world: "The local church can be a picture of how the world's systems should function. So where the world says 'segregate,' the church says 'No. All are equal at the foot of the cross.'"