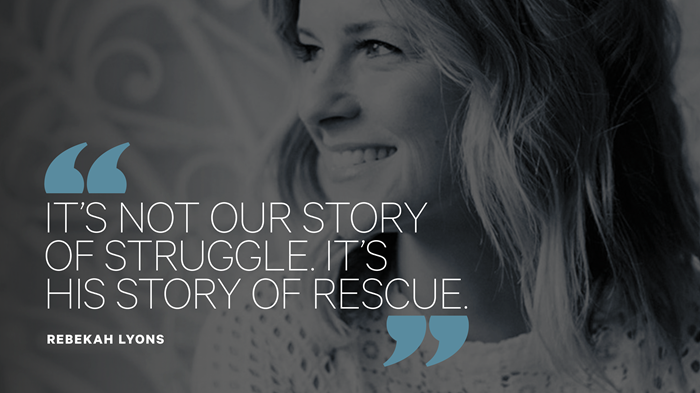 When the Bible tells us to "fear not," is it issuing a command or offering us comfort? That's a question that author, speaker, mother, and Q Ideas co-founder Rebekah Lyons is uniquely equipped to answer.
In her 2013 memoir Freefall to Fly, Lyons shared her gripping struggle with panic disorder, shedding light on the reality of women's mental illness both in and beyond the church. Now, in You Are Free (published this February by Zondervan), she's taking this call one step further, inviting readers to push back against fear by recognizing and living into their God-given spiritual freedom.
On this episode of The Calling, Lyons joins CT managing editor Richard Clark to talk about her latest book, her journey toward freedom, and her calling to minister to others struggling with mental illness.
On the panic attack she remembers most: "I broke down on the curb at the Macy's parade in front of my kids. That was probably the worst. There was a wall of people—a whole block thick, no cell service—and I couldn't push through them. I just fell on the ground on the street corner and started sobbing in front of my kids. The old Rebekah would've been able to get through that. I just became really aware of my smallness and my weakness."
On the lingering effects of mental illness: "I had a moment in 2011 when I cried out 'Rescue me, deliver me—I cannot do this without you.' And I came out of a panic attack in that moment. I wasn't expecting it. Sometimes the Lord gives us a story we can't shut up about. But I also learned that anxiety just doesn't go away forever. It's not like there isn't a fiery dart that's always going after the places that are vulnerable—especially when you start to speak out against it."
On why she loves the Psalms: "David is a man after God's own heart, and every other psalm he's lamenting and [saying] 'Rescue me from the pit.' In some ways, David feels a little bipolar. He makes me feel more normal. He makes me feel like he's honest with the Lord—even with despair."
On not shying away from suffering: "I don't think that we can be heirs with Christ without sharing in the suffering of Christ. We all want to claim the resurrection of Christ. But think of how close you've become to the people you've actually walked in suffering with. That's where the intimacy gets loud. That's where it gets real. You think of how the branch is grafted into the vine. What's required for that in nature? It's that both sides are cut, and they're raw, and they're exposed—and the greater the cut and the tear, the greater the union."
CT Women has featured devotions inspired by Lyons' book You Are Free as well as an earlier interview about motherhood and calling.
Subscribe to The Calling on iTunes.
The Calling is produced by Richard Clark and Jonathan Clauson.
Theme music by Lee Rosevere, used under Creative Commons 4.0.