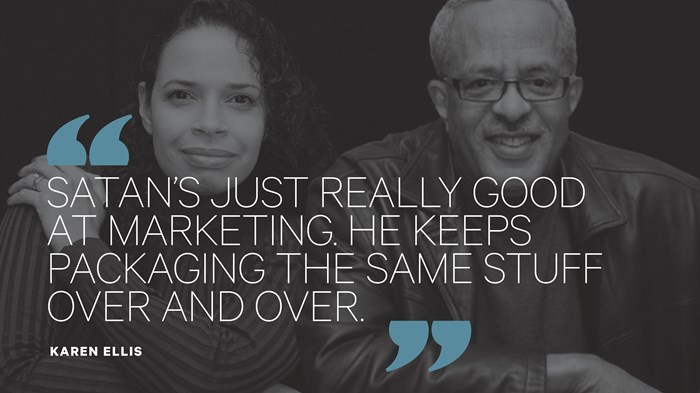 Individuals' callings often spill over into the callings of their spouses—and that certainly seems to be the case for Carl and Karen Ellis. When they first met, Carl was serving as the Dean of Intercultural Studies at Westminster Theological Seminary, where Karen was perusing her master's degree. Since then, their mutual love for each other—and for theological anthropology—has led them to a shared life of ministry both in the United States and overseas.
Karen, who is now a PhD candidate at the Oxford Center for Mission Studies in England, specializes in advocating for the global religious freedom, particularly in areas where underground churches are facing persecution. Carl, meanwhile, focuses on issues closer to home related to African American culture and religious practice. Together, they founded the Makazi Institute, which aims to "train emerging leaders to speak into today's global cultures with a distinctive biblical voice."
For today's episode of The Calling, CT managing editor Richard Clark sat down with Karen and Carl to find out more about Makazi, their human rights work, and the lessons they've learned working alongside each other in ministry environments that few might dare to enter.
Karen on the perspective history gives us: "Satan only has a certain number of tricks. When you start to look across the patterns of history, you start to see the same stuff happening again and again. You realize that God has mercifully limited him in his creativity. He's just really good at marketing. He just keeps repackaging the same stuff over and over."
Carl on learning to be patient with God: "When people came and told me, when I was going through my [hard] times, 'You are being blessed'—I knew that they were right. but I was resentful. It sounded like a cliché. I knew I was being blessed, but I wanted to see it right now. I didn't realize that the delay would give me wisdom."
Karen on recognizing the local nuances of persecution: "Anti-Christian hostility is politically, culturally, and historically determined. That's what makes it look different from region to region. What's going on in Pakistan looks totally different from anti-Christian hostility in Vietnam....Here in America, I don't use persecution language. I say that there's a rise in anti-Christian hostility—but we're not at that persecution place yet."
Carl on the benefits of age and experience: "There's wisdom that you gain with age. When I was twenty, I knew God was faithful, but I didn't have my own history of God's faithfulness. Now, I can look back on my own book. I don't have to look anywhere else, because I know he's been faithful."
Subscribe to The Calling on iTunes.
The Calling is produced by Richard Clark and Jonathan Clauson.
Theme music by Lee Rosevere, used under Creative Commons 4.0.