Image: Alex Nabaum
"Conciudadanos estadounidenses, el estado de la nación está fuerte." Así todo presidente por las últimas décadas ha declarado en su discurso anual al Congreso. Esto en el mejor de los tiempos es verdad a medias. Ya que un nuevo presidente será instalado en enero del 2017, posiblemente no habrá informe presidencial formal el próximo año. Es mejor, porque es difícil imaginarse a alguien decir seriamente que nuestra nación está fuerte.
Esta nos es la primera vez que Estados Unidos ha enfrentado tensiones internas abrumadoras y amenazas externas. Pero durante las primarias presidenciales este año, el miedo, la desesperación, e insatisfacción han atraído a los estadounidenses hacia los futuros líderes que prometen un cambio radical para restaurar la grandeza de nuestro país.
Sin embargo, la grandeza es sólo una parte de la salud real de las naciones. Todas las comunidades que realmente están floreciendo también aceptan la vulnerabilidad. Aceptan y aun buscan riesgos significativos por el bien del progreso. Los grandes líderes no tan sólo prometen fortaleza: sino también hacen un llamado a la gente a tomar riesgos.
No obstante alrededor del mundo hoy vemos el ascenso de líderes que ofrecen diversas formas de autoridad sin vulnerabilidad— fortaleza sin riesgos. Esta es la promesa de todo gobierno autoritario y todo dictador, y cada vez más es la moneda de las campañas políticas estadounidenses. Un candidato prometió construir un muro para impedir la entrada de inmigrantes ilegales de México—y hacer que México la pague. Otro prometió colegiatura gratuita en las universidades públicas—y hacer que "Wall Street" pague por ello.
Estas promesas tienen algunas cosas en común, y no tan sólo que son totalmente imposibles. Prometen mercancía sin precio, protección sin esfuerzo, y beneficios sin costos—cuando menos para gente como nosotros. Dependen en extraer el esfuerzo y el costo de otras personas—otras personas que son tratadas no como probables colaboradores sino más bien como enemigos permanentes.
También vemos un nivel de jactancia en la política estadounidense que no se ha visto desde los excesos jacksonianos del siglo 19—proclamando el poder propio y deleitándose en las debilidades de los demás. Las promesas irrealistas han sido igualadas por los alardes de mal gusto y desdén por los "fracasados." La misma gente que presume de su poder también se queja incesantemente, revelando sus quejas contra las poderosas fuerzas formadas en su contra. Los líderes autoritarios presumen de su poder, los líderes manipuladores presumen su supuesta vulnerabilidad—y los líderes más tóxicos hacen ambas cosas al mismo tiempo.
Los cristianos en particular, deberían poder resistir la tentación de vitorear las propuestas de leyes superficiales poco consistentes, y a los políticos que son más superficiales aún. Debemos recuperar las dimensiones políticas radicales de la afirmación que "Jesús es Señor." El decir que Jesús es Señor es establecer una medida a través de la cual todo uso de poder humano pueda ser juzgado—y en su debido tiempo, será juzgado.
Jesús nunca presumió de su poder. Después de sus milagros públicos a menudo buscó pasar momentos a solas—como cuando las multitudes, maravilladas por la provisión milagrosa de alimento, buscaron hacerle rey. Él eligió un título, "Hijo de Hombre," que por todas sus matices mesiánicas le identificaron con una humanidad sencilla, no invulnerabilidad divina. Sabía que una confrontación fatal era inevitable, más nunca provocó quejas ni se dejó llevar por la lástima de sí mismo.
Ningún líder, ya sea religioso o político, vivirá siempre a la altura del estándar de liderazgo de Jesús. Más por esta misma razón, necesitamos líderes que eviten avivar lo peor en nosotros.
Los Estados Unidos algunas veces ha tenido ese tipo de líderes. John F. Kennedy hizo un llamado al país a "sobrellevar la carga de una larga lucha año tras año, 'gozosos en la esperanza, pacientes en la tribulación.' " Abraham Lincoln, quizá el mejor presidente estadounidense, se negó a demonizar a sus adversarios aun cuando conducía una horrible guerra, "con malicia hacia nadie, con amor para todos, con firmeza en lo justo, según Dios nos da para ver lo justo."
Nuestra verdadera vulnerabilidad no es el resultado de un grupo de enemigos que es fácil de especificar—y de eliminar. Es el resultado de vivir en un mundo que sería complejo y riesgoso aun si no fuera también atestado de quebrantamiento y maldad. Los grandes líderes resisten la tentación de crear una víctima expiatoria aun cuando enfrentan decisiones difíciles.
Hasta que los cristianos exijamos ese tipo de honestidad y valor de nuestros líderes, posiblemente continuaremos apoyando al peor tipo de ídolos estadounidenses.
Andy Crouch es director ejecutivo de CT. Su libro más reciente es Strong and Weak: Embracing a Life of Love, Risk and True Flourishing.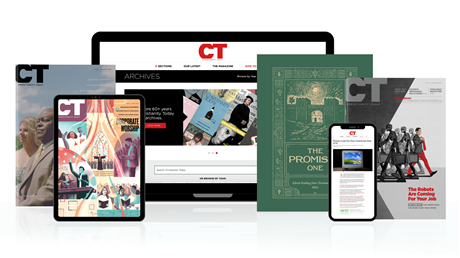 Subscribe to Christianity Today and get access to this article plus 60+ years of archives.
Home delivery of CT magazine
Complete access to articles on ChristianityToday.com
Over 120 years of magazine archives plus full access to all of CT's online archives
Subscribe Now
La ascensión de los hombres fuertes
La ascensión de los hombres fuertes