Instead of Building Your Platform, Build Your Character
Three Practices to Grow as a Leader.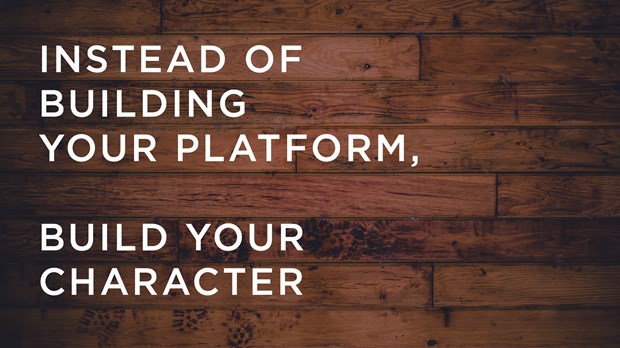 Image: Erick Hodge
If you're a pastor or leader, words like "platform" and "influence" are important.
But if we aren't careful, in our desire to build our platform and influence, the end result will be building our EGO.
As leadership gurus Ken Blanchard and Phil Hodges say, "EGO stands for 'Edging God Out'."
BUILD YOUR CHARACTER
Instead of building your platform, focus more on building your character.
According to the Apostle Paul, the qualifications to be an elder-pastor have more to do with character than gifting. Even if you're not a pastor, these are great leadership qualities to possess:
The saying is trustworthy: If anyone aspires to the office of overseer, he desires a noble task. Therefore an overseer must be above reproach, the husband of one wife, sober-minded, self-controlled, respectable, hospitable, able to teach, not a drunkard, not violent but gentle, not quarrelsome, not a lover of money. He must manage his own household well, with all dignity keeping his children submissive, for if someone does not know how to manage his own household, how will he care for God's church? He must not be a recent convert, or he may become puffed up with conceit and fall into the condemnation of the devil. Moreover, he must be well thought of by outsiders, so that he may not fall into disgrace, into a snare of the devil. 1 Timothy 3:1-7 ESV
HOW DO YOU BUILD YOUR CHARACTER?
I want to share three practices (other than the classical spiritual disciplines) that challenge and encourage my character development.
1. Practice the Presence of People:
Treat every person you come in contact with as though Jesus died for him or her.
Treat every person as if Jesus left heaven to rescue him or her.
Treat every person as if he or she is made in the image of God and really matter to Him.
(This will keep you from treating people as though they are less than made in the image of God.)
2. Practice Being a Servant:
Understand that people do not exist to serve you; you exist to serve them.
Look for ways to serve people besides preaching a sermon. (This will keep you humble and accessible.)
Remember that Jesus washed His disciples' feet. Whose feet are we washing?
3. Practice the Presence of Christ:
Abide in Christ. Revel in Christ. Enjoy Christ. Make much of Christ. Live in constant dependency on Christ.
(This will keep you relying on Jesus as your source of power.)
We need to focus on building our character, and let God build our platforms and influence.
Marinate on that.