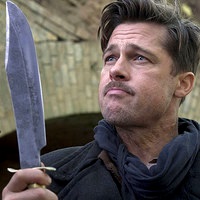 When Harvey Weinstein and Quentin Tarantino showed Inglorious Basterds–a fictional film about Jews enacting brutal revenge on the Nazis–to a group that included children of Holocaust survivors, the reaction was mostly positive.
The Wall Street Journal was there when Miramax chief Weinstein and director Tarantino screened the film at the Museum of Jewish Heritage. Audience reactions included such sentiments as "wickedly entertaining" (from a rabbi!) and "I felt like Tarantino was a fellow Jew, just the way he made me feel so proud of the Basterds and the revenge against the Nazis."
The rabbi, Jonathan Blake of Westchester Reform Temple in Scarsdale, N.Y., likened the film's themes of blood-soaked vengeance to the Old Testament story of the Jews' long-running conflict with the Amalekites. According to the WSJ, "rabbinic tradition extends Amalek's descendants to some of the Jewish people's most-loathed oppressors, including the Roman emperors and Hitler."
Writer Jordana Horn noted that all of the audience members weren't so happy: "One young man noted that watching Nazis beg for their lives provided him with little satisfaction.
"The film does not pretend to be history and certainly does not make any attempt to be in sync with Jewish teachings. But it raises questions about the propriety of acts of retribution under Jewish law." It makes for a fascinating read.