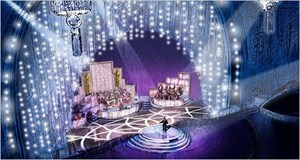 Usually, I'm all about the business side of the Oscars. I could skip the glamour, glitz, and self-congratulation. The endless clips of movies? Keep them. The dancing? Eh. I just want to know the winners so I can either complain about the Academy or feel validated in my opinions.
So, I definitely feel the pain of Newsweek's Patrick Enright who asked this week, "Why do we subject ourselves to an experience we detest?" He actually admits to watching the Oscars every year; I often bow out completely.
But this year, for some reason, I'm looking forward to the ceremony. I might just be buying into the hype, but it seems as if the Academy has gotten the hint and will be trying to reinvent itself. That tends to happen when ad revenues are projected to be down 16 percent because last year marked the event's lowest viewership percentage.
The New York Times reported last week that architect David Rockwell, who designed the Kodak Theatre, is out to "redefine the show's DNA" with a new, intimate look. (Check out a quick slideshow of the stages over the years.) But the changes don't stop there.
Producers say they want to bring back the joy and celebration of the awards, return it to being a "communal experience," and are specifically using the 1969 ceremony as their model. "When I look at the old shows, one of the great things is they're all giving this party, and we're lucky to be invited to it," says ceremony co-producer Bill Condon. "Recently it's become just a TV show where they promote everything ?We wanted to restore a certain kind of mystery to it."
Even members of the academy don't know exactly who is showing up tonight to present or perform. (Anne Hathaway singing?) The Times did report that this year's Oscars "will have a storyline related to making movies and will lean heavily toward live theater instead of endless film clips, with the award presentations almost Shakespearean plays within a play."
Hey, "all's well that ends well" - as long as it ends before 1 a.m.