The Obama's may be settling on a puppy choice, but last I checked, President Obama has not found a church to call home. He's attended some private services, but a new article in Slate concludes that his church hopping habits may not be a bad thing.
Even if the American mania for shopping extends to our spiritual lives, church shopping still doesn't get much respect. But while it may be frequently derided as an example of rampant spiritual consumerism, shopping around can be one of the good things about the way religion is practiced in America.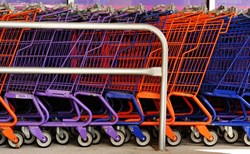 Andrew Santella provides a nice round-up of the church shopping phenomenom, but I'm guessing his conclusion would horrify some church leaders. "In that sense, church shopping transfers a bit of power from the pulpit to the pews. And keeping a check on the power of church leaders is never a bad idea."
About 40 percent of Americans attend a religious service at least once a week while 58 percent of evangelicals do the same, according to the Pew Forum on Religion & Public Life. On the other hand, 61 percent of Americans say they are a member of a congregation, and 74 percent of evangelicals say the same.
Santella concludes, "So, the president shouldn't feel any need to rush into committing to a new church. When you have so many options, it pays to shop around."
Last year, president of Fuller Theological Seminary Richard Mouw wrote a more theological piece for CT examining why church shopping isn't the worth thing in the world.
Evangelicals probably care more about Obama's church attendance than they do his new puppy–so vote about that on today's on CT's poll.