Republican lawmakers wrote a letter to President Barack Obama asking him to reconsider his support of legal abortions as a crowd prepares to march on Thursday.
Bill Burton, an Obama spokesman, declined to comment to the press, saying "We're not making any announcements on that today."
I will be on the National Mall with the estimated 200,000 people expected to join in the "March for Life" to the Supreme Court building on the anniversary of Roe V. Wade. Just a thought, but I wonder how many of the marchers were conveniently in town for the inauguration.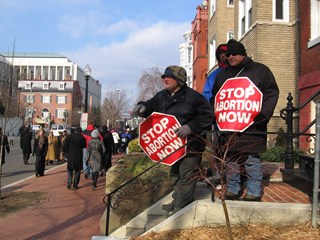 Above is a picture my friend Elizabeth Postgate took on our way back from the inauguration Tuesday near the Supreme Court building.
CatholicVote.com released a bold YouTube video that plays off of President Obama's historic inauguration.