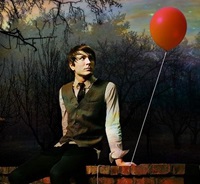 Owl City – aka Adam Young – was almost literally an overnight sensation in 2009, with his debut album, Ocean Eyes, going platinum and its lead single, "Fireflies," going triple platinum. It's not a stretch to say that in almost no time, his career took off and soared – apt metaphors for the appearance of Young's first new song in a year.
"To the Sky" will serve as the theme song to the upcoming Zack Snyder animated film, Legend of the Guardians: The Owls of Ga'Hoole, opening Sept. 24. The song will be featured prominently in the film, play over the closing credits, and be released as the soundtrack's first single.
"It is such an incredible honor to be part of this film," says Young. "As a fan of both the children's book series growing up, and Zack Snyder's work as a director, having my music included is pretty surreal. I've been waiting for someone to make a movie like this for some time now. I'm endlessly grateful to be involved."
The song's bridge hints at Young's Christian faith:
There's a realm above the trees

Where the lost are finally found

So touch your feathers to the breeze

And leave the ground
Young is currently working on Owl City's next album, due in early 2011. He recently recovered from a painful bout with kidney stones, which forced him to miss some concerts. He has apparently had a full recovery.