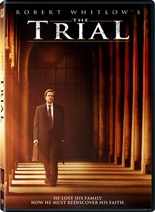 It's been several weeks since a review copy of The Trial landed on my desk, and I haven't been able to find the time to watch it till just this evening. It was a Christian film by a young director, so I admit I wasn't trying terribly hard to make the time, either. I feared it might be another one of those heavy-on-agenda-but-weak-on-story flicks for the flock.
I was wrong.
Wheeler and a strong cast have come up with a good-but-not-great film about a 40-something attorney (Matthew Modine, Full Metal Jacket) who is considering suicide after surviving a car accident that killed his wife and kids. But just before he pulls the trigger (literally!), the phone rings . . . and he ends up taking on one last case, defending a young man accused of murder.
It's a decent courtroom drama, based on a book of the same title by Robert Whitlow. (Wheeler's directorial debut, The List, was also based on a Whitlow novel.) The film's title obviously refers to the story in the courtroom, but also in the heart and soul of the main character's life as he struggles to find a reason to live and a purpose for pressing on. It unfolds in a way that feels mostly natural, never hitting the viewer over the head with a sermonizing agenda. Faith and biblical principles are part of the story, but organically, never forced.
Wheeler's directorial restraint is to be commended in a genre (inexpensively made indie Christian films) that often lacks such restraint. Ironically, that leads to my main complaint about the movie: Methinks there's too much restraint, because many of the characters lack, well, character. I only kinda sorta cared about them as people; the story kept my attention more than the people did. And Wheeler had some good talent to work with – not just Modine, but veteran Bob Gunton as the prosecuting attorney, Robert Forster as an investigator, and TV veterans Clare Carey (as a psychologist) and Randy Wayne (as the defendant), the latter most recently seen in the lead role of To Save a Life.
But that's a mere quibble. Overall, it's a fine effort, and I look forward to more from Wheeler. The film is now available on DVD from Fox Home Entertainment. Watch the trailer here: