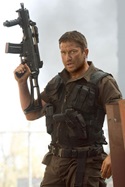 Gerard Butler, last seen onscreen in The Bounty Hunter) will be hunting a bounty of another kind in an upcoming film that begins shooting this month: Machine Gun Preacher, the true story of Sam Childers. Childers, allegedly a Christian preacher, literally lives up to the film's title by carrying a machine gun into Sudan to rescue young children from that nation's war atrocities – including rape, murder, and forcing them to become child soldiers.
Childers, author of Another Man's War: The True Story of One Man's Battle to Save Children in the Sudan, told The Christian Postlast year, "I don't condone violence at all . . . but at the same time I don't believe that children should be raped, murdered, or cut up. I would have to ask the American people that you take a person that cuts up a child, or kill a child, or rape a child, if you catch a person doing that do you think that person would just stop if you just say stop? Or do you think you are going to have to fight that person? You would definitely need to fight that person or else they are going to kill you.
"I look at it as a self-defense and I look at it as I'm helping God's children. I'm not a person out to murder. But at the same time these people need to be stopped.
"As far as a pastor with a gun, what would you call David? What would you call all the prophets in the Bible that were soldiers?"