A few headlines in global World Cup coverage have caught CT's attention: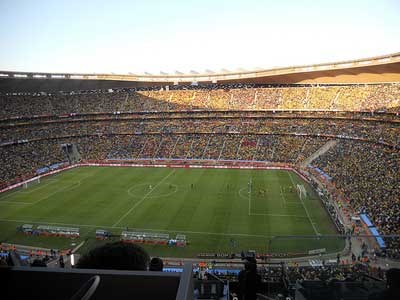 North Korean soccer fans are the target of a group of Brazilian evangelists who came to South Africa for the Cup, the Guardian reported. The group sees a rare chance to speak to citizens of the normally closed country: "We were praying for North Korea to qualify," one pastor said to the Guardian.
No word on who they were rooting for in yesterday's match between the two countries, but Brazil's win probably had little effect on the evangelism: As the paper notes, North Korea allowed few actual North Koreans travel to South Africa, and those folks cheering were probably Chinese paid by the North Korean government.
South African churches, meanwhile, are taking advantage of the mission field the Cup provides. Associated Baptist Press reports on Baptists hosting World Cup church screenings, holding soccer outreaches for area children, and even writing a special newsletter they will distribute at World Cup events.
CTV reports that churches are addressing the dark side of World Cup tourism by raising concerns about the increase in child trafficking accompanying the flood of people entering South Africa for the Cup. (Children's HopeChest president Tom Davis has a blog that's more or less devoted to trafficking and other social justice issues of the World Cup.)
On the field, however, officials have muted expressions of faith. The International Federation of Association Football (FIFA), which governs the Cup, is not allowing players to demonstrate their religious faith, and some Christian leaders are protesting. The Association of Evangelical Priests in Paraguay called the ban "an attack on religious freedom and freedom of conscience," reports Agence France-Presse.
AFP notes that this might affect Brazilian players like the world-famous Kaká, a evangelical Christian who's been known to wear an "I Belong to Jesus" T-shirt underneath his jersey and reveal it after victories. The Times of London's Matthew Syed speculates on why athletes like Kaká bring their faith to the field.
The New Republic discusses the rise of evangelicals on Team Brazil, and Baptist Press has a profile of U.S. goalie Tim Howard, a well-known Christian who was "Man of the Match" in Saturday's 1-1 draw with England.
Der Spiegel reports that African soccer officials frequently have to crack down on witchdoctors who try to get spiritual forces involved in the sport.
Religious concerns even surround TV coverage of the Cup in some countries. Sports Business Daily reports that Hyundai has pulled a World Cup commercial after Catholic groups protest what they saw as "sacrilegious and offensive" imagery. In Somalia, radical Muslims have killed two and arrested many others for watching the Cup, which they say distracts from "pursuing holy jihad," according to the Telegraph.
Finally, if you'd like a fresh perspective on "the beautiful game," CNN has video of a new innovation: Lego footballers reenacting Saturday's USA/England game.
(Image from www.shine2010.co.za)