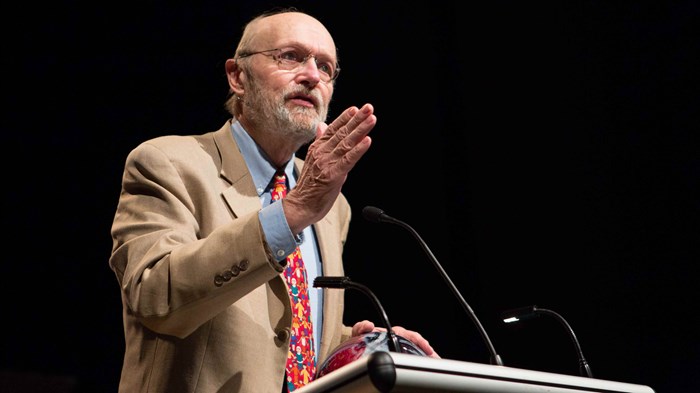 Image: Danske Kirkedage/Flickr
Glen Harold Stassen, a respected Christian ethicist and director of Fuller Seminary's Just Peacemaking Initiative, died today after battling cancer. He was 78.
"I am sad to report that Glen died peacefully at home in Pasadena this morning, surrounded by family," wrote David Gushee, director of Mercer University's Center for Theology and Public Life, breaking the news on Facebook of his mentor's death. "Glen goes to be with Jesus, whom he so loved and followed."
Stassen was a "pioneering theorist in the field of Christian ethics," Gushee wrote in a tribute published by Associated Baptist Press. He noted:
Probably [Stassen] will be best remembered for developing and then advancing just peacemaking, a Christian approach to preventing war that transformed the old conversation between just war theorists and pacifists and will mark a permanent contribution to human thinking and action to prevent the scourge of war.
According to Gushee, Stassen also "developed hugely important new insights into the Sermon on the Mount"; "was a very serious student of Dietrich Bonhoeffer"; and "refined a methodological proposal he called incarnational discipleship, which will bear much further study in years to come." Gushee concludes:
I want to be a Baptist like Glen was a Baptist; an evangelical like Glen was an evangelical; a scholar-teacher-activist like Glen was. I will fall short. But he will set the standard. And that standard will long outlast him. He goes to be with God. Many of us will strive to live up to his legacy.
Stassen and Gushee cowrote Kingdom Ethics: Following Jesus in Contemporary Context, which was awarded CT's best theology/ethics book of 2004. This past summer, Stassen was honored with a festschrift in Perspectives in Religious Studies, the journal of the National Association of Baptist Professors of Religion.
His Facebook, Fuller, and Wikipedia bios offer more details. His last blog was on the destruction of Syria's chemical weapons.
Stassen, whose name appeared in CT many times, last wrote for CT on whether or not it is biblical to be pro-life and support the death penalty. Gary Burge reviewed Stassen's 2007 book, Living the Sermon on the Mount, as explaining "Jesus' sermon for moderns."
[Photo courtesy of Christian Roar Pedersen, Danske Kirkedage - Flickr.]