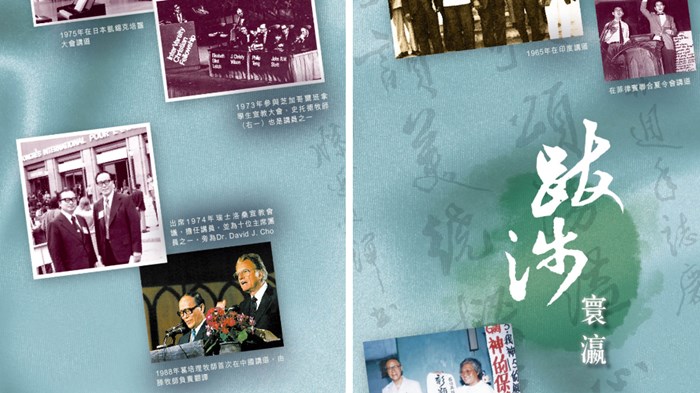 Image: Courtesy of William C. Teng
Billy Graham has offered tribute to Philip Teng, a Chinese church and seminary leader who cofounded the Lausanne movement. Teng, who translated for Graham during the famed evangelist's first preaching tour of China in 1988, died peacefully on December 19 in a Hong Kong hospital. He was 91.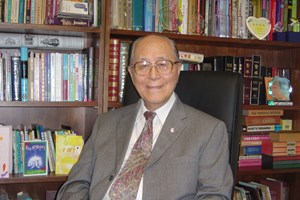 Teng was one of the four founding chairs of the Lausanne Congress in 1974. He served as the first chief editor of the Chinese edition of DecisionMagazine.
In a lengthy tribute package to Teng, Graham writes:
For many years my wife Ruth and I prayed that God would open the door for us to visit China. Ruth had been born there (where her parents, Dr. and Mrs. L. Nelson Bell, had served the people of China for 25 years as medical missionaries), and she had never lost her love for the Chinese people. Finally in 1988 we received an invitation for us to visit the People's Republic of China and for me to preach in several of its newly opened churches. When we asked a number of knowledgeable people who would be the best interpreter for my sermons, the unanimous choice was Dr. Philip Teng.

I have known Dr. Teng for many years, and he was not only an effective and diligent interpreter, but his godly spirit and his deep dedication to the cause of Christ in China impressed all who met him on that trip. I thank God for his friendship and his willingness to help me see the Chinese people through his eyes. May the memory of his love for Christ and his humble Christ-like spirit challenge each of us to a deeper dedication to the Lord he both loved and served.
In Hong Kong, where Teng became a church leader thanks to a visa mixup after studying in Scotland, he pastored North Point Alliance Church for 30 years, served as president of Alliance Bible Seminary, and was the founding president of the China Graduate School of Theology. He was a prolific writer of books and translator of hymns.
He served as the second president of the Alliance World Fellowship from 1979 to 1983, and spoke at the Quadrennial Convocation in Seoul in 1995.
After retiring in 1987, he came to the United States and served as the founding chair and professor of the Chinese Bi-Cultural and Pastoral Ministry Program at the Alliance Theological Seminary in Nyack, New York. He taught from 1987 to 1997.
According to the Nyack College and Alliance Theological Seminary blog: "As a trailblazer in seminary education for Chinese students, Dr. Teng recognized a need for trained pastors to minister to the significant influx of Chinese immigrants from different parts of Asia to North America."
"Many have been blessed through his ministry as teacher and preacher," said the Alliance World Fellowship in a press release.
A brief bio is below:
Grandson of a Presbyterian elder and son of a Presbyterian minister in China, Rev. Teng was born on January 15, 1922, in Wei County, Shandong Province. Already active in the Christian circle in his early school years, he graduated from the National Northwest University in Xi'an, Shaanxi Province, in 1946 with a degree in Foreign Languages. He then went on to study theology at New College of the University of Edinburgh in Scotland and graduated in 1950.

Upon passing through Hong Kong, attempting to return to his home in Qingdao, Shandong Province, in 1950, a confusion about his visa status miraculously allowed him to stay in Hong Kong which allowed him to begin over sixty years of faithful ministry there.

Rev. Teng began his ministry in Hong Kong by teaching at several Bible institutes, which included the Alliance Bible Institute (later the Alliance Bible Seminary), and in Christian literature. He was recommended in 1957 by the then President of the Alliance Bible Institute, Dr. William Newbern, to become pastor of North Point Alliance Church and was ordained into the Gospel Ministry the following year. In his 30-year tenure at North Point Church, up until his retirement in 1987, Rev. Teng saw the congregation grow from 50 to over 1,400 and helped to plant ten new congregations all over Hong Kong.

He also helped to organize and led the Christian & Missionary Alliance Church Union of Hong Kong for over thirty years, helping the Alliance to become one of the largest denominations there.

Other than pastoring the North Point Church, Rev. Teng also took up responsibilities with many para-church organizations and causes by either serving on or chairing their boards of directors. Being proficient in both Chinese and English, Rev. Teng was also a prolific writer, having written hundreds of articles and over twenty books. He was the first Chief Editor of the Chinese monthly edition of Decision Magazine and his Chinese calligraphy is known throughout the Chinese Christian world. Rev. Teng was also an avid church musician as he translated hundreds of hymns into Chinese for the 10-volume Youth Hymns and later the Hymns of Life. Rev. Teng also served as Dr. Billy Graham's personal sermon interpreter in Dr. Graham's first-ever preaching tour of China in 1988.

His heart for evangelism and mission was especially obvious when Rev. Teng not only advocated mission emphasis in many Hong Kong churches, he also chaired the Hong Kong Association of Christian Missions and served as script writer and helped with recording for the Far East Broadcasting Company in Christian broadcasts into China and other southeast Asian countries. He later became the founding Chair of Asia Missions Association in 1975. As an example of obedience to God for mission work, Rev. & Mrs. Teng also laid down their busy schedule in 1978 and devoted the year to do mission work in Indonesia. They planted ten new ethnic and indigenous congregations there as a result.

Theological education was another area of special interest to Rev. Teng. From 1952 on, he had taught at the Guangzhou Bible Institute, the Alliance Bible Institute and Bethel Bible Seminary. Among them, his service at Alliance Bible Institute (later the Alliance Bible Seminary) was the longest, having served as chair of its theology and evangelism departments, and as Acting President in 1966, and finally as President in 1975. In 1974, Rev. Teng took part in establishing the Chinese Graduate School of Theology (CGST), becoming the first President. In doing so, he led a team of young scholars filled with vision and enthusiasm to advance higher theological education, and turned a new leaf for ethnic Chinese theological education. Which also meant Rev. Teng not only was pastoring a large congregation at the time, but also serving as presidents of two full-fledged seminaries at the same time.

After his retirement from Hong Kong in 1987, Rev. Teng left for the United States and founded the North American Chinese Bi-cultural & Pastoral Ministry Program at the Alliance Theological Seminary in Nyack; he served as Director & Professor until 1997. During his stay in the U.S., he was also elected chairman of the Chinese Churches Association of C&MA in USA. Returning to Hong Kong in 1997, Rev. Teng taught at the Christian Ministry Institute and at the same time doubled up by request as a voluntary pastor for the Chinese C&MA Yau Oi Church until 2004.

Rev. Teng was also a popular conference speaker all over the world — covering six continents and more than 40 countries and territories. He spoke in numerous major evangelical movements, such as the Keswick Convention; various student evangelical movements, including the International Fellowship of Evangelical Students and the Urbana Mission Convention in Illinois (Urbana 1973); AD 2000 and Beyond Movements; and so forth. He participated in launching the 1974 Lausanne Movement and was a founding member of the Chinese Coordination Centre of World Evangelism (CCCOWE) where he was Chairman of the Board of Directors for 25 years. Rev. Teng was a distinguished leader of C&MA worldwide and was elected in 1979 as President of the Alliance World Fellowship. He had also conducted various Bible study and training conferences in Mainland China. In 1970, Rev. Teng was awarded a honorary Doctor of Laws degree by Nyack College.

Rev. Teng was married to Lily Foo Chung Oi in 1953 and was blessed with six sons: William, Samuel, Timothy, Luke, John and Peter, among whom Bill and Peter are now pastors. The sons brought Rev. Teng seven grandchildren — five boys and two girls. Mrs. Teng took good care of the family and the children and offered essential assistance to Rev. Teng. She succumbed to cancer while living in Nyack in 1993. In 1997, Rev. Teng married Cheung Kai Yum, who took good care of Rev. Teng's daily living and ministry, bringing him joy in the golden years of his life.

Rev. Teng completed his lifetime of service to God with humility, obedience, faithfulness, focus, love, steadfastness, gentleness and a broad mind — glorifying Christ, serving the church and edifying large numbers of people. Although he has now departed from us, his profound influence among the ethnic Chinese Christian community remains — Indeed, "Blessed are the dead who die in the Lord, says the Spirit. They will rest from their labors, and their deeds follow them."