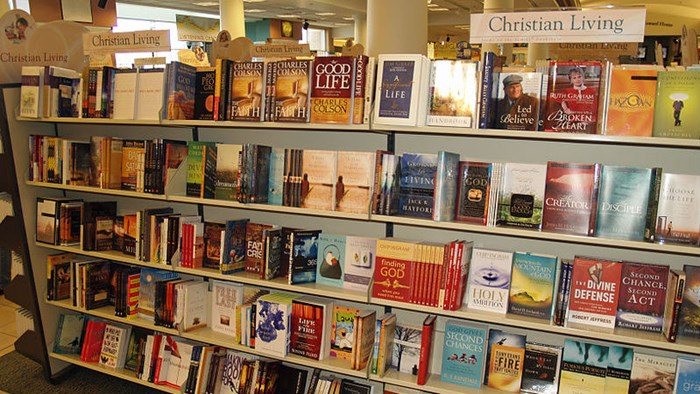 Image: David Shankbone/Wikimedia
Sales at Christian bookstores increased by almost 3 percent last year, though the Black Friday bump that saved 2012 failed to materialize again in 2013.
While the 2012 sales surge masked mixed results for Christian booksellers, this year's CBA State of the Industry Report says stores are competing less on price and focusing more on personal engagement with customers.
However, 49 stores still closed across the country, according to the Association for Christian Retail. This was an increase from the previous year's 39 stores, but lower than the all-time high of 63 store closures in 2011. Additionally, 18 new Christian bookstores opened in 2013, an increase from 15 in 2012.
Shoppers bought early in 2013, with second-quarter sales increasing by 12.6 percent and third-quarter sales increasing by almost 9 percent. However, the fourth quarter, which usually includes a bump from Christmas shopping, saw sales decrease by almost 7 percent.
It's a dramatic contrast with the previous year's Black Friday sales, which rose 22 percent and were one of the main reasons the industry saw a 9 percent overall gain in 2012.
CT previously reported how 38 Cokesbury retail bookstores shut down in 2013 as part of the Methodist's publisher's shift to a digital strategy. CBA President Curtis Riskey said Cokesbury was one reason store closures were greater in 2013 than in 2012.
"While we realize that not all stores are seeing the same outcome, we are encouraged that store closures seem to be stabilizing," Riskey told Publishers Weekly. "This is still a tough time for brick-and-mortar booksellers, but we are encouraged by the fact that Christian stores are very strong in the book and Bible categories."
Bible and book sales accounted for about 60 percent of the total sales for bookstores last year, according to the report.
This year's report also included a survey of Christian supplier CEOs, most of whom reported growth rates of less than 5 percent. Almost one-third reported flat or no growth, while about 28 percent reported growth of 10 percent or more.
CT previously reported on CBA's 2013 industry report, as well as how to save the Christian bookstore (stop making it so religious?). CT also noted how Christian publishers are searching for the next big thing and how more and more churches are getting into the book business.
Recently, CT reported that Family Christian Stores, the largest chain of Christian retail stores in America, sold and then re-purchased itself in a plan to donate all profits to widows and orphans.