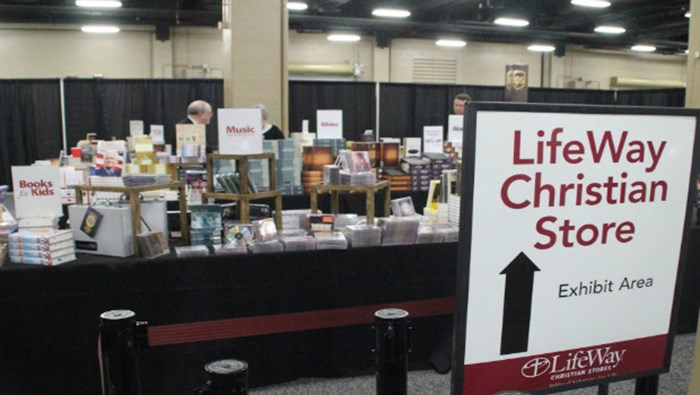 Image: Courtesty of the National Religious Broadcasters
Joel Osteen, William P. Young, and Joyce Meyer are three of the biggest names in Christian publishing. Yet none of their titles are sold through Lifeway Christian Resources.
The Southern Baptist-affiliated bookstore chain, which operates more than 180 stores nationwide, drew attention in recent months when it stopped selling heaven tourism and Mark Driscoll titles.
On Wednesday, blogger Cameron Dobbins published a list of roughly 120 authors in a post entitled, "LifeWay Removes Unbiblical Resources from Their Stores." In a phone interview with CT, Dobbins claimed he received the list from a LifeWay employee.
"I want to applaud LifeWay for this decision which will encourage Christians to be more discerning about what they read and share with others," wrote Dobbins on his blog."...LifeWay still has a long way to go because though their list is exhaustive it still is missing other authors who are harming the church with unbiblical doctrines."
Along with Christian bestsellers, the list Dobbins published includes names like controversial philosopher Peter Singer, New Age author Deepak Chopra, and Matthew Vines, author of "God and the Gay Christian."
But there are some errors. The list includes products LifeWay does sell, such as the New American Bible, albums from Randy Travis, and books by author RT Kendall.
If LifeWay had a list of books it doesn't carry, it might resemble the list Dobbins published.
Marty King, a spokesman for LifeWay, said the retailer did not send out the list published by Dobbins. In a statement, he did confirm LifeWay does not sell many of the authors on the list.
"Although LifeWay Christian Resources does not carry titles by most of the authors included on a list recently posted on the Internet—and has never carried most of them—the list was not released by LifeWay," he said. "Similar to most retailers, LifeWay decides—based on a variety of factors—which resources to carry from the tens of thousands available to us. Therefore, we do not comment on individual resource selections."
Family Christian Stores, the nation's largest Christian retailer, does sell some of the books of the list, including Meyer, Osteen, and Rachel Held Evans.
In the past, Southern Baptists unhappy with products sold at LifeWay have voiced their frustration through resolutions at the convention's annual meeting. A 2014 resolution that "the sufficiency of Scripture regarding the afterlife" played a role in removing so-called "heaven tourism" books.
In 2009, LifeWay was asked to ban Driscoll's books from its stores at the SBC's annual meeting, but the motion failed. The former Mars Hill pastor was not alone—other 2009 motions reportedly requested to have The Shack and books by T.D. Jakes, John Hagee, and "Catholics" removed.
In early 2011, CT reported when LifeWay dropped its "read with discernment" sticker program, which targeted books that "may have espoused thoughts, ideas, or concepts that could be considered inconsistent with historical evangelical theology."
In 2012, LifeWay pulledThe Blind Side from shelves after complaints over the film's profanity and use of a racial slur. The same year, the chain declined to carry Rachel Held Evans' book A Year of Biblical Womanhood.
Also in 2012, LifeWay declined an SBC request to remove the 2011 NIV Bible translation from its shelves, and it halted sales of a breast cancer awareness Bible amid concerns over the book's beneficiary: Susan G. Komen for the Cure, which also partners with Planned Parenthood.
CT regularly covers the Christian book and publishing world, including the conflicting sale trends that sometimes mask mixed results at Christian bookstores.
CT recently reported on LifeWay competitor Family Christian Stores' bankruptcy filing, how dozens of publishers are suing the chain, and the company's decision to withdraw its original plan. CT also covered FCS' earlier sale and re-purchase of itself in order to give 100 percent of profits to charity.