Evangelicals Join March for Life as Abortions Plummet in Pro-Choice States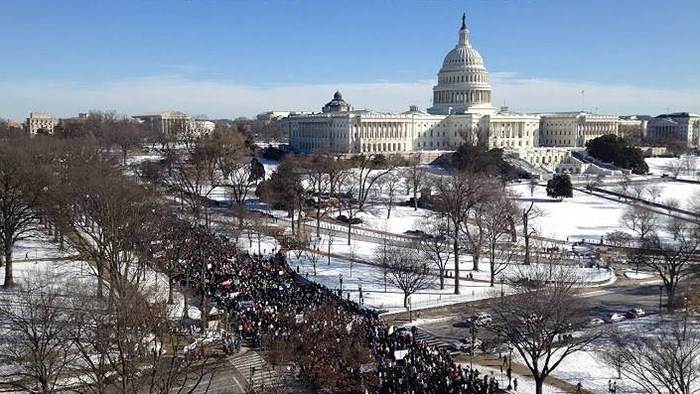 Image: March for Life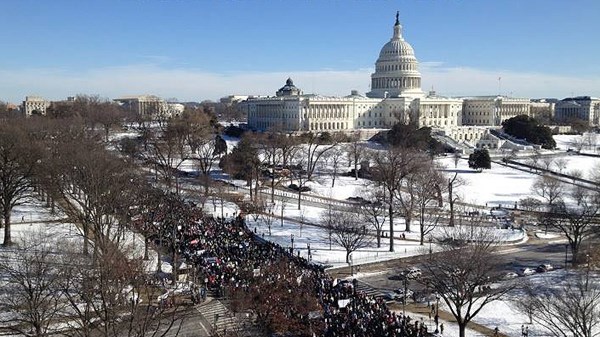 Evangelicals Join March for Life as Abortions Plummet in ...
Despite predictions of a weekend blizzard, the March for Life is on.
"Just a reminder: we will be marching for life no matter the weather on Friday!" the organization posted on Facebook. "Why? Because we march for those who have no voice and a little cold and snow won't stop us!"
This year, evangelicals will be coming early to the traditionally Catholic rally held in Washington, D.C., each year. Focus on the Family and the Ethics and Religious Liberty Commission (ERLC) are hosting a new conference just before the rally "aimed at increasing the level of engagement in the pro-life cause among evangelical Christians."
With sessions on social justice, adoption, and fatherlessness, the conference ends Friday morning, so attendees can "march together as evangelicals."
The burgeoning annual march comes a few weeks after the National Right to Life Committee (NRLC) reported declining abortion numbers.
"In late November 2015, the U.S. Centers for Disease Control & Prevention found a 4.2 percent drop in the number of abortions for the 2012 reporting year [from 2011]," stated NRLC president Carol Tobias. "While the CDC only includes and compares data from 47 state health departments, the information we can glean from this latest information gives us reason for hope that Americans, and especially women facing unexpected pregnancies, are rejecting abortion."
America's abortion rate was already at the lowest level since 1973, the year before Catholic convert Nellie Gray organized the first March for Life.
The Associated Press (AP) verified the abortion rate drop in an independent study last summer, which found that the decline was sharper in many pro-choice states than in many pro-life ones.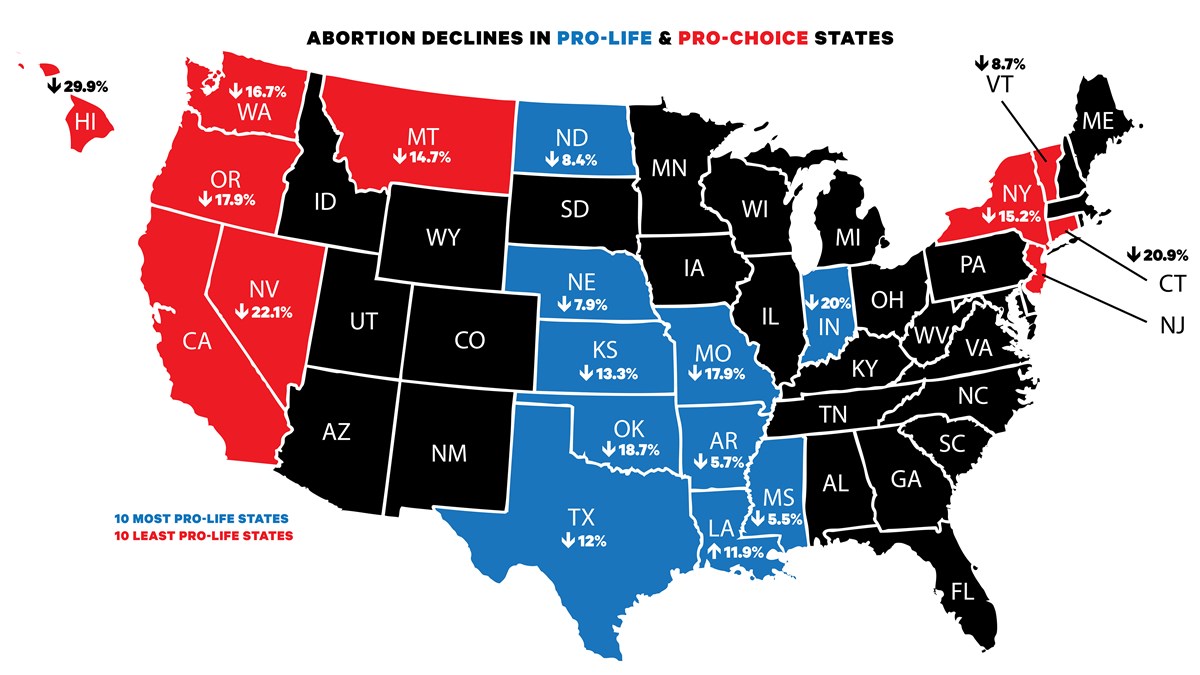 Image: Christianity Today
The number of national abortions fell 12 percent from 2010 to 2013/2014, the AP reported. (The data was taken from each state; the newest numbers were either from 2013 or 2014.)
In every state except Louisiana and Michigan, abortion rates plummeted. (California, Maryland, New Jersey, New Hampshire, and Wyoming don't collect abortion data and weren't included in the survey.)
The rates sank regardless of whether a state had passed any restrictions on abortion. The AP noted:
Several of the states that have been most aggressive in passing antiabortion laws — including Indiana, Missouri, Ohio, and Oklahoma—have seen their abortion numbers drop by more than 15 percent since 2010. But more liberal states such as New York, Washington, and Oregon also had declines of that magnitude, even as they maintained unrestricted access to abortion.
In fact, the 10 states ranked as the most pro-life by Americans United for Life (AUL) in 2015 for their efforts to limit abortion averaged a decrease of 9 percent, compared with a decrease of more than 18 percent averaged by 8 of the states that AUL ranked least pro-life. (Two of the least pro-life states, California and New Jersey, don't track abortion statistics.)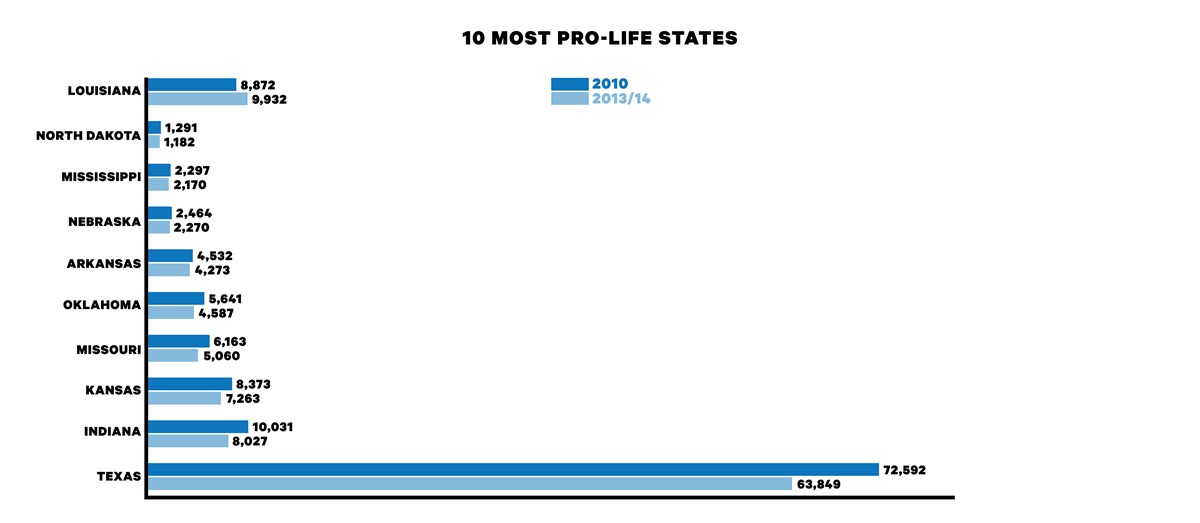 Image: Christianity Today
One perplexing example is Louisiana, which was ranked No. 1 by AUL for being pro-life in 2015 but had an abortion gain of 12 percent. (AUL's 2016 list ranks Oklahoma first and Louisiana third.)
This despite the state passing new abortion limitations as part of a national surge of pro-life laws in state legislatures. From 2011–2014, 231 abortion restrictions have been enacted in 27 states, according to the Guttmacher Institute.
AUL counts more than 240 new restrictions enacted on abortion since 2010, Mailee Smith, an AUL attorney, told CT.
During the same four years, only four laws to expand access to abortion were passed. Massachusetts and New Hampshire established buffer zones around abortion providers. Vermont repealed a ban that predated Roe v. Wade, and Utah eased counseling requirements.

Image: Christianity Today
Louisiana passed a number of restrictions. The state prohibits abortion after 20 weeks except in cases of life or health endangerment, bans partial-birth abortion, and limits public funding of abortions to only in the case of life endangerment, rape, and incest, according to Guttmacher. Louisiana also mandates counseling on matters of fetal pain and negative psychological effects; parental consent for minors seeking an abortion; and a 24-hour waiting period (after counseling) before an abortion can take place.
"Life-affirming, common-sense laws do have an impact on the abortion rate," Smith said.
In fact, Louisiana lawmakers have come close to shutting down most of that state's clinics. A federal judge blocked a law in 2014 that would require those who perform abortions to have admitting privileges to a hospital within 30 miles of their clinics. That would have left Louisiana with one lone abortion provider—a target that might be the best the pro-life movement can ever hope for.
But for all that, Louisiana doctors performed more than 1,000 more abortions in 2014 than in 2010. What gives?
Most of those procedures were likely done for women from out-of-state, according to Louisiana Right to Life (LARTL). Abortions performed for nonresidents rose from 242 in 2010 to 1,117 in 2013. At the same time, abortions for Louisiana residents rose only slightly, from 8,630 in 2010 to 8,829 in 2013.
"The most reasonable explanation has been the decrease in the number of abortion facilities in Mississippi and Texas," LARTL explained. Those neighboring states have upped abortion restrictions in the last few years, sparking court battles when a requirement that doctors have admitting privileges at nearby hospitals closed half of Texas' abortion clinics, and would have closed Mississippi's last remaining clinic.
Whatever the reason, Louisiana and Michigan, where the abortion rate rose 18.5 percent, are outliers. In every other state, the abortion rate dropped, seemingly regardless of state restrictions.
"Don't jump to conclusions," Chuck Donovan, president of Susan B. Anthony List's research arm, told CT. "Look for multiple explanations, including more women who are carrying to term and more teen abstinence."
One explanation may be falling teen pregnancy rates, which in 2010 reached its lowest level in decades, according to the AP.
Smith said the number one "most obvious reason" for the abortion decline is the popularity of ultrasounds. "Young people are growing up in a culture where they see ultrasounds all the time. Their first picture may have been an ultrasound. Facebook and social media are constantly displaying ultrasounds for the world to see. We have a firsthand picture into preborn life, and it reflects humanity at its fullest."
The proliferation of ultrasounds has moved hand-in-hand with the spread of information, she said.
"We know that since Roe v. Wade there has been an upsurge in medical data demonstrating that abortion harms women," Smith said. "As that becomes more and more acknowledged in the public arena, it also has an impact on women's choices."
One major way that information spreads is through media coverage of state legislatures debating bills on fetal pain or parental consent, she said.
"We're encouraged that the abortion rate is down since 2010," Smith said. "We expect that to continue with this nationwide momentum in states to pass common-sense legislation."
The "all-fronts engagement" fight against abortion is bearing fruit, Donovan said. "On the balance, we need to keep studying to find out what's working. But if a lot of different things are working, we should be encouraged."
CT keeps a close eye on abortion, including Planned Parenthood decision to stop selling fetus parts and how 1,000 women who aborted feel about the local church.

01/21/2016