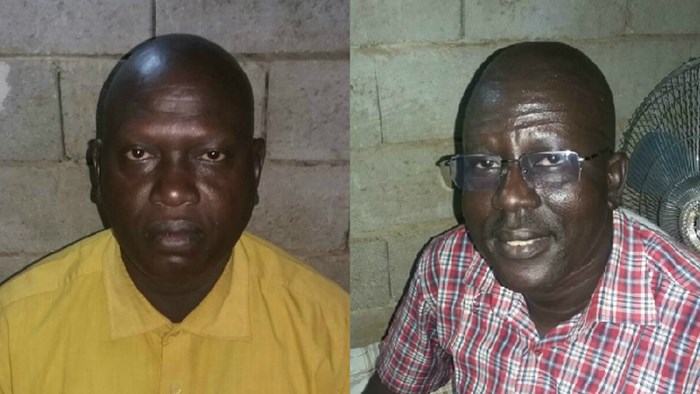 Image: Christian Solidarity Worldwide
Two South Sudanese pastors whose legal plight is drawing comparisons to Meriam Ibrahim have been isolated by Sudan. They won't be heard from until next Thursday, when a judge lets them speak in a Khartoum court.
The question is what role American advocacy played in their relocation to a higher-security prison earlier this month.
The families of Yat Michael (imprisoned for six months) and Peter Yen Reith (imprisoned for five months) were denied visitation on June 4. The day before, a vocal New York City pastor had attempted to visit the two Presbyterian pastors. A few days before that, a Virginia-based Christian TV network aired a telephone interview the two pastors gave from prison.
William Devlin, who pastors Infinity Bible Church in the Bronx, has long advocated for American pastors to travel to "hard, dangerous, difficult places" in support of persecuted Christians. Sudan ranks No. 6 among the world's most difficult places to be a Christian.
"It's one thing to say, 'Yeah, I'll be praying for you. Here's some money to help you,'" Devlin told the Christian Post (CP) last year. "But it's yet another thing to go with our bodies and to say to them, 'We're here to encourage you. We're here just to be with you.'"
Devlin has visited Sudan eight times in the last nine years, including once to pray with Ibrahim, a pregnant mother given a death sentence for refusing to convert to Islam. In her case, substantial international attention is widely credited with her sentence being commuted after she gave birth in prison.
This time, Devlin planned to visit Michael and Reith, who face serious charges punishable by death or life imprisonment, according to Morning Star News (MSN), which broke their story. The two pastors work with the Evangelical Presbyterian Church of South Sudan, which is entangled in a land dispute with private parties supported by the government, according to Christian Solidarity Worldwide (CSW). World Watch Monitor offers more details, as does the African Centre for Peace and Justice Studies.
One witness testified against the men on June 18, and one more testified at today's hearing [June 25]. Though no evidence has been brought, the pastors' attorney expects the judge to allow the case to proceed, reports Middle East Concern (MEC). The pastors will be allowed to speak at their next hearing on July 2, according to MEC.
Since South Sudan seceded in July 2011, Christian persecution has increased in Sudan. President Omar al-Bashir adopted a stricter version of Islamic law and recognizes only Islamic culture, MSN reported. Since then, Sudan has stopped issuing building permits for churches, expelled foreign Christians, and bulldozed churches.
The country has been designated a Country of Particular Concern by the US State Department since 1999, and the International Criminal Court has issued a warrant for Bashir's arrest on war crimes, crimes against humanity, and genocide.
Two days after Devlin's visit, prison officials said the two pastors had been transferred to separate cells in a higher-security prison. The men were initially chained in solitary confinement and not allowed to see their families or attorneys, CSW reported, but now are able to see them during hearings [UPDATED].
While no reason was given publicly for the pastors' transfer, some observers point to the failed attempt by Devlin to visit the men. While he was waiting to see them, Devlin used his phone to photograph and film the prison's crowded waiting area.
"They deleted the photos and they said to me that I had committed a crime," Devlin told CP in a lengthy interview. "I said to the wardens, 'I apologize, I ask your forgiveness and that I was not aware that you had a policy.'"
Devlin was detained and questioned for more than an hour, while his companions—three Sudanese pastors, including the leader of the Sudan Council of Churches—were allowed to meet Michael and Reith.
Devlin acknowledged that the pastors' attorney "raised concern that his visit might cause the government to retaliate against the men by transferring them to a prison with worse conditions and no visiting rights," reported CP. But he still encouraged more American pastors to visit their jailed colleagues in other countries.
"My challenge to other American pastors is to get on a plane like I did and go over there ... and visit these pastors," Devlin told CP. "Don't be so self-centered about your church, but remember that Jesus said in Matthew 25 that, 'When you were in prison, you visited me.' That's common obedience to the gospel, and it's Christianity 101."
But persecution watchdogs suggested his visit might have done more harm than good.
"The lawyer has been informed that the pastors were transferred because Western visitors took photographs of them, and because an interview they gave was broadcast by a Christian media organisation," wrote Middle East Concern. The interview in question was released by the Christian Broadcasting Network (CBN) on June 1.
"Prison administrators told family members the church leaders were transferred to the high-security prison, and that relatives were forbidden to visit them, because of actions—possibly taking photos—by some foreigners who had visited them," reported MSN.
CSW suggested the same: "No reason has been given for the move; however there are suspicions it may have been triggered by the actions of foreign visitors."
In his defense, Devlin sent a statement to CP claiming the transfer had been planned before his visit.
"A Muslim colleague in Khartoum reported to me yesterday, that the move of the two imprisoned pastors was in the works prior to my 90-minute detention on June 3," wrote Devlin. "My detention was unintended by me. However, I pray that God would use my detention to make known the plight of these two innocent pastors."
This isn't the first time that applying Jesus' parable of the sheep and goats in Matthew 25 has proven delicate to apply to the persecuted church.
In 2013, California pastor Eddie Romero also used a phone to record conditions and advocate for imprisoned pastors. Romero sneaked away from his Tehran tour group to stand outside Evin Prison and demand the release of Iranian-American Saeed Abedini and the human rights lawyer who freed Youcef Nadarkhani. He broadcasted 5 minutes of video and 30 minutes of audio live from his iPhone before being arrested and deported.
On Tuesday, Abedini spent his 1,000th day in prison. His wife testified at the House Foreign Affairs Committee, asking that his release be obtained before the US makes a nuclear weapons deal with Iran. The House of Representatives then approved a resolution calling for his release.
Similarly, Robert Park deliberately got himself arrested and spent six weeks in a North Korean prison in 2010, saying his goal was "to proclaim Christ's love and forgiveness" to Kim Jong Il and to call for the release of political prisoners. "My hope was, through sacrifice, that maybe there would be repentance and people could come together to address issues in North Korea," Park told CT in an exclusive interview.
Park's public protest sparked concern over whether such methods do more harm than good. Open Doors USA then-president Carl Moeller worried that Christians in labor camps "will suffer a bit more" because of the effort. But Park's pastor in Arizona said he was a hero.
CT's past coverage of Sudan including its redesignation as a country of particular concern in April and its rise from No. 11 to No. 6 on Open Doors' World Watch List.
CT followed the story of Ibrahim's imprisonment and death sentence for her faith, the birth of her daughter in prison, and her later release and asylum in the United States. CT currently follows the continued plight of Abedini in Iran.
CT also recently examined what you probably don't know about "the least of these" in Matthew 25.