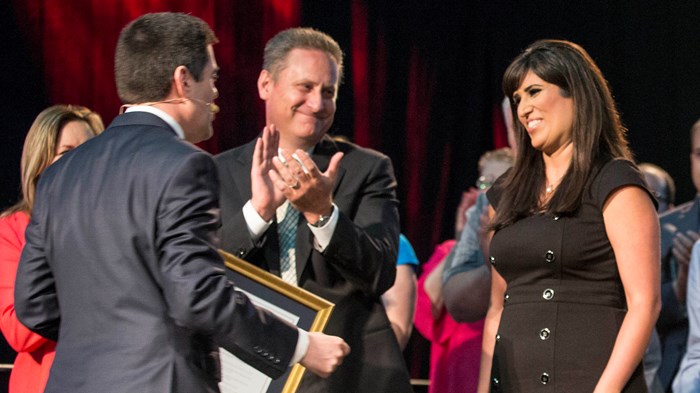 Image: Van Payne
Update (Feb. 1): In his first public comments, Saeed Abedini told the Idaho Statesman that "much of what I have read in Naghmeh's posts and subsequent media reports is not true," but he plans to work on rebuilding their marriage in private because "personal issues are best dealt with personally."
"The God I serve today is the same God I served while being interrogated and beaten in some of the harshest prison conditions in the world and He is capable of restoring a marriage that has withstood unbelievable pressure," he wrote. "I ask for prayer for another victory."
The Statesman has posted Abedini's full, five-point statement.
-----
Update (Jan. 27): Saeed Abedini returned to Idaho and met with his children on Tuesday. In the wake of Iran finally freeing Saeed on January 16, his wife Naghmeh told supporters she was "believing in a miracle" for their marriage. "One battle has been won of Saeed's freedom," she wrote on Facebook. "There are many more difficult battles and a hard road ahead. Our family still needs your prayers."
On Wednesday, Naghmeh explained to her Facebook supporters why she has "taken temporary legal action" while the couple "work through reconciliation."
"I do deeply regret that I hid from the public the abuse that I have lived with for most of our marriage and I ask your forgiveness. I sincerely had hoped that this horrible situation Saeed has had to go through would bring about the spiritual change needed in both of us to bring healing to our marriage," she wrote. "Tragically, the opposite has occurred. Three months ago Saeed told me things he demanded I must do to promote him in the eyes of the public that I simply could not do any longer. He threatened that if I did not the results would be the end of our marriage and the resulting pain this would bring to our children."
She continued:
I long more than anyone for reconciliation for our family and to be united as a family. Since Saeed's freedom I have wanted nothing more than to run to him and welcome him home It is something I dreamed about the last 3.5 years. But unfortunately things did not work out that way and our family has to work through reconciliation. I want our reconciliation to be strictly based on God's Word. I want us to go through counseling, which must first deal with the abuse. Then we can deal with the changes my husband and I must both make moving forward in the process of healing our marriage.

In very difficult situations sometimes you have to establish boundaries while you work toward healing. I have taken temporary legal action to make sure our children will stay in Idaho until this situation has been resolved. I love my husband, but as some might understand, there are times when love must stop enabling something that has become a growing cancer. We cannot go on the way it has been. I hope and pray our marriage can be healed. I believe in a God who freed Saeed from the worst prisons can hear our plea and bring spiritual freedom.
Prior to Wednesday's statement, Naghmeh told Reuters that her Christian faith gives her "hope that we can work through all the issues and we can restore our marriage." In an interview with Baptist Press, she had expressed hope that God would use their situation to minister to others. "That's how God works. The worst things in our life turn out to be the best blessing."
-----
For the past three years Naghmeh Abedini has publicly battled her husband's captors, advocating for his release from an Iranian jail.
Behind the scenes, she also struggled with his inner demons.
Last week, the emotional distress of doing both finally proved too much, she said.
In two emails to supporters, Abedini revealed details of her troubled marriage to Saeed Abedini, an American citizen and pastor imprisoned in Iran since September 2012.
Those troubles include "physical, emotional, psychological, and sexual abuse (through Saeed's addiction to pornography)," she wrote. The abuse started early in their marriage and has worsened during Saeed's imprisonment, she said. The two are able to speak by phone and Skype.
Touring the country to advocate for Saeed's release while coping with marital conflict proved too much, she wrote. She told supporters she's withdrawing from public life for a time of prayer and rest.
"It is very serious stuff and I cannot live a lie anymore," she wrote. "So, I have decided to take a break from everything and seek the Lord on how to move forward."
Abedini hinted at her family's struggles in a recent op-ed for The Washington Post. Her husband is currently serving an eight-year prison term. Hopes for his release (and the release of other imprisoned Americans) as part of the recent nuclear deal with Iran have proved fleeting.
"The continued imprisonment of Saeed has taken a very emotional and tragic toll on our family," she wrote. "My kids have had to grow up without a father. Saeed has missed so many birthdays, anniversaries, and special occasions."
Abedini recently cancelled plans to speak at last weekend's Freedom 2015 religious liberty conference in Iowa and at the National Religious Broadcasters convention in Nashville next spring. Abedini also plans to stay off social media for several months.
During her time away from the public eye, Abedini said she'd continue to pray for her husband, whom she called a treasure. She said Saeed continues to share his faith in Jesus, even while in prison.
"But that does not mean he has not been battling with his own demons which I am believing that he can be freed of," she wrote.
Abedini asked Saeed's supporters to pray for his release and his healing. She asked them not to give up on Saeed, despite his flaws:
I wanted to be real and ask you to pray for real things (I have opened myself up to you), but without judgment and without losing your love for your brother Saeed who is fighting for his life in the dark prison. This is what the Lord has been showing me, to love unconditionally the way He loves us. To see the sin, but love the sinner and to intercede for freedom from the sin. And not to give up. Not to ever give up on your loved one. To persevere and to endure.
In a statement to Christianity Today, Abedini said she regretted sending the emails, which were written in a time of emotional distress.
She asked for privacy and prayer.
"I would appreciate for those who care about Saeed and our family to give us time for rest and healing and to respect our privacy," she told CT. "I will continue to pray for my husband's release and advocate for him as he suffers in an Iranian prison for his Christian faith. I would also ask others to join me in continuing to pray for his release."
Saeed was arrested in 2012 while in Tehran to visit family and to work on plans for an orphanage. Earlier this year, President Obama met with his family and demanded that Iran release him.
He has been repeatedly beaten and denied medical care at times, said his attorney, Jay Sekulow, chief counsel of the American Center for Law and Justice.
In September, Abedini's lawyers learned that his eight-year prison term might be extended.
Sekulow told CT that Saeed was beaten again this week and that his life remains in danger.
"There are three things that I know," Sekulow told CT. "I know Saeed is an American citizen of Iranian descent. I know he is in jail because of his faith. And I know that his life is in danger. Because of that we were working to secure his release. None of that has changed."
Sekulow asked for continued support for Naghmeh Abedini and her children. He said that the imprisonment of Saeed has taken a tremendous toll on that family.
"The stress level for this family is indescribable. I don't think you can understand it unless you have been through it."