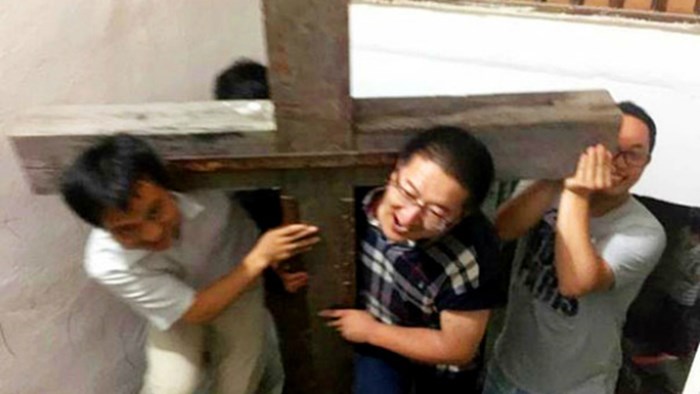 Image: Courtesy of AsiaNews
China has arrested the leader of "Lawyers for Protection of the Cross." The group defends churches whose crosses have been forcibly removed amid a government campaign to strip skylines of Christian symbols.
Zhang Kai is the latest of more than 250 attorneys, pastors, and human rights activists detained or arrested since July in connection with the 400 to 1,200 cross removals in the eastern province of Zhejiang, a Christian stronghold.
On August 25, police in Wenzhou, a coastal city known as "China's Jerusalem," jumped a wall at Xialing Church and arrested Zhang Kai and his intern, Liu Peng. The arrests occurred on the eve of a scheduled meeting with David Saperstein, the US ambassador-at-large for international religious freedom.
"These detentions fit into the disturbing pattern of state intimidation of public-interest lawyers, internet activists, journalists, [and] religious leaders," Saperstein said to news media. "Other people that I have met, or tried to, have suffered harassment of some kind. [The US government] demands the immediate release of these activists, who boldly underline the precariousness of religious life in China."
According to China Aid, Zhang and Liu are being held for six months in a so-called "black jail," one of several detention facilities outside the established penal system. Torture is common in such centers, where prisoners may be held without trial, China Aid said.
Lawyers representing Zhang and Liu requested to meet with them, but authorities denied that request. Sources told the attorneys that Zhang and Liu have been charged with endangering state security and "assembling a crowd to disrupt social order."
In July, Zhang assembled a team of 30 lawyers, mostly Chinese Christians, to represent pastors and churches in Zhejiang province. Their name: "Lawyers for Protection of the Cross."
Zhang took up residence at Xialing Church in Wenzhou, meeting with dozens of Christian leaders whose churches were subject to the cross removal or demolition orders.
For months, Zhang and his team pursued an aggressive legal strategy, challenging state actions at every possible point. "He did not let a single legal question lapse," said Zhang Peihong, a lawyer who worked with Zhang, according to Chinachange.org.
At one point, a female state security agent told him, "You're just looking for trouble" by defending churches. "You're wrong," he replied. "I have God as my backer."
On August 8, Zhang shared his stance on WeChat, an Asian social media site with 500 million monthly users: "I've made up my mind: the most they can do is jail me. But if I stay silent, I'll regret it my whole life." Two weeks later, plainclothes police arrested him.
Zhang's arrest comes just before China's Premier Xi Jinping is scheduled to visit the United States in late September. Human rights activists have launched a public petition calling on the Obama administration to cancel Xi's visit.
"[Zhang] did nothing but legally defend hundreds of churches' crosses from being barbarically demolished by the Zhejiang government," said Bob Fu, founder and president of China Aid. "Free world leaders, especially President Obama, should make it clear to President Xi Jinping that these acts of total disregard for basic human rights and religious freedom should and will be condemned by all during Xi's visit to the United Nations and the United States next month."
This week, a group of human rights leaders in Asia called for the immediate and unconditional release of those arrested since July. "We strongly encourage ... the government to ensure that ... those who are facing charges are allowed legal representation and that their rights are protected in accordance with the law; to ensure that no individual is detained incommunicado or held at an extra-legal facility," the Saakshi Project stated. Christian Solidarity Worldwide also called for the immediate release of Zhang and others from detention.
In recent months, CT has covered the cross-demolition campaign and the counter-campaign by local Christians to return crosses to public display.
In 2006, CT published China's New Legal Eagles, a feature about evangelical lawyers in that country. It has also covered the case of renowned Christian attorney Gao Zhisheng, who was released last year after serving prison time for "inciting subversion of state power."