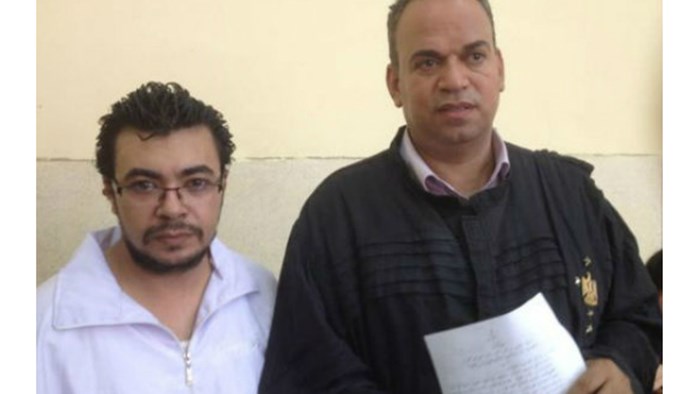 Image: World Watch Monitor
In 2007, Mohamed Hegazy became the first Egyptian to seek to change the religion on his identification card from Muslim to Christian. But after nine years of harassment, imprisonment, and torture, last week Hegazy publicly declared his return to Islam.
In a YouTube video, Hegazy blessed Muhammed as "the chief-most among Allah's creation," spelled out the Shahada (the Islamic proclamation of allegiance), and apologized to his family.
"I want nothing from this video," Hegazy said in an apparently rehearsed statement. "I have no desires. I will not appear again in the media. I will not appear again publicly. … I say this out of my complete free will. I am under no pressures from anyone. I am not being held by any agency, nor am I under any pressure of any kind. And that's it."
[Editor's note: Hegazy's attorney has told Morning Star News that he thought Hegazy, who was in prison at the time, was terrified, stating, "I personally think that he recorded this video to get out."]
Hegazy broke new ground in 2007 when he sued to change his religious identification from Muslim to Christian. The judge rejected his request, and Hegazy appealed. The case was suspended indefinitely in 2010 while the Egyptian government adopted a new constitution. Hegazy took a new "Christian" name, Bishoy Armeya, but his 2010 government ID card still showed his original "birth" name.
Hegazy became a Christian at the age of 16, in 1998. In 2002, he was briefly jailed and tortured, then later—with his family—went into hiding. He applied for the ID card change so he could raise his child as a Christian, he said. Eventually, his wife and two children relocated to Germany.
In December 2013, Hegazy was arrested again and charged with "protesting without permission" and for "defamation of religion" after he filmed clashes between Muslims and Christians. He has been imprisoned ever since, even though he was cleared of the first charge and the statute of limitations has expired on the second, Hegazy's attorney Karam Ghobrial said.
In late June, the court ordered Hegazy released on bail. But police and prison authorities kept him for weeks longer by by losing the court order, requiring a new birth certificate, and moving him secretly, Ghobrial said.
"For a client to be detained somewhere unknown to their lawyer, with no legal reasons left for their detention—this contravenes the country's laws and its constitution," Ghobrial said. "Yet, in Hegazy's case, it's precisely what's happened."
Egypt asserts—both in its own new constitution, which was approved in January 2014, and by virtue of its international legal obligations—respect for freedom of belief and human dignity.
However, due to long-standing prohibitions against apostasy, a Muslim who abandons Islam is considered to have committed an offense worthy of death. According to a 2013 Pew Research poll, 88 percent of Egyptian Muslims favor the death penalty for anyone leaving Islam.
"None of us was there during his three years in jail," said a source close to the proceedings. "We cannot be in his shoes and know what kind of pressure he endured – either during his prison time, or from his family, who wanted him to be released."
Hegazy was eventually transferred to Port Said, his last police station, before he was finally released, informed sources told World Watch Monitor.
Even though Hegazy is 34, "his release was conditioned by the acceptance of his parents to keep him under their control," said a source, on condition of anonymity.
Editor's note: CT has tracked Hegazy's case since 2007, when he went into hiding after he was tortured by police and Muslim clerics called for his execution. His case, arguing for the right to officially change his religious identity, initially brought hope to other Christians in the region. In 2014, CT covered his sentencing to five years in prison for documenting attacks by Muslim extremists against Christians.
CT also took a closer look at conversion confusion in Egypt.