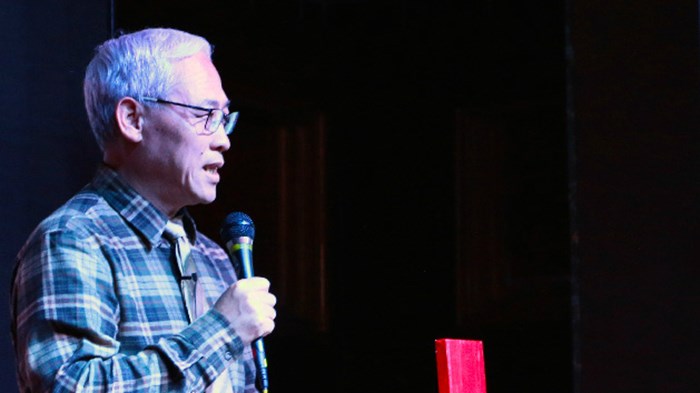 Image: China Soul for Christ Foundation
Following her father's suggestion in early 2013, a Christian university student contacted China Soul for Christ Foundation—a top evangelistic organization for the global Chinese church—asking to apply for an internship.
Across two days in September, she met in Paris with China Soul's famous founder Yuan Zhiming, expecting an interview. But the first time they met, the 23-year-old student alleges she found herself in bed with Yuan, watching a soft porn movie in an airport hotel room. She realized something had gone horribly wrong and left the hotel.
This woman's story of surviving sexual misconduct is laid out in a new independent investigation from GRACE (Godly Response to Abuse in the Christian Environment), which has produced other reports about abuse at Bob Jones University and New Tribes Mission.
The investigation was undertaken at the request of Chinese Christian Life Fellowship (CCLife), a publishing and discipleship ministry founded in 1996. An earlier report, published by CCLife, found that four people alleged misconduct by Yuan. But the GRACE report focuses on just the university student's account.
During their next meeting the following day, she again was in Yuan's hotel room late at night alone with him and was asked to spend the night. "He started saying that he was lonely and that he needed to have company," she told GRACE. She refused to stay, yet agreed to hug him before leaving.
"While he was hugging me, he was again asking me to stay and not to go and I said, 'No, no, no.' I was refusing [to stay]. In the end, I was struggling." She said that as she left the room Yuan offered her 50 euros ($66). He never offered her an internship.
GRACE concluded that the woman's account is credible because five individuals corroborated her narrative during 2016 interviews in Paris with a professional investigator. Also, there are email messages that Yuan invited the unnamed woman to his room in a hotel near Orly airport outside Paris.
The GRACE report highlights the chronic difficulty that Chinese churches, many of which are independent, have in holding pastoral leaders publicly accountable.
"Yuan and [China Soul] stand on the threshold of a unique opportunity that could allow them to be a powerful example of authentic Christian repentance to those inside and outside of the Chinese community," stated GRACE.
Yuan, through his attorney, denied any wrongdoing with the student. During the investigation, he declined a request from GRACE for an interview. In late June, he received a copy of the report. But he has not read it, his attorney said.
During the past year, Yuan has been on sabbatical after being accused of raping an acquaintance, Chai Ling, in 1990 while both were pro-democracy dissidents and not yet converts to Christianity. Both gained asylum in the United States after escaping China after the Tiananmen Square crackdown.
In response to Chai's claim, Yuan said he was guilty of "sexual iniquity" but not rape when the two met in her apartment more than 25 years ago. Chai, who went on to found pro-life ministry All Girls Allowed, did not publicly allege rape until late 2014.
"I deny all of the defamatory accusations involving 'rape,' 'attempted seduction,' and 'sexual assault,' " Yuan said last year on the China Soul website.
A leading dissident filmmaker in the 1980s, Yuan became a Christian after arriving in the United States. About 12 years ago, he produced the renowned four-hour documentary, "The Cross: Jesus in China." Yuan is recognized as one of the leading preachers and theologians for the global Chinese Christian community, numbering an estimated 70 million believers.
In recent months, Yuan has returned to international ministry, causing deep concern among leaders in Chinese churches and ministries, including CCLife's national network of pastors.
"Yuan was accused of misconduct by more than two witnesses," said Zhiqiu Xu, executive director of the International Fellowship of Chinese Pastors. "It is necessary for Chinese church communities to organize independent investigation committees to conduct a thorough accountability examination … that gives Yuan a fair hearing.
"The current case, if handled properly, will help to purify the church. It provides an opportunity for Chinese church communities to reflect and improve the behavior code for those in ministerial positions."
There have been instances where pastoral accountability has worked, according to Joseph Handley, president of Asia Access, a leadership development ministry. He said that in 2010 a prominent urban house church leader from Beijing confessed to an inappropriate (nonsexual) relationship with a young woman.
"It was a painful process that became very public with the Chinese house church movement and his own wife and local church were deeply hurt," Handley said. "They … not only fired him from church leadership but also ostracized him."
For more than one year, the pastor met with mentors and counselors. He publicly repented on several occasions. "Today, this brother is a remarkable example to pastors all over the country," Handley said. "His humility and grace as well as honesty is something that attracts pastors, who often feel like they have to be perfect and never share their dark sides or struggles with other leaders.
"By being so vulnerable, he has brought great healing to leaders across the country."
Other leaders turned their attention to the student.
Theologian and author Jackson Wu reviewed the GRACE report and said many Christians will criticize the college student for being naïve. "Those criticisms however overlook a key value in Chinese culture—respect for authority," he said. "Sadly, it appears Yuan knows how to exploit what is otherwise a virtue in Chinese culture.
"Let's not forget also that Yuan held the power to grant her an internship. It is quite common to hear stories of Chinese bosses who abuse their positions for personal gain knowing that people will be afraid to speak openly about their transgressions. To do so would threaten and even bring public shame on the victims."
GRACE reports that a church elder recommended that the university student not speak out about the abuse unless other reports of misconduct emerged. About 14 months later, Chai shared her story, and the student and others began to recount their mistreatment.
Chai said that after she went public with her story, ministry leaders in China created a new organization called Girl Protection, which teaches parents how to inform their daughters about avoiding sexual assault and misconduct. She said 200 publications in China are now addressing this issue.
Editor's note: Religion News Service on July 12 first published a brief article on the GRACE report.