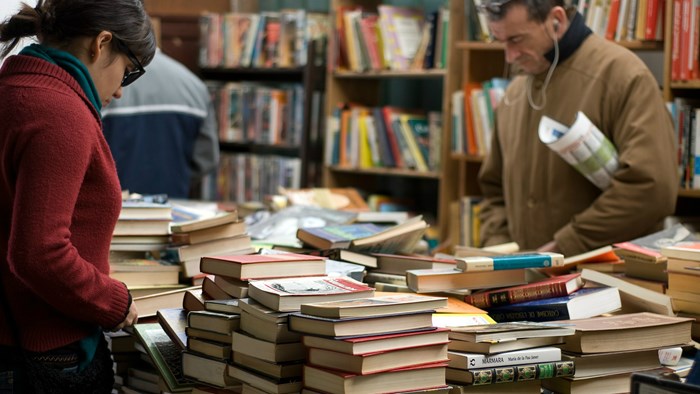 Image: memyselfaneye / Pixabay
Sales of religious fiction recently took a nosedive.
But that didn't discourage popular Bible teacher Beth Moore from writing her first work of fiction this year.
In between writing Bible studies and speaking on tour with her Living Proof Ministries, the 58-year-old author composed her first fictional title, The Undoing of Saint Silvanus. Scheduled to be released in September, the book follows a young woman returning home to New Orleans.
"Who knows if I'll ever write another novel, that's entirely up to Jesus," stated Moore. "But somehow he saw fit for me to get through this one."
Slow sales also didn't stop industry veterans from launching a new Christian fiction publishing house last month, with plans to release 40 to 50 titles in 2017.
Among Americans overall, fiction is a good bet. When given a chance to read for fun, most adults prefer to settle in with a fiction book (53%) than with a nonfiction book (45%), according to a recent Barna Group survey.
But Barna also found that practicing Christians (those who have attended church in the past month and say their religious faith is very important in their life) would much rather pick up a nonfiction Christian book (35%) than a fiction Christian book (18%).
In fact, among all adults, Christian nonfiction is more popular than Christian fiction: 13 percent of Americans prefer Christian nonfiction, compared with 8 percent who prefer Christian fiction.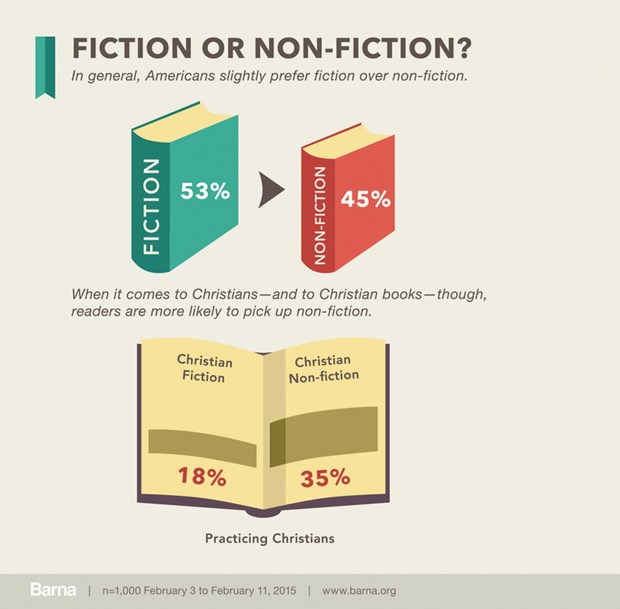 What are they picking up?
The English Son: The Amish Millionaire Part I by Wanda Brunstetter and Jean Brunstetter topped the latest list of bestselling religious fiction, followed by Threads of Grace by Kelly Long and Risen: The Novelization of the Major Motion Picture with Angela Hunt, Kevin Reynolds, and Paul Aiello.
Meanwhile, Sarah Young stayed at the top of the nonfiction list with Jesus Calling, followed by Fervent: a Woman's Battle Plan to Serious, Specific and Strategic Prayer by Priscilla Shirer and The Battle Plan for Prayer: From Basic Training to Targeted Strategies by Stephen Kendrick.
Women read more than men—82 percent of women finish at least one book a year, compared to 68 percent of men—and about twice as many women as men reach for Christian books, according to Barna. About 1 in 10 women prefer Christian fiction (11%), compared to one in 20 men (5%). And 17 percent of women choose to read Christian nonfiction, compared with 11 percent of men.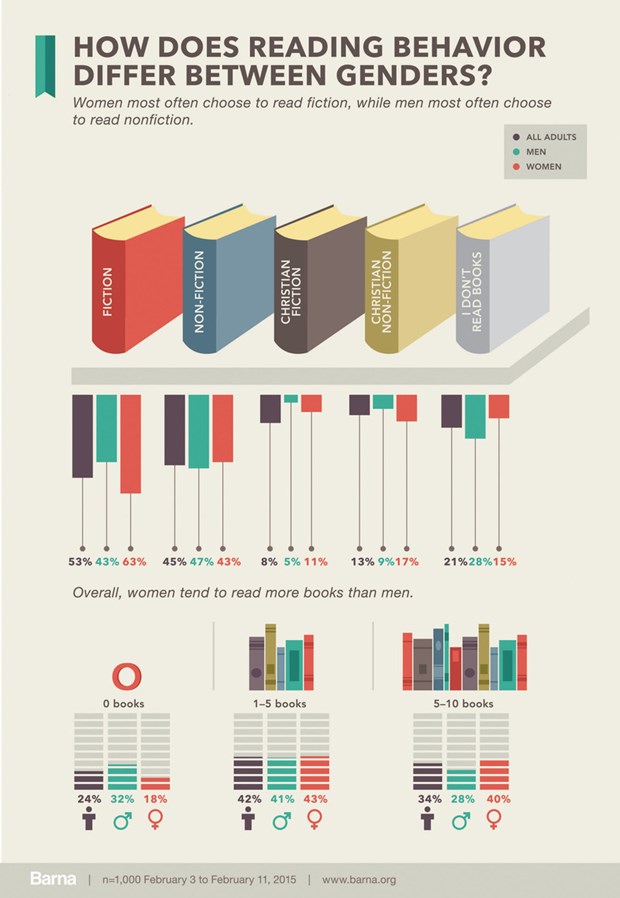 These numbers reflect the trend in book sales. In 2014, religious fiction sales took a steep dive, down 15 percent from the previous year. "The Christian nonfiction subcategory has ... significantly outpaced Christian fiction," notedChristian Retailing last August.
But by end of 2015, sales of Christian fiction had edged back up by 6 percent as publishers tried new tactics.
"We know the numbers are true, but we're not in a panic," Karen Watson, associate publisher for Tyndale, toldPublishers Weekly (PW) in February 2015. "Tyndale does fiction very well and it is a profitable part of Tyndale's business."
Dan Balow, who led marketing for Tyndale's Left Behind series, and Bill Giarratana, who worked in marketing and fundraising for the American Bible Society and Biblica, are so optimistic that they opened a brand-new Christian fiction publishing house in April.
Confident that the pendulum swing away from Christian fiction has left a gap in the market, Gilead Publishing LLC hopes to catch mid-list authors who have been dropped by larger publishing houses, according to PW. It hopes to offer 100 titles a year within five years, Balow said.
Christian fiction readers read and buy more books than other types of readers, according to a joint survey last year by CBA, The Parable Group, Baker Publishing Group, and American Christian Fiction Writers. The top Christian genres: historical fiction (66%), romance (52%), contemporary (51%), romantic suspense (50%), suspense/thriller/legal thriller (47%) and mystery/espionage (45%).
Meanwhile, religious nonfiction sales (which includes Bibles) soared 53 percent in the last five years, according to Jonathan Nowell of Nielsen Books. That's up dramatically from the previous five years (2004 to 2009), during which religious nonfiction and Bibles rose 9 percent.
In 2014 alone, religious nonfiction rose 12 percent, lifted in part by Young's Jesus Calling and Heaven is For Real (both the paperback and the movie edition), which landed top spots for Christian nonfiction that year. In 2015, the numbers stayed steady, carried again by Young, along with Gary Chapman's The Five Love Languages and Dave Ramsey's Total Money Makeover.
It makes sense that Christians are reaching for religious nonfiction books, since about one-third of Christians (34%) say they read most often in order to grow and develop spiritually, according to Barna. That's significantly higher than the one-fifth of the general population (21%) who read for the same reason.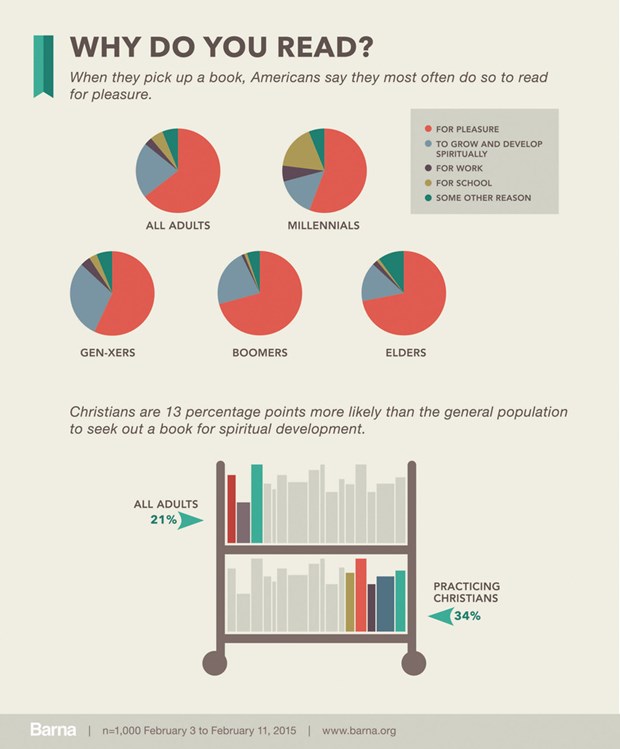 Evangelical leaders told the National Association of Evangelicals in December that they'd like to see more books on mission, social action, and evangelism.
Most adults (64%) choose to read for pleasure, according to Barna. Reading for spiritual growth comes in second, leading reading for work, for school, or for other reasons.
Three-quarters of adults read at least one book a year, with two out of five (42%) reading one to five books a year and one-third (34%) reading more than five books a year.
Despite the advance of the digital age, 7 out of 10 adults still prefer a physical book, and they get their books most often from brick-and-mortar stores (33%) or from the library (24%).
CT's past coverage of books includes lists of new and noteworthy books and the top five books for religious satire and becoming a better neighbor.
CT has also covered the bankruptcy of the nation's largest Christian bookstore chain and considered whether buying your way onto bestseller lists is wrong even if everyone else (including Mark Driscoll) is doing it. Her.meneutics has looked at how writing fiction mirrors God's creative work, why we love Amish romance novels, and how America's reading crisis is worse than you think.